← Back
Wild One in Baltimore Birdland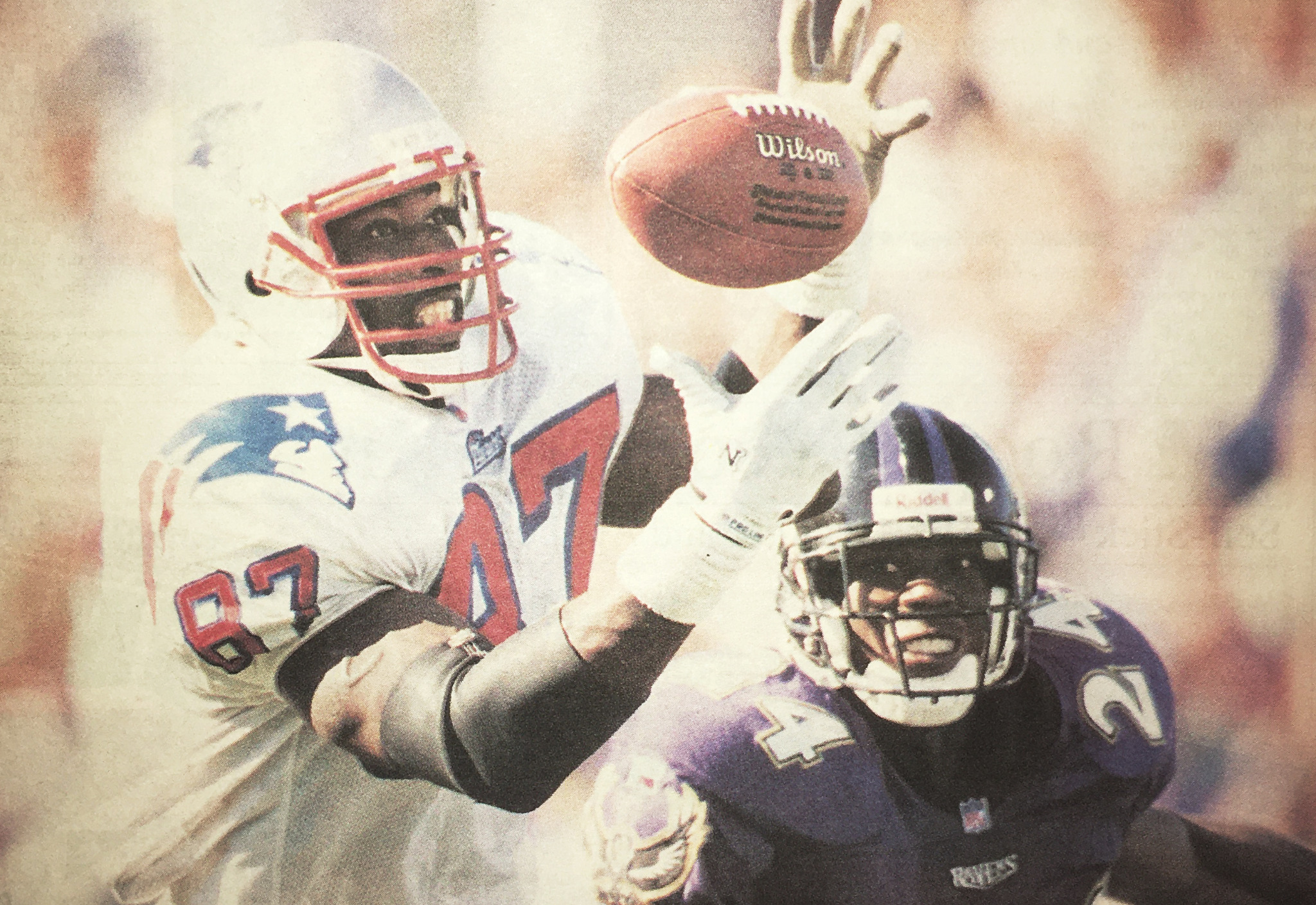 From New England Patriots Football Weekly

BALTIMORE -- What should have been the "icing" on the crabcakes wound up as the winning touchdown. What should have been the coup de grace – an insurance touchdown, in essence – propelled the New England Patriots to their third-consecutive win (after an 0-2 start), a 46-38 victory over the host Baltimore Ravens in resurrected Memorial Stadium on Sunday afternoon.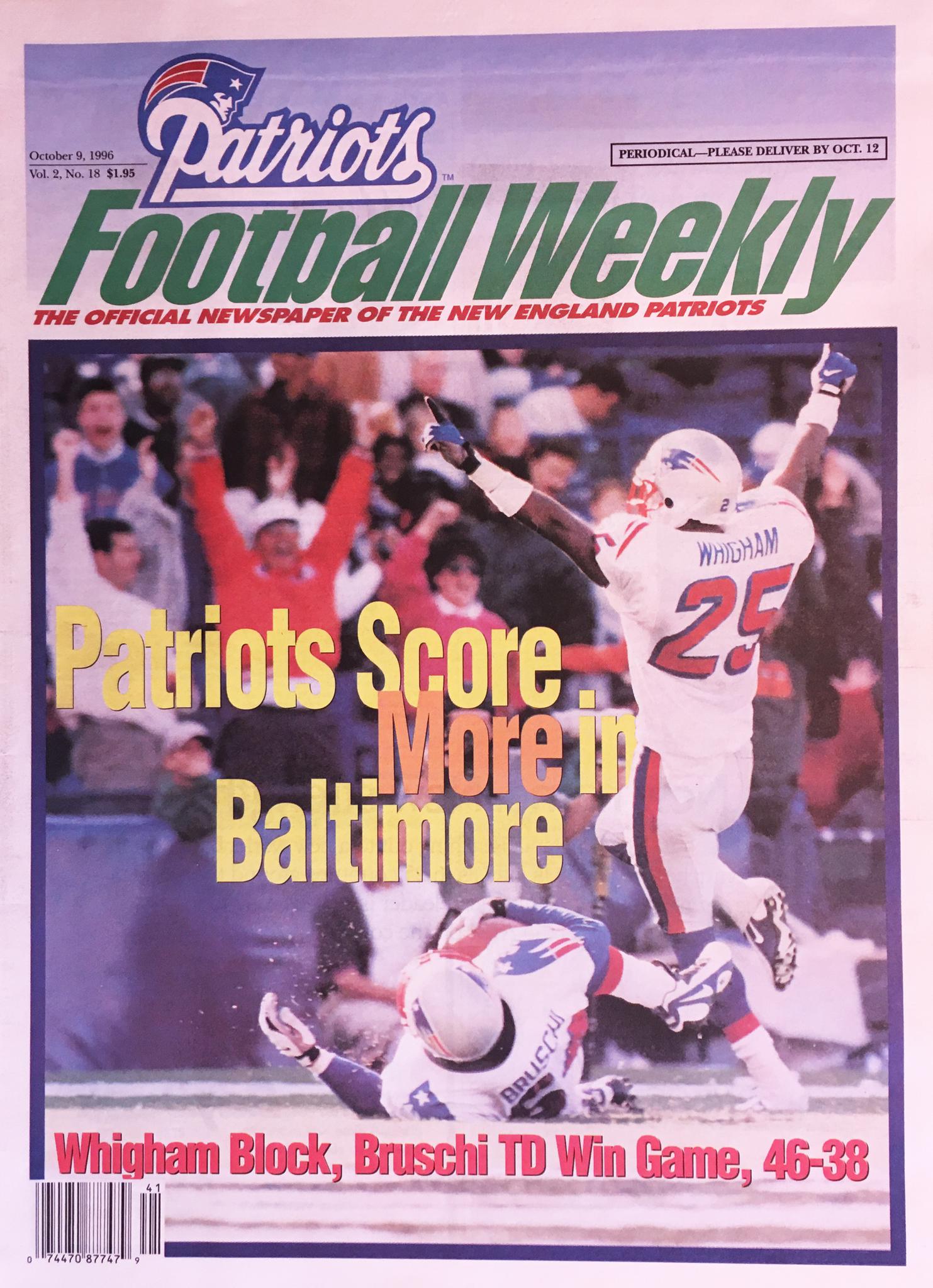 New England special teams ace Larry Whigham's blocked punt inside Baltimore's 10-yard line set up the Patriots' most memorable – and valuable, as it turns out – touchdown of the day. With less than eight minutes left in the game, Whigham overwhelmed safety Vashone Adams and blocked Greg Montgomery's punt attempt.
Thanks to a fortuitous bounce, Pats' rookie linebacker Tedy Bruschi scooped up the one-hopper and cradled the ball in the end zone. Lining up for a two-point conversion, New England quarterback Drew Bledsoe delivered the ball to tight end Ben Coates, who victimized Adams for the second consecutive play.
The conversion handed the Patriots a sizable 46-22 lead and apparently rang the death knell for the Ravens (2-3), who were named in honor of "The Raven," the famous 19th-century poem penned by Boston-born and longtime Baltimore resident Edgar Allan Poe.
"I came to the sideline and Coach Parcells says, 'Hey kid, that might be the winning touchdown,'" Whigham recalled. "Hell, I really didn't think it was going to be. Unfortunately, as you can see, it was."
Ironically, New England's 46 points was its greatest output since a 50-17 road win against the Indianapolis Colts in 1984, a year after the Colts bolted Baltimore for the Midwest. And if that statistical tidbit failed to provide a proper sense of symmetry, the Patriots coughed up a considerable lead and almost lost the game on a last-minute miracle pass for the second-straight game.
Two weeks ago, despite holding a 22-0 lead, the Pats almost fell to visiting Jacksonville. History repeated itself in Baltimore's storied stadium on Sunday, as the Ravens, too, almost had a chance to win in the final seconds.
Baltimore rattled off 16 straight points in the game's final 7:53, setting the stage for a last-second heave toward the Inner Harbor. Strong-armed Ravens quarterback Vinny Testaverde – who always makes like Johnny Unitas against the Pats – dropped back and fired a prayer to the end zone, but wideout Derrick Alexander failed to come down with it as time expired. It was almost an identical replay of Jaguars quarterback Mark Brunell's bomb to Willie Jackson at the New England one as the clock ran out.
"I didn't get too comfortable because I know what Hail Marys can do to you," admitted Patriot cornerback Ty Law, when asked if the young New England defense relaxed in the final minutes.
Somehow, some way, after being contained for much of the second half, the Testaverde-led Ravens tore a page out of "The Tell-Tale Heart" and just kept on ticking late in the game. With more than 7,500 yards on his NFL odometer, Ravens running back Earnest Byner (21 rushes, 86 yards) owns the unpublished directions to the legendary Fountain of Youth. The 34-year-old Byner capped an 11-play, 60-yard drive with a five-yard scoring run up the middle, then Testaverde found Michael Jackson for a 27-yard touchdown. The Ravens executed a pair of two-point conversions to complement each touchdown, and Baltimore found itself trailing by eight with 1:58 remaining.
"We weren't expecting a shootout," admitted Alexander. "We could have packed it in and gave up [down 38-14 at the start of the fourth], but we didn't. We had 15 more minutes of football to play, and that's what we did. We came on and did what we had to do. We caught a couple of tough breaks, and the blocked punt really cost us."
The punt may have cost the Ravens a chance at overtime, but it was the Patriots' offensive explosion prior to the punt block that proved to be the difference – not only in the game, but perhaps New England's season as well. The Patriot offense had perhaps its finest day of the fall, arguably better that its 31-0 thrashing of the Cardinals three weeks ago. Although not a very balanced attack – the ground game mustered only 54 yards on 23 carries – the New England offense rolled up 364 total net yards.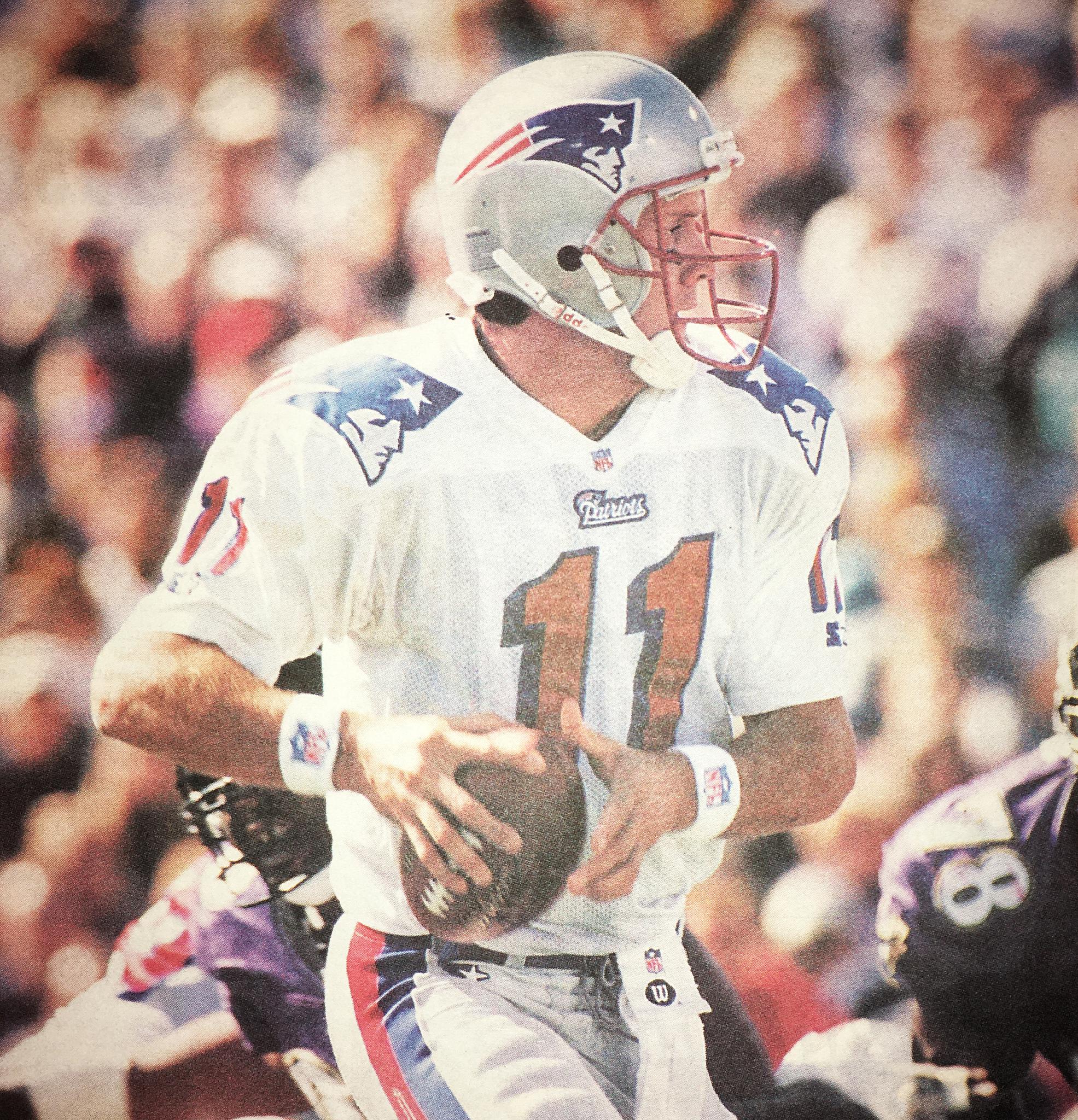 Patriots quarterback Drew Bledsoe
Bledsoe (4 touchdown passes, 0 interceptions) looked exceptionally relaxed and sharp, passing for 310 yards on 25-of-39 passing, his first 300-yard passing game since a 41-27 loss in Pittsburgh last December. While Patriot runner Curtis Martin (19 carries, 49 yards) was rendered ineffective by the Baltimore front seven, Bledson more than compensated by hooking up with three receivers for more than 80 yard each. Coates was, as usual, Bledsoe's most steady target, catching seven passes for 83 yards and a score. Rookie receiver Terry Glenn grabbed six balls for 88 yards, while veteran Shawn Jefferson (4-88, two touchdown receptions) had a breakthrough game. And when Jefferson wasn't abusing the Baltimore secondary by making catch after catch, he was cleverly conning Donny Brady and Antonio Langham into committing pass-interference calls, two minor symptoms of the Ravens' larger penalty problem (13 penalties, 146 yards).
Not that the Pats needed the aid of penalties this sunny afternoon. After swapping jabs with the Ravens in the first quarter and partway through the second – when the lead changed hands five times – New England rattled off four touchdowns and two field goals on six-straight possessions in the second and third quarters. Once the Ravens took a 14-10 lead with 5:24 left in the first half, the Pats – by virtue of their six straights scores and a defense that tightened considerably in the third quarter – built a 38-14 cushion very early in the fourth.
A pair of Patriot sacks at key junctures disrupted the Ravens' rhythm. Once New England took a 17-14 lead in the second, Baltimore began to drive down the field but New England strong safety Terry Ray blew past Byner and managed a shoestring sack of Testaverde for a 14-yard loss. This noticeably turned the Chesapeake tide in New England's favor, as the Pats registered a field goal on the following series to take a 20-14 lead at the break. "It was a pressure defense, we were trying to get some pressure on the ball," said Ray, who also cited the Patriots' limited use of the zone blitz as a key factor in their success. "That's what we needed."
Then, after the visitors opened up a 28-14 lead to start the second half, it was rookie linebacker Tedy Bruschi's turn to sack Testaverde, this time for a seven-yard loss on third down, prompting a punt.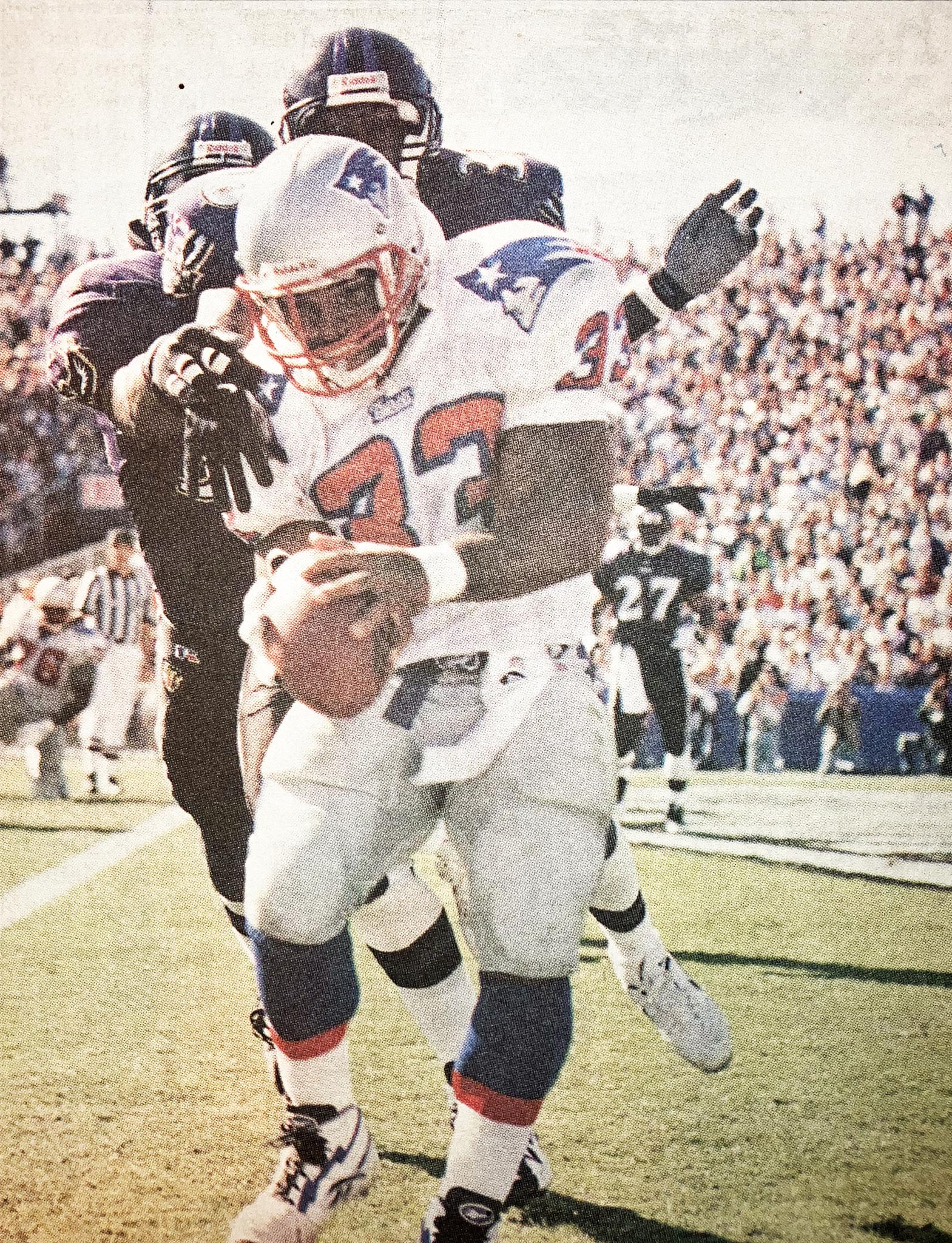 Fullback Sam Gash hauls in a Bledsoe pass.
"The sacks mean that the quarterback seeing film [of New England's defense] will know that there's guys capable of bringing pressure," added Ray. "It gives them a little more to think about, another element for them to concentrate on."
With an unpredictable passing attack, the Pats rocked Baltimore on their opening drive. Bledsoe ignited the offense by hitting Coates (twice), fullback Sam Gash and Glenn on his first four pass attempts, advancing New England from its 36 to the Baltimore six. But there, the Pats ran into trouble and settled for a 22-yard field goal by rookie kicker Adam Vinatieri, who split the sticks on all three field-goal attempts (including a career-best 50-yarder in the fourth).
Despite such a promising start, New England fared poorly for the rest of the first. It took a poor punt by Tom Tupa and a 34-yard Baltimore scoring drive to splash cold water in the Patriots' faces. Now down, 7-3, the Patriots quickly responded. Curtis Martin kicked off the ensuing possession with a near-season-best 18-yard run after he reversed fields and outran three tacklers. He carried once more, for two yards, before Bledsoe went to work.
Bledsoe distributed the ball evenly among Coates, Jefferson, Glenn and Gash, but the key play occurred when Jefferson coaxed Donnie Brady into committing a pass-interference penalty for a 31-yard pickup that silenced the "Raven Maniacs" in the north end zone. At the Baltimore 26, Martin plunged ahead for a two-yard gain and Bledsoe was pressured into an incompletion by defensive end Dan Footman, setting up a third and eight.
Somehow, Coates managed to sneak between safety Isaac Booth and a defensive back to make a leaping 17-yard snare that placed the ball at the seven. Then, the speedy Jefferson – lined up on the far-right "wing" – nonchalantly ran into the end zone before crisply executing a square-in that gave him a step on Langham as he hauled in a nice touch pass from Bledsoe for his first receiving touchdown in a New England uniform.
Vinatieri booted the PAT for a 10-7 lead, but the Ravens responded once more for a 14-10 lead just prior to New England's 36-point onslaught.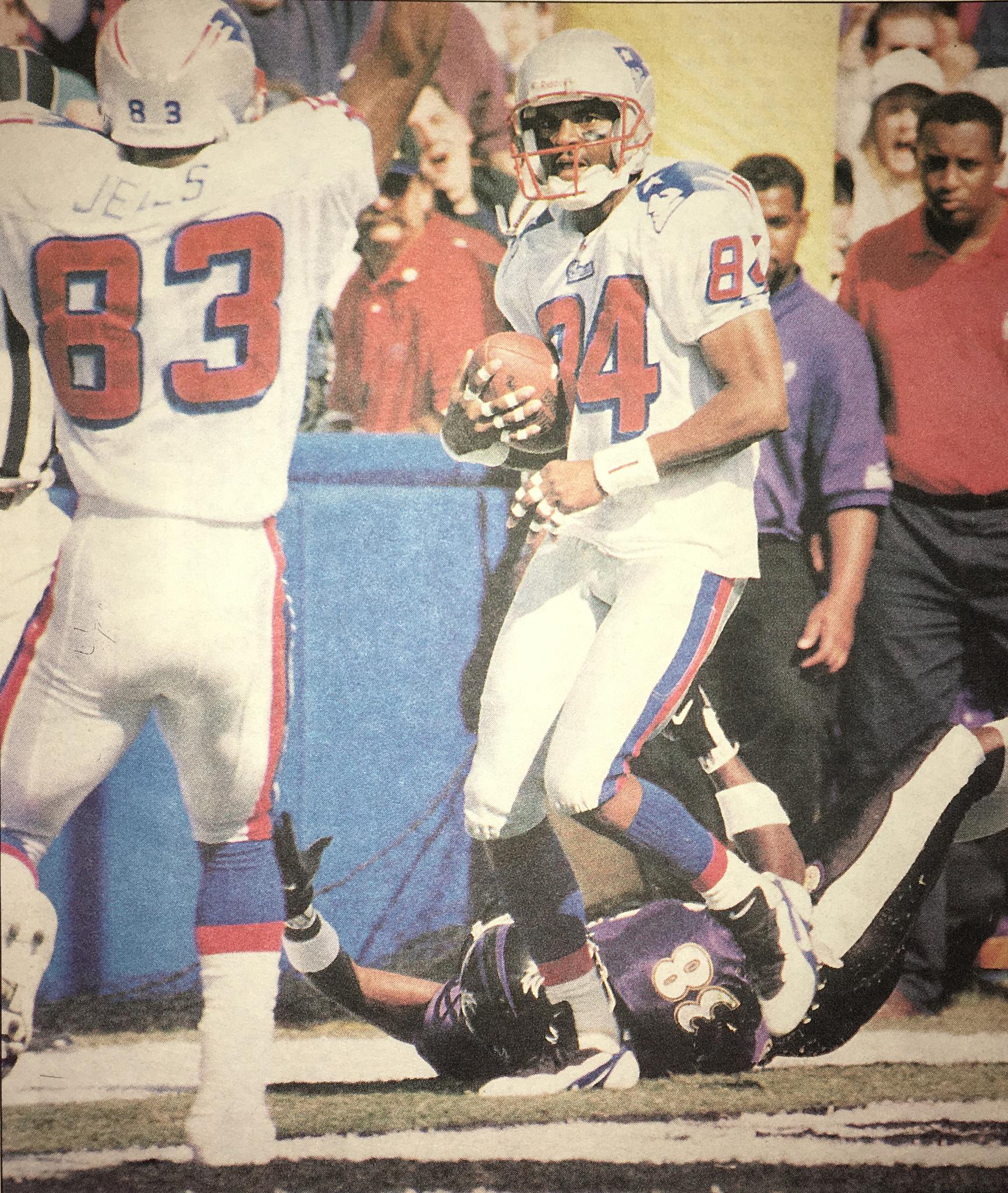 Wideout Shawn Jefferson (84) had a breakout game.
The Patriots' scoring bonanza coincided with the absence of Baltimore free safety Eric Turner, who left the game with an injury at the start of the second quarter. Backup Bennie Thompson did a commendable job in Turner's absence, but he's no Turner. "He's an exceptional player, if not the best then one of the top two or three safeties in the league," Bledsoe said of Turner. "When he's out, you've got to feel that's an advantage. . . . Not having him in there hurt them."
As did Bledsoe, who engineered two quick scoring drives before the half. He hit Jefferson in the left slot for a 32-yard gain just after the second Baltimore touchdown. From the Raven nine, Martin almost high-stepped it into the end zone but settled for an eight-yard gain around left end. With a play-action fake handoff to Martin, Bledsoe rolled right before turning and hitting Coates in the numbers between Thompson and linebacker Jerrol Williams for a one-yard touchdown and a 17-14 lead at the 3:32 mark. On the Patriots' next drive, with two seconds left in the half, Vinatieri boomed a 35-yard field goal for a 20-14 cushion.
New England opened the second half with a six-play, 66-yard drive that culminated in tight end Mike Bartrum's first touchdown catch – a one-yarder – as a Patriot. Bledsoe and Gash hooked up for a two-point conversion that provided the Pats with a two-touchdown lead at 28-14.
New England's next scoring drive spotlighted the Patriots' marquee wideouts, Glenn and Jefferson. The drive, which lasted all of 42 seconds, included a 15-yard reception by Glenn and a nifty 35-yard touchdown grab by Jefferson. After Bledsoe and Martin executed yet another play-action fake handoff, Jefferson showed great separation ability in shaking free of Stevon Moore for the score and a 35-14 cushion.
At the start of the fourth, Vinatieri capped the Patriots' longest scoring drive of the day (7:01) with a 50-yard field goal for a 38-14 lead, setting the table for the Whigs and Bruschi show.
"We scored a lot of points," said the ever-succinct Coates, while chuckling. "Whatever is takes to win, that's what we did."