← Back to portfolio
United States Treasurer Rios Visits Boston Fed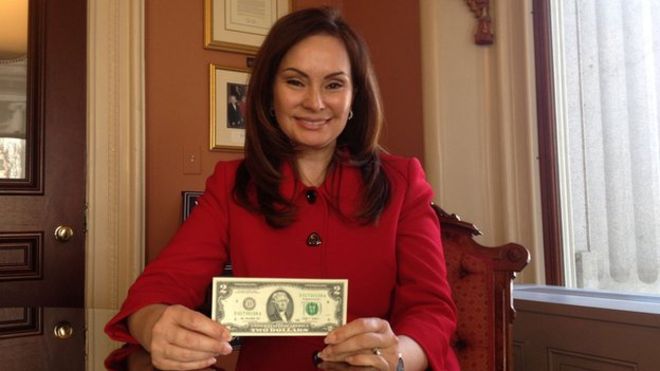 From Currents, the Federal Reserve Bank of Boston's Employee Newsletter
United States Treasurer Rosie Rios began her formal tour of Federal Reserve banks with a visit to the First District on Friday, Aug. 13. She met with Boston Fed officers and enjoyed a tour of the Cash Department before graciously spending more than an hour signing US paper currency for bank employees. Despite a line of dozens of employees and a tight schedule, the treasurer interacted warmly with staff.
Before departing for the World's Fair of Money at the Hynes Convention Center in Boston, Treasurer Rios spent a few moments discussing her objectives, the new $100 bill and her call to public service with Internal Communications Manager Joe O'Shea of the Office of Communications.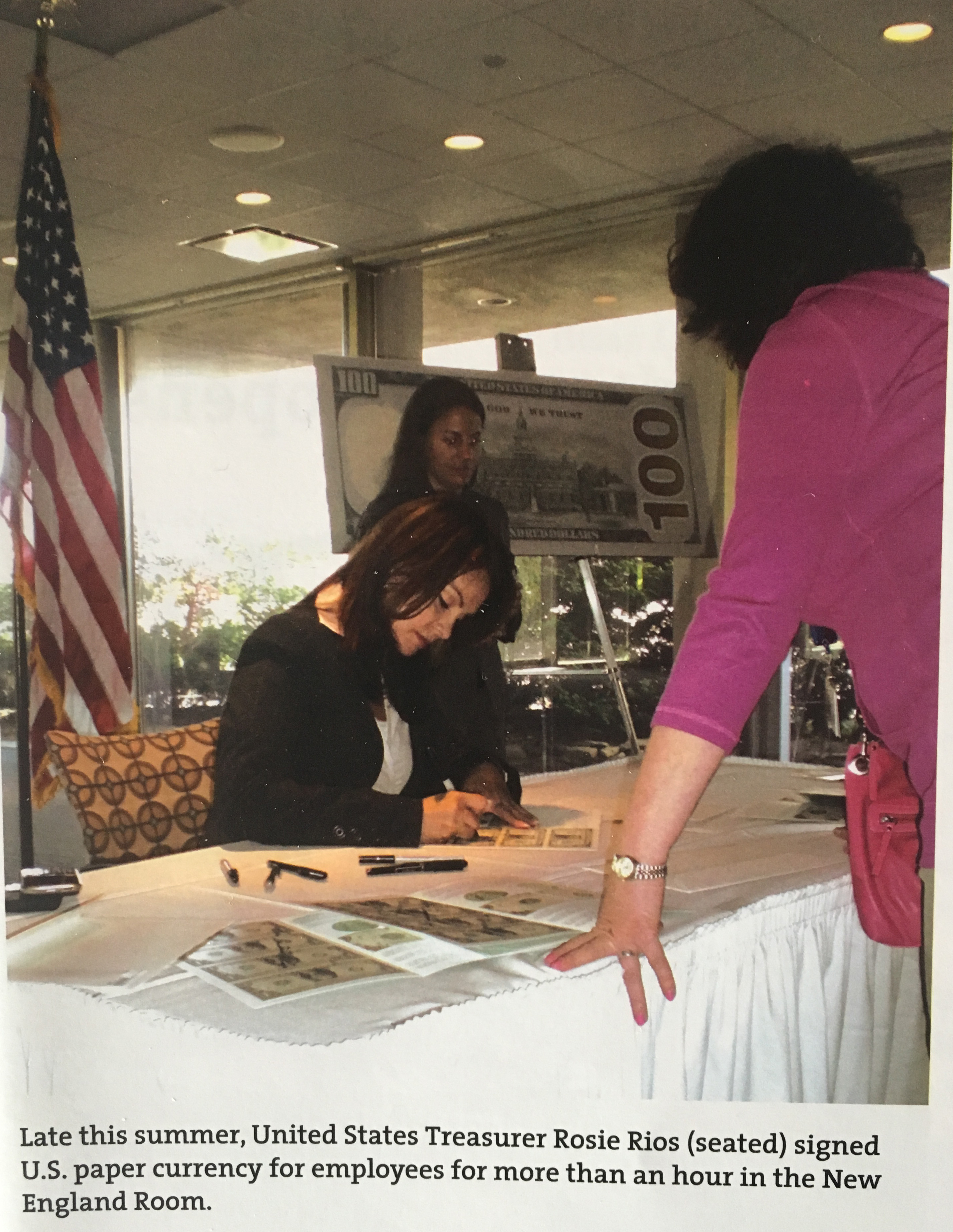 Joe O'Shea: I know that you're relatively new to the position, but I was hoping that you could briefly discuss a couple of your major priorities as treasurer.
Rosie Rios: Well, I'm thrilled to be the first treasurer in a while to have oversight over the Bureau of Engraving and Printing and the U.S. Mint. So I look forward to working closely with both organizations. I'm also chair of the Advanced Counterfeit Deterrence Steering Committee, which is a collaborative effort between the Federal Reserve, the Secret Service and the Treasury. Those are the two fundamental priorities of my office that I look forward to handling.
JO: Speaking of counterfeit deterrence, can you please comment on the new $100 bill?
RR: We're very excited about the new $100 bill; we were thrilled to unveil it in April with Fed Chairman Ben Bernanke, Treasury Secretary Tim Geithner and the Secret Service. As you probably know, it has some new advanced anti-counterfeiting features, including the new 3-D blue security ribbon that runs through the center. We're very pleased, not just about the design, but about the new security features that will help to deter counterfeiting. We look forward to the bill's launch in February 2011.
JO: I understand that this is your first reserve bank visit?
RR: This is my first official reserve bank visit. I have been to the New York Fed, but in a different capacity.
JO: So you've visited the New York's Fed's famous gold vault?
RR: I was there, yes [big smile]. I did see the gold, and it was remarkable. But when I began my official reserve bank visits as treasurer, I wanted to start with the "A" here in Boston. I felt that was important.
JO: You had a successful private-sector career, but you felt a call to public service?
RR: I did [feel a call to public service]. My prior career was basically divided between economic development, real estate and investment management. So for me, jobs, housing and access to capital are right up my alley. From what I saw happening with the financial crisis and the recovery, there seemed to be a convergence of my interests, so I felt a calling to join the [Obama] administration.
JO: Speaking of callings, I understand that you're a Harvard grad. Have you fel the call to visit campus while you're in town?
RR: It's great to be home. I'm certainly not going to have a chance to visit campus this time around, although I was on campus in February. I do tend to come back every so often.
Treasurer Rios advises Secretary of the Treasury Tim Geithner on matters relating to coinage, currency and the production of other instruments by the United States. In addition, Rios serves as a senior advisor and representative of the Treasury on behalf of the secretary in the areas of community development and public engagement. Learn more about Treasurer Rios on the U.S. Treasury website: http://www.ustreas.gov/organization/bios/rios-e.html