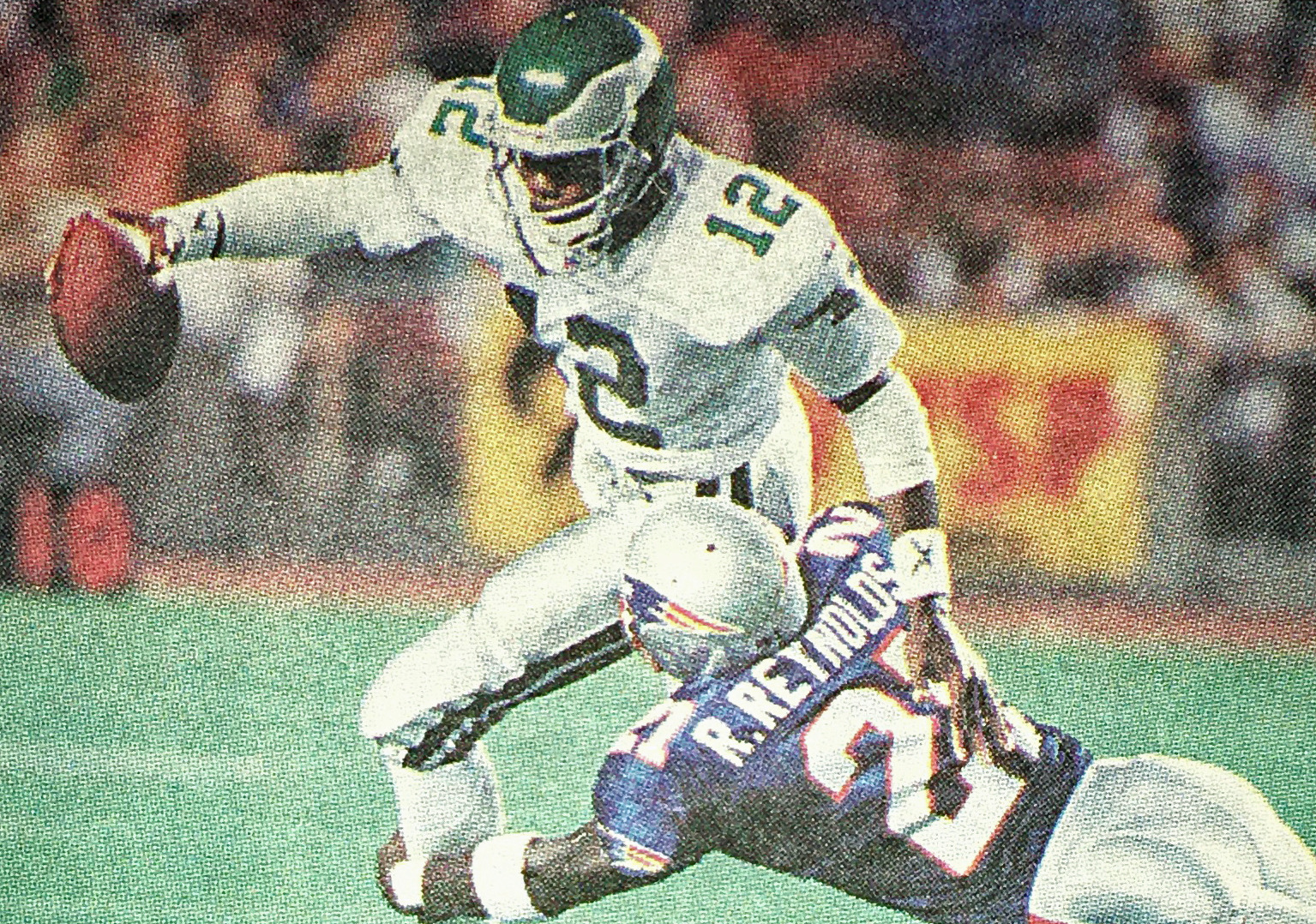 ← Back
Taking the Good . . . With the Very Bad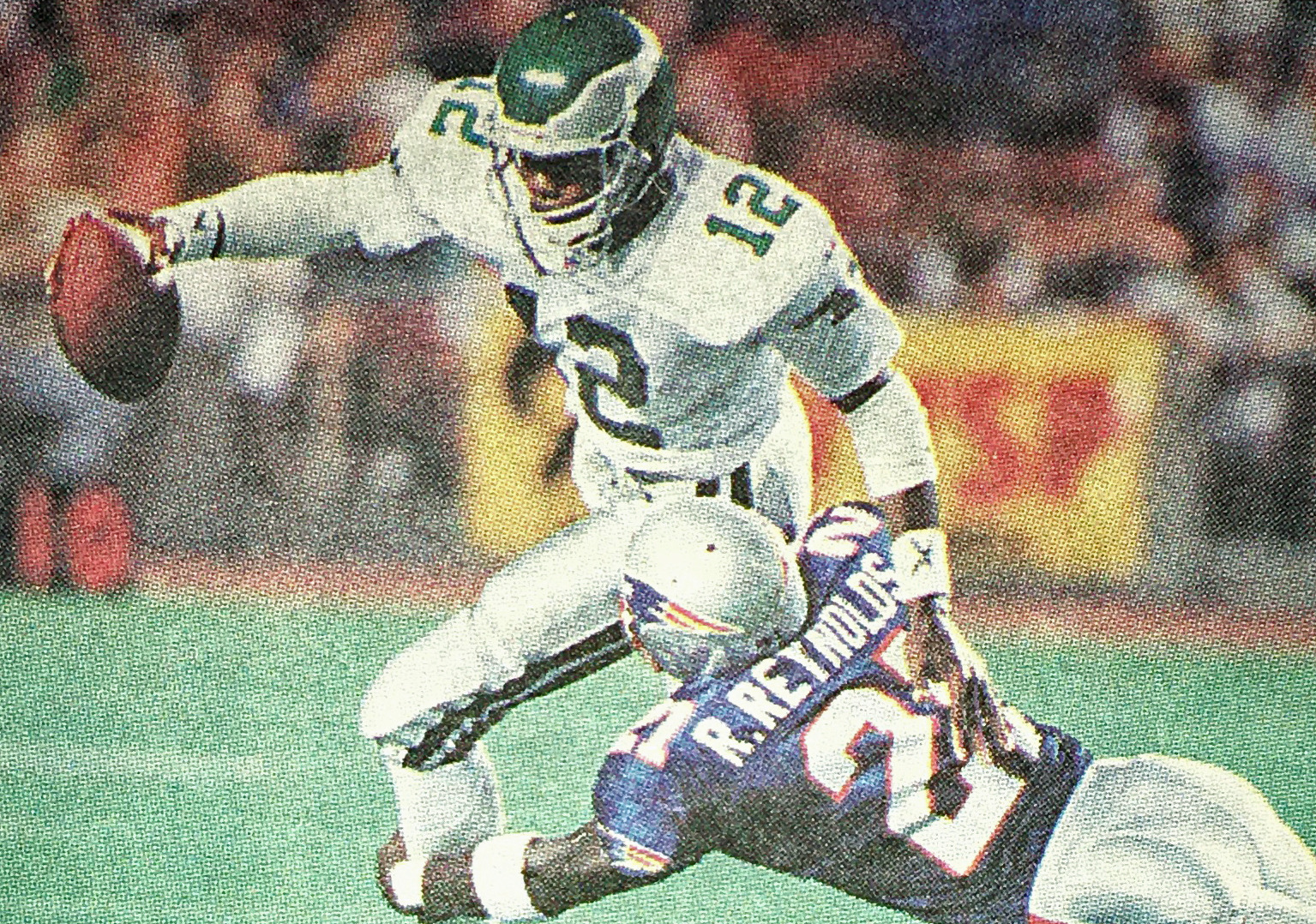 Patriots cornerback Ricky Reynolds tries to take down elusive quarterback Randall Cunningham. (Photo by Bert Lane)
From New England Patriots Football Weekly

PHILADELPHIA -- Cheesesteaks and mistakes may have been featured items on the Veterans Stadium menu in Philadelphia on Thursday night –- entrees that gave Patriots Coach Bill Parcells a nasty case of indigestion –- but the young Patriots added a dash of spice to their offensive recipe as well, which may have salvaged dinner this night.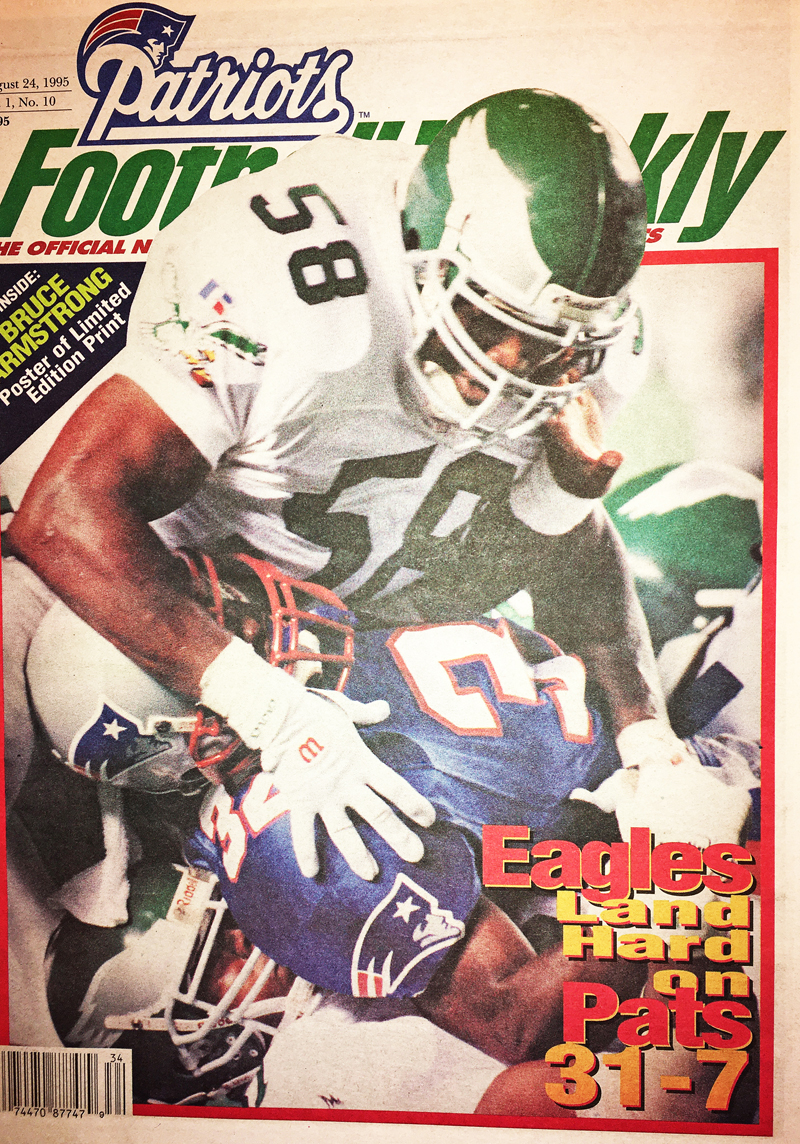 In spite of another multiple-miscue night in a 31-7 loss to the Eagles, New England treated its fans to what promises to be an eclectic offense and a Formula-1 attack by the outside pass-rushing firm of McGinest & Slade.
A steady diet of first-down running was replaced by the pass against the Eagles on this oppressively hot Philadelphia evening, especially midway through the second quarter, when New England's run game ran into a thrifty "Iggles" front seven.
After an uncharacteristically rusty start – largely due to a blow to the head that sidelined him for the Pats' second offensive series – New England signal caller Drew Bledsoe slashed through the Philadelphia secondary for 69 yards on six plays. Bledsoe rattled off completions of 12, 14, 17 and 24 yards before allowing runner Curtis Martin to take a crack at the end zone from the Eagles' two-yard line.
It proved to be a wise decision, as Martin exploded into the end zone behind a crushing block from right guard Todd Rucci. Considering how inept the New England run game was last season, the Rucci-Martin touchdown was an encouraging sign, especially after it took four consecutive first-down passes to position the Pats for the two-yard TD.
"It was a pretty dim bright spot; I just tried to get to the outside and cut the linebacker off," said Rucci, who was at a loss when addressing the team's running woes against the Eagles. "I don't know [what's wrong.] There was nothing there."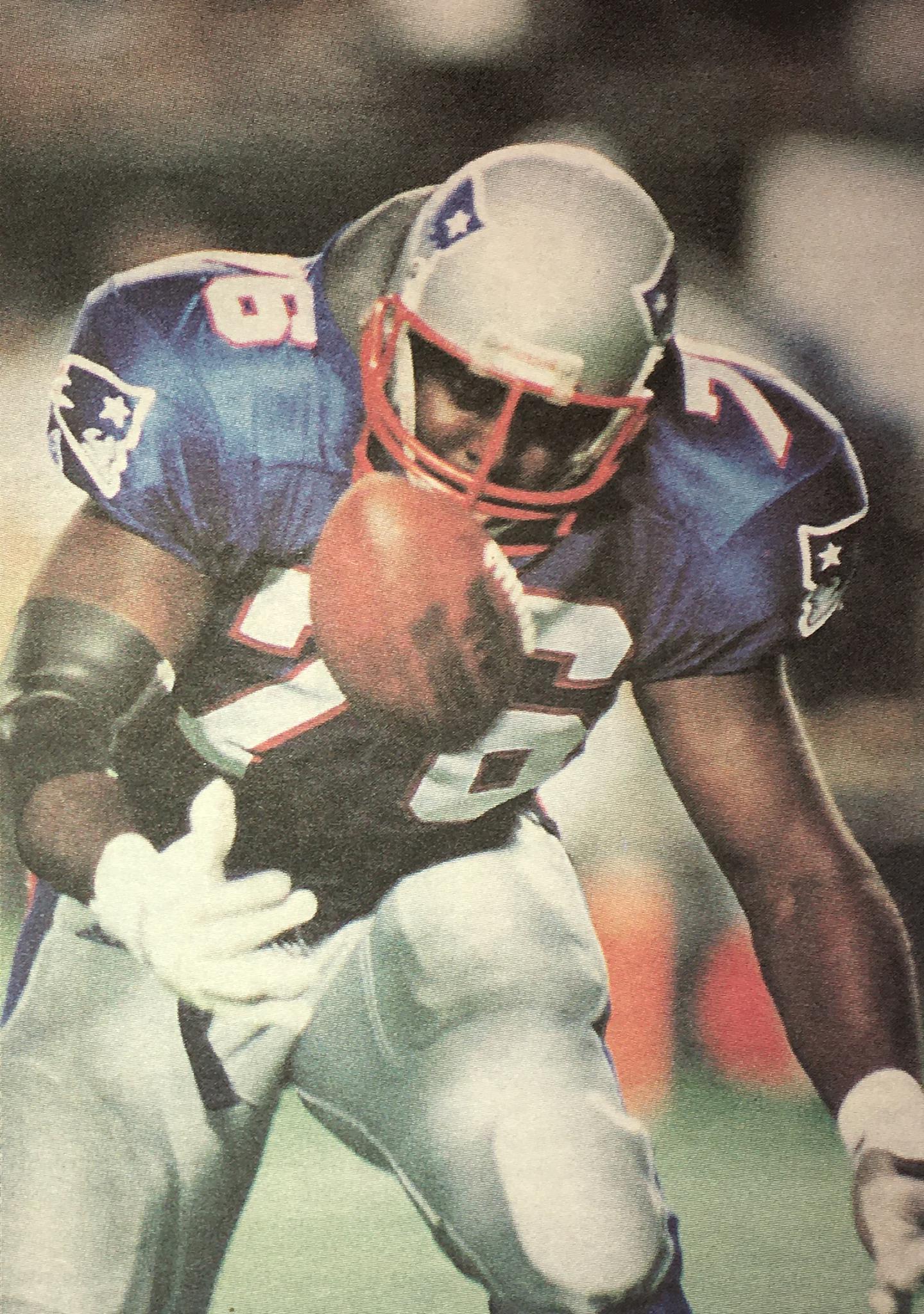 Patriots guard William Roberts almost came up with a touchdown reception.
Although rivaled only by Pat O'Neil's smooth fielding of a poor snap and opposite-footed 37-yard pooch punt at the end of the first quarter, this scoring drive unveiled a glimpse of the multipronged offense that the Patriots have installed for 1995. In addition to the marksmanship of Bledsoe, who positively dissected the Eagles with posts, slants and other passes over the middle, the Patriots gave an offbeat red-zone play a whirl.
Patriots guard William Roberts did his best Jerry Rice imitation, breaking free for a moment before a Bledsoe pass just eluded his outstretched paws, forcing the Patriots to take to the ground. Not content to try it once, New England inserted backup guard Doug Skene as an eligible receiver late in the first half, but failed to call his number.
Unfortunately, the Martin score was the offense's lone shining moment in an eminently forgettable performance. It was a night when even the slippery Dave Meggett forgot to "oil up" and was unable to escape the Eagles' talons. One could chalk up the Pats' rough night as one of those lunar-induced occurrences, but the moon was nowhere to be found in the South Philadelphia sky this night.
Speaking of lunar-induced behavior, Patriots outside linebackers Willie McGinest and Chris Slade played like madmen, hounding Eagles quarterback Randall Cunningham all night.
In fact, the pair's disruption of the Eagles' finely tuned West Coast Offense forced Cunningham out of the pocket time and again, which – oddly enough – may have led to the Patriots' defensive woes.
After dealing with NFC Central statues such as Scott Mitchell and the formerly mobile Warren Moon in the first two preseason games, New England's linebackers and defensive backs simply weren't able to cope with the scrambling, helter-skelter play of Cunningham.
"It's like playing against a running back," said Slade, who took little consolation from the full-throttle pass rush that he helped generate. "Whatever we did, it wasn't enough."