← Back to portfolio
Sun shines on Class of '98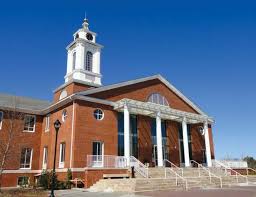 From The Observer, the alumni magazine of Bentley College
Infused with a liberal does of sunshine, a baby blue sky provided a picture-perfect backdrop for 1998 commencement exercises.
On the morning of May 16, a boisterous crowd of thousands mingled at the base of the Solomon R. Baker Library's stairs to witness the 79th undergraduate commencement. Later that day, a slightly smaller – yet equally enthusiastic – group gathered to watch friends and loved ones pick up their diplomas at the 23rd graduate ceremony. 
These ceremonies of closure represented a new beginning for Bentley President Joseph G. Morone, who presided over his first Bentley commencements.
"I'm sure you are feeling a jumble of emotions now," the president said to the undergraduates. "I am, too. I'm feeling proud to be a part of this college and part of your commencement; confident that you are ready to launch your careers; and sad because you are leaving and because a lot of good-byes will be said today.
"What I'm feeling most intensely right now," he admitted at graduate commencement, "is a sense of confidence, almost a sense of certainty, that this degree that you are about to receive – as valuable as it is today – will become more valuable tomorrow."
The president's comments served as a prelude to remarks made by guest speakers Robert B. Palmer and Joanna Lau, who both received honorary Doctor of Commercial Science degrees. Palmer, the president of Digital Equipment Corporation, addressed the undergraduate Class of '98. The chairperson of Lau Technologies, Lau spoke to the Graduate School of Business.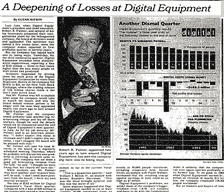 Drawing upon his 30-plus years of business experience in two highly competitive industries – computers and semiconductors – Palmer stated that his intent was "not to give you a blueprint for fame or a prescription for riches. . . . I think you will learn soon enough that success is a custom-made garment, not an off-the-rack one.
"I would rather share a few thoughts about the kind of success that comes from personal fulfillment – a few of the attributes that I believe we should all value," added Palmer. "I would like specifically to focus on integrity and attitude.
"By holding ourselves and others to high standards of integrity, we build strong relationships that are as important in business as they are in every other aspect of human interaction," said Palmer, who added that "Attitudes are vivid expressions of your state of thought. Attitudes can affect your success, your relationships, your health, and your sense of satisfaction and fulfillment.
"And finally," advised Palmer, "I firmly believe that it is necessary to achieve balance in your life."
Near mid-day, 876 undergraduates had climbed the library steps to accept their diplomas. As is traditionally the case, accountancy proved to be the most popular major, with 176 degrees awarded. Finance (167), marketing (144) and management (138) were also popular courses of study.
In addition to the degree awarded to Palmer, former Chairman of the Bentley College Board of Trustees Gary A. Jennison '66 – vice chairman of Corcoran Jennison Properties, a real estate management firm – was granted an honorary Doctor of Commercial Science degree; President and CEO of the Boys and Girls Club of Boston Frances K. Moseley was honored with a Doctor of Humane Letters degree.
As the morning slipped into afternoon, accolades were conferred by the Graduate School of Business. After President Morone greeted the Graduate School, Lau was granted her honorary Doctor of Commercial Science degree, and Jackie Jenkins-Scott, president and CEO of Dimock Community Health Center, was awarded an honorary Doctor of Humane Letters degree for her fight to provide quality health care for Boston residents.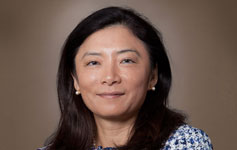 "I would like to take this opportunity to share with you some of the lessons I have learned in my career and what has worked for me," said Lau, a native of Hong Kong who immigrated to the United States at age 17. 
Her four principles are:
"Set your own agenda and don't wait for others to set it for you."
"Seize the opportunity of a tough assignment."
"Commitment."
"May your education never cease."
"Do this and you will gain everything from life that you so richly deserve," said Lau, who also discussed her fight to get ahead in the male-dominated field of engineering. "Your education has given you the freedom in life to choose what you want."
More than 635 graduate degrees and certificates were earned, including 360 Master of Business Administration degrees, 114 Master of Science in Taxation degrees, and 56 Master of Science in Computer Information Systems degrees.
"You must never forget that Bentley College will always be a part of you," said Lau. "But, perhaps more importantly, you will always be a part of Bentley.
"People sometimes – and mistakenly, I believe -- ascribe the strong reputation of an institution such as this to the caliber of what's inside. The fact of the matter is that a learning institution can only be judged by the quality of its product. That product is you. Your achievements will become the measure of Bentley's greatness in the future."