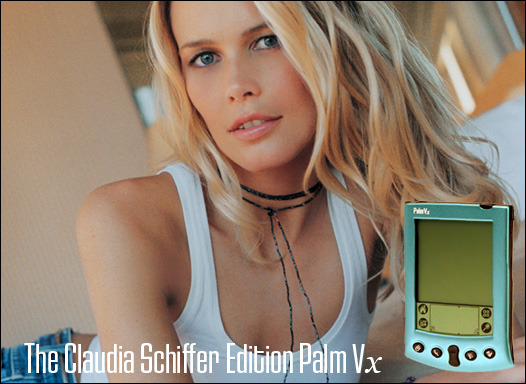 ← Back
Schiffer Models Stylish New Palm Vx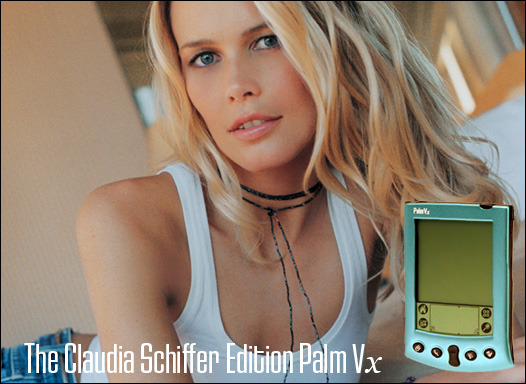 From the pages of Palm's Inside Palm employee newsletter

First Late Night, now this.
Earlier this summer, Palm gained some measure of pop acclaim when David Letterman spoofed the handheld maker's train commercial. Now, looking to become further ingrained in the public consciousness, Palm has joined forces with supermodel Claudia Schiffer and PTN Media to design and market the Palm Vx Claudia Schiffer Edition handheld computer.
Scheduled to be sold exclusively on Schiffer's Web site (www.claudiaschiffer.com) this fall, a prototype of the brushed metallic-aqua handheld was unveiled at the Red Herring "Herring on Hollywood" Conference in Los Angeles on August 1.
"Palm is a company I admire for its devotion to making sophisticated technology simple and accessible to everyone," says Schiffer, an avowed Palm user. "I am excited to be working with Palm to bring fashion to technology and extend its reach to a wider population."
In addition to the Palm Vx's usual features, this designer handheld will include a CD of add-on software applications selected by Schiffer. Palm will provide the after-sale service, support and warranty, while PTN will create and support the CD.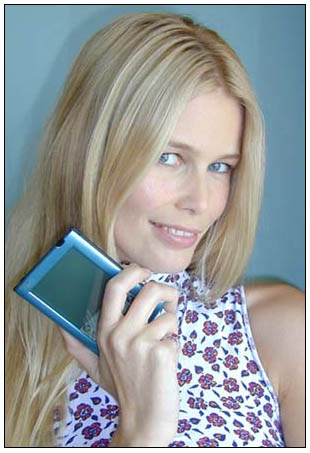 This convergence of technology and fashion vaults Palm and Schiffer to the forefront of the "chic tech" movement. It positions Schiffer as a tech-savvy professional, while Palm broadens its reach beyond the tech and business worlds.
"Our goal is to become as essential in pop culture as we are in tech culture," says Satjiv Chahil, Palm's chief marketing officer. "We are delighted that the multi-talented Claudia Schiffer recognizes the opportunity to market Palm's elegant, powerful and simple-to-use technology to the fashion-conscious public."
Called "the most beautiful woman in the world" by GQ, the ubiquitous Schiffer holds the Guinness World Record for the most magazine cover appearances. After a long search for a pop culture partner, Palm aligned itself with Schiffer, also a maturing actress, decorator and website owner. In addition to her global appeal, Schiffer is known as a technophile in fashion circles.
"This marks the beginning of a new trend where technology is no longer the domain of the techno-elite and business professionals," says Tony Perkins, founder and chairman of Red Herring. "Tech is becoming a lifestyle choice and fashion statement."