← Back to portfolio
PRESSing Concerns During Super Bowl Week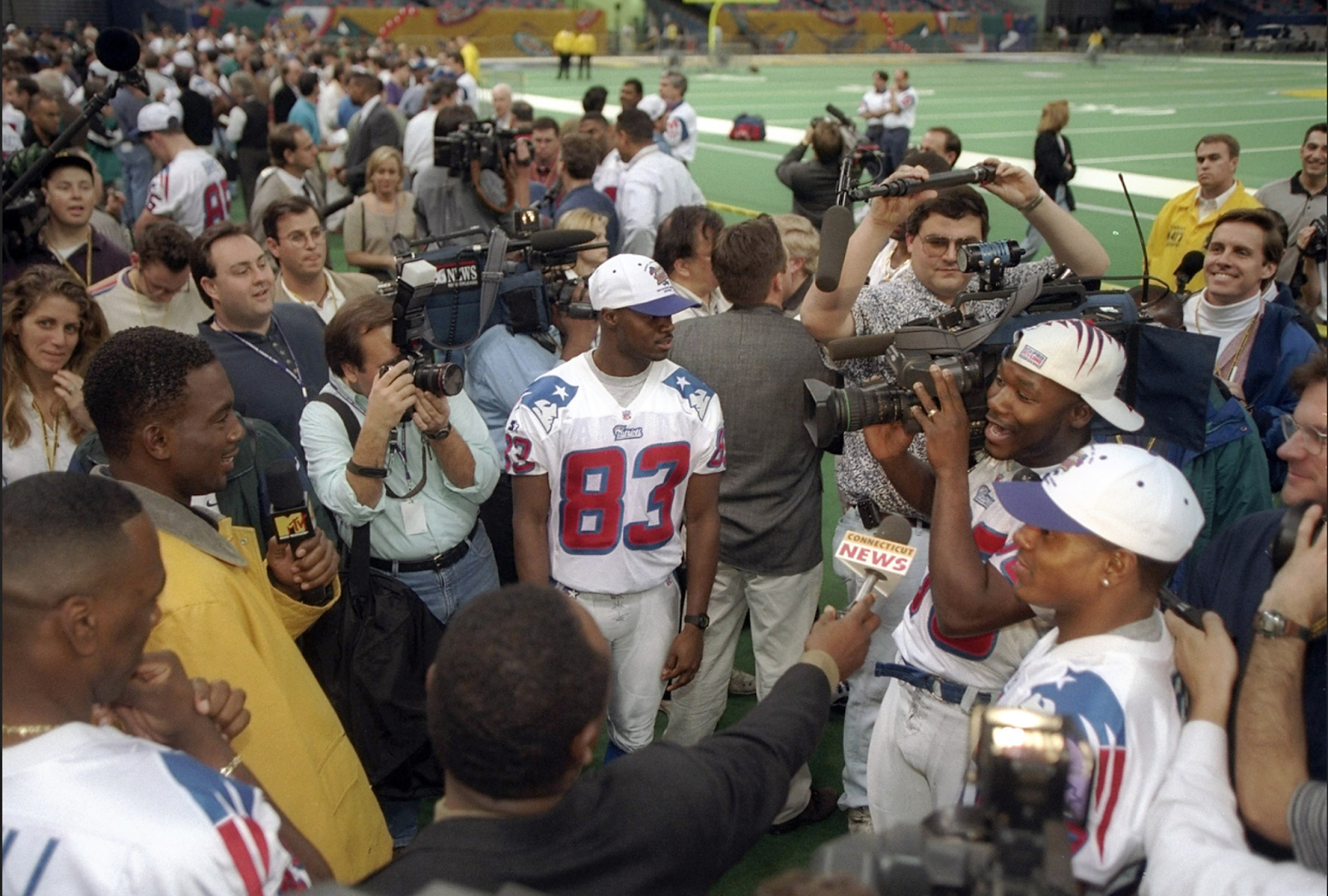 From New England Patriots Football Weekly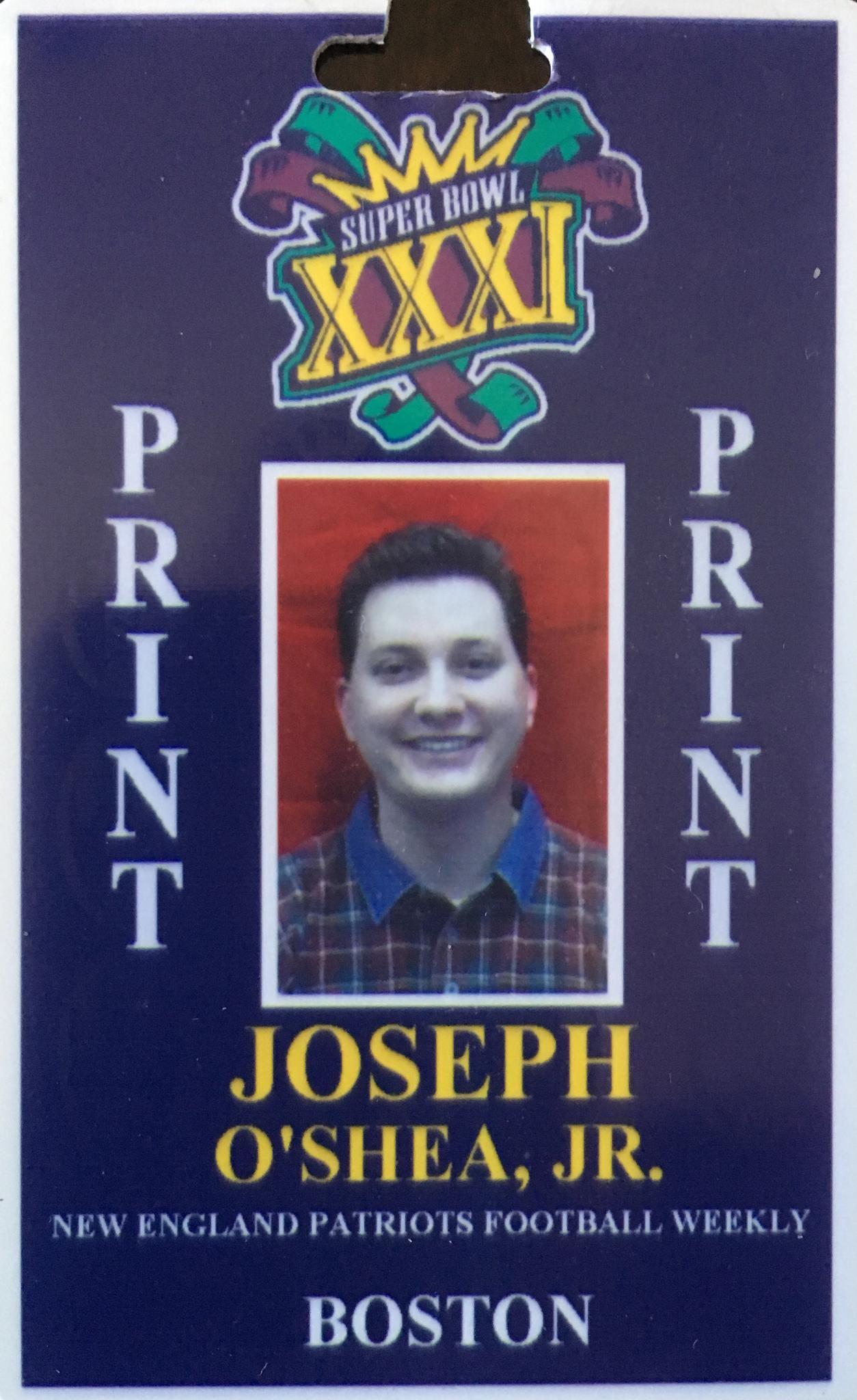 NEW ORLEANS – For the media, the trouble with Super Bowl Week is lies in digging up a meaty story. Afraid that a mindless utterance may wind up as bulletin board fodder for the opposition, most players are careful not to say anything incendiary. So the media, duty-bound to provide a clamoring international public with captivating material during one of the quietest weeks of the year, normally has quite a conundrum on its hands. 
What it's become

Once a quaint public relations gimmick dreamed up by former NFL Commissioner Pete Rozelle, the Super Bowl has blossomed into an international event. TV Guide's Norman Chad once wrote, "The Super Bowl has become Main Street's Mardi Gras." It's no small wonder, then, that the Crescent City, a place that pulses and shimmers at night, has played host to the Super Bowl a record eight times. 
Despite New Orleans – or N'Awlins as it's called in the local parlance – being the undisputed party capital of the free world, despite the world's clamoring for more news and new angles, Super Bowl Week is usually a pretty tame affair for those in the news business. Last week, in the shadow of the Superdome, ESPN's Mike Tirico affirmed this fact, saying, "Most Super Bowl weeks are devoid of significant news."
That certainly can't be said when the Patriots are in the Super Bowl. Last week, Boston Globe columnist Will McDonough cited sources claiming that Coach Bill Parcells won't be back in Foxboro next year. In New Orleans 11 years ago, the day after New England's only other Super Bowl appearance, the Boston Globe broke a story about rampant drug use among Patriot players. "Here we are doing it all over again," said longtime Middlesex News columnist Lenny Megliola, a veteran of New England's Super Bowl XX experience. "Every time the Patriots are involved [in the Super Bowl, the story] is always more than the game."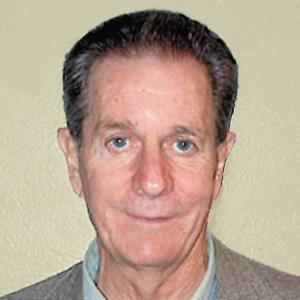 Given that a journalist's currency in trade is news, whether it be good, bad or ugly, the New England media can consider itself lucky. In addition to the post-Super Bowl XX haze that hung over the Patriots, New England writers and broadcasters covered one of the most colorful teams in the history of the Super Bowl: the 1985-'86 Chicago Bears.
Self-styled punk quarterback Jim McMahon – who was back in the big game as a backup to Green Bay's Brett Favre this year – mooned a helicopter hovering over Chicago's New Orleans practice facility in '86. When the team wasn't busy shooting the "Super Bowl Shuffle" rap video, defensive lineman William "The Refrigerator" Perry was lining up as a running back in goal-line situations; Coach Mike Ditka and combative Defensive Coordinator Buddy Ryan were fuming; and McMahon was making a weekly statement with his headband.
"That was a terrific team," confirmed Megliola. "Some of the plotlines included [linebacker Mike] Singletary and Buddy Ryan's "46" defense, and the schism on that team where Ryan and Ditka didn't get along. In fact, I think they both got carried off the field that day, which is unusual."
It was an unusual ending to an unusually news-filled week in January 1986. But Super Bowl XX and last week were the rare exception to what normally amounts to a super-boring week. During Super Bowl Week, the NFL doles out news on a per diem basis, spoon-feeding an international media contingent that often swells beyond 2,200 members.
"The NFL basically manages the news," said Dan Shaughnessy, a Boston Globe columnist. "Everybody gets the same stuff. There's not a lot of prowling around and getting scoops. It's very difficult unless you've got inside sources. You saw that with McDonough in the Globe."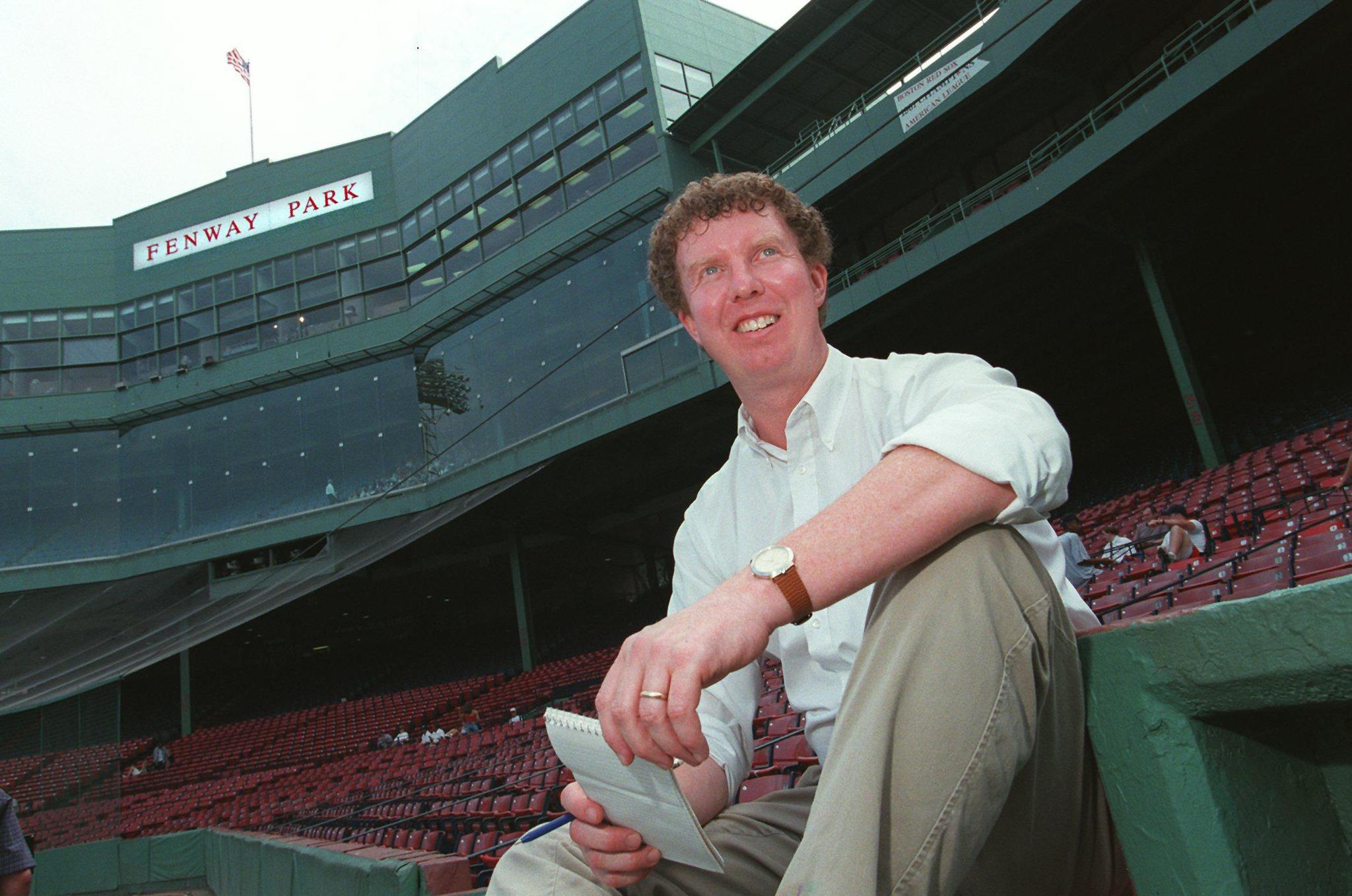 According to Shaughnessy, covering a Super Bowl when the Patriots aren't involved is uncomplicated. The writer shows up, represents the newspaper and writes stories that all but a few die-hard fans ignore. "That's not that hard," he said. "It's light lifting, by my measure."
But when the home team earns a berth in the big game, the journalist's life becomes a wee bit hectic. "There's more pressure to come up with something different, to do well," said Shaughnessy, who covered two Super Bowls involving the Dallas Cowboys in the past four years. "There's tremendous interest on the part of your hometown readers, so you really want to have a good week.
"Part of the challenge comes from having so many [Globe] people here and spreading it around," he added. "We're involved in that each day: Who's going to cover what? We want to make sure we have total coverage, but not overlap."
Local flavor
Part of the writer's or broadcaster's duties during Super Bowl Week, especially when the home team isn't involved, is to come up with color pieces about the host city. In New Orleans, the media is attracted to Bourbon Street like yellow flags to a facemask penalty. The Big Easy's sleaziest street provides more color than a kaleidoscope. All week, Green Bay and Boston camera crews infested the ribald avenue, which is named in honor of the French Bourbon Dynasty that ruled Louisiana for nearly a century.
In fact, in a journal-style color section that the Boston Herald ran during game week, Herald writers explored New Orleans' "Strip of Sin." The Herald staffers detailed their adventures at April Lynne's Carole Kitchen on the corner of Bourbon and Orleans streets; encounters with fire-eating clowns, Madam Zenith's tarot card reading and street musicians; and a visit to the Bayou Gift Center. But few adventures can match the one had by Megliola in 1986, when making small talk with a cabbie.
"I remember talking to a cab driver one night, said Megliola. "He said to me, 'Well, I think Chicago is going to win.' I said, 'Why do you think that, sir?'
"I've been picking up Patriots players at their hotel, and I've been picking up the Bears players at their hotel," added the cabbie. And contrary to reports of the curfew-friendly Patriots acting as good little soldiers and the Bears partying into the wee hours, the cabbie reported that "I've been taking the Bears players home early, and the Patriots players home very late. So they must be out gallivanting, having a good time."
The media looks for all these ways to predict who's going to win the game, Megliola said, and "the cab driver had it all figured out."
Creativity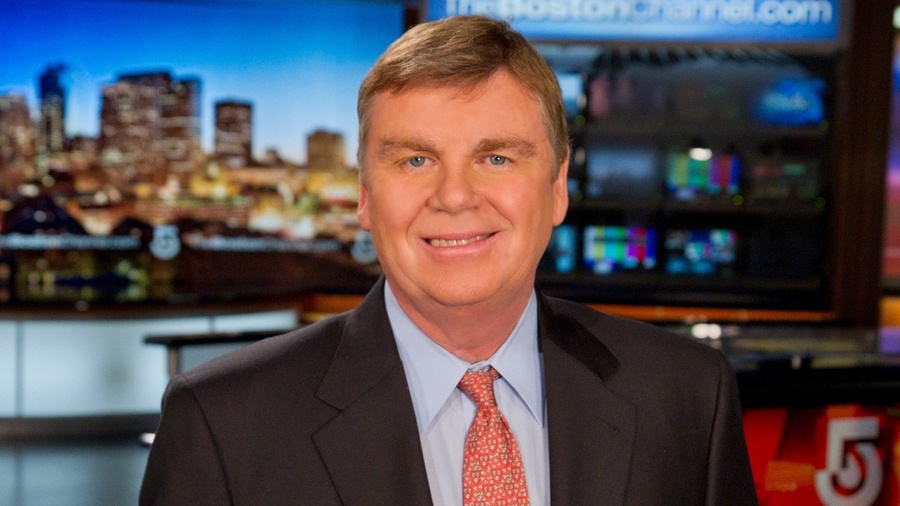 The problem that a broadcaster has to figure out, Mike Lynch of WCVB-TV mused, is turning the ordinary into the extraordinary. How does a broadcast outlet put a refreshing spin on highly orchestrated press conferences?
In their case, Lynch and his crew turned the tables – or at least the camera – on the media. Instead of filming a player spouting clichés, Lynch placed a camera behind several players at Tuesday's media day at the Superdome. "I'm going to listen to some of the silly questions that you're being asked," said Lynch. "You hear about the clichés from the players. How about some of the thoughtless questions that are asked by the members of the media – myself included?"
After a mind-numbing four consecutive trips to the Super Bowl (1991-'94), Buffalo News writer Vic Carucci almost ran out of questions. During that four-year run, including preseason and postseason games, Carucci covered almost five seasons worth of Buffalo Bills games. Carucci got to know every player, every player's mother and every player's mother-in-law. By the time his Super Bowl run was up in '94, Carucci had wrung every possible story out of the Bills. Add in a high number of international games and a steamboat full of Monday Night Football games, and Carucci said it all equals an experience that is both "exhausting and exhilarating, but a very big grind."
For Super Bowl XXIX, the first year that the Bills weren't involved after their four-year streak, Carucci said that The Sporting News named The Victor Award after him. "It's a statue of the thinking man," said Carucci. "The point was that it's supposed to show somebody pondering story ideas because his team wasn't in the Super Bowl."
In addition to the increasingly frustrating task of generating story ideas during Buffalo's phenomenal four-year run, Carucci also served as a de juris member of the Bills' public relations staff during those four Super Bowl weeks.
"You are an expert on one of the teams," said Carucci, who has covered 19 Super Bowls. "You become everybody else's source. There are thousands of media people here, and many of them – as I have done when other teams have been here – want to approach you and ask you about certain players and story angles and background.
"They not only want to know about every detail that you have on the Buffalo Bills," added Carucci, "but then they want to know about Buffalo, N.Y., and the history and character of the town. They really want you to have a feel for the pulse of the city.  . . .  Because you've been in their shoes, you want to be as cooperative as you can."
Cooperative is the Big Easy's middle name, according to Carucci. "I've always felt that the Super Bowl was meant for this city. It's a party-time game, and this is the 'partyingest' city on earth."