← Back to portfolio
Patriots' Offense Zones Out in San Francisco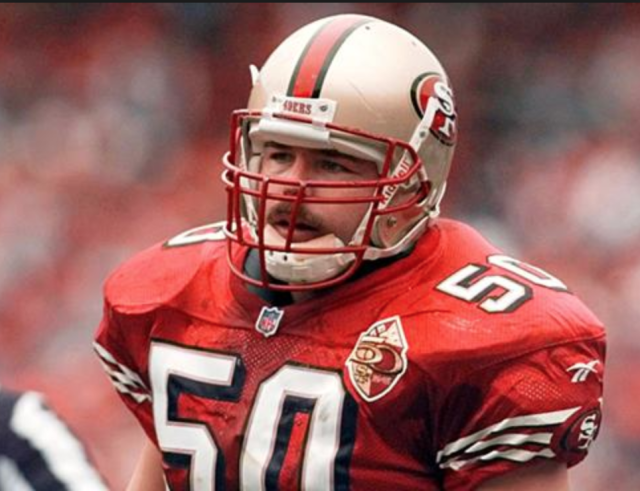 From New England Patriots Football Weekly

SAN FRANCISCO, Calif. – Since it isn't a comfort zone, it's probably best to call it trouble. The tiny patch of gridiron real estate known as the "red zone" has given the New England Patriots' sleek, new '95 offense fits in the first month of the season.
What compounds the Pats' frustrations is the little, if any, trouble they've encountered moving the ball between the 20-yard lines. Inside the opponent's 20? Well, let's just say that it's been 54 plays inside the red zone since rookie runner Curtis Martin's game-winning dive against the Browns handed the Patriots their last – and only – touchdown. Both the Miami Dolphins and the San Francisco 49ers, preseason favorites to play in Sun Devil Stadium in January, have held the Pats to one field goal in each of the past two games.
Once inside San Francisco's red zone, it was the same old song and dance for the Patriots at Candlestick Park (3Com Park, if you insist) on Sunday afternoon. A promising offensive start by New England slowly evaporated under San Francisco's relentless red-and-gold rush. In an almost mirror-image of last week's performance against Miami, New England had little trouble reaching the 49er red zone but ran headlong into trouble finding the end zone. 
Against San Francisco, the Patriots entered the 49ers' red zone six times and ran 20 plays, only to walk away with a 43-yard field goal by placekicker Matt Bahr. The Pat's chronic red-zone flu has even bitten the normally unflappable Bahr, who directed a 34-yard attempt wide right in the first quarter.
"It was pretty much the same story [as last week]," admitted Patriots coach Bill Parcells, who was unable to explain New England's lack of red-zone punch. "I can't talk about it . . .  We just can't get the ball in the end zone."
Considering Sunday's red-zone troubles are old news, the 49ers spent hours studying New England's tendencies when deep in enemy territory. San Francisco's video homework paid dividends. With the Patriots lacking a bullish runner  to pick up grueling red-zone yards, they're often left with quarterback Drew Bledsoe's arm. So 49er coach George Seifert and defensive coordinator Pete Carroll opted to wrap up tight end Ben Coates (5 catches, 72 yards) and haunt running back Dave Meggett (2 carries for 12 yards, 3 catches for 24 yards), forcing Bledsoe to look to secondary and tertiary options.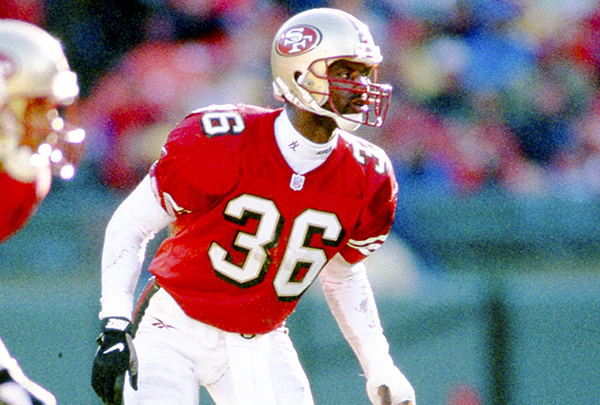 "We kept a great offensive team out of the end zone," said 49er free safety Merton Hanks, who accounted for two interceptions inside the San Francisco five, including a stellar diving steal of a jump ball for wideout Vincent Brisby at the one. "[Bledsoe has] a cannon of an arm, but he still makes some mistakes because he's young. We tried to take away his first read. He tends to go with his first read a lot, so we tried to force him to go to his second read, and we did that." 
So with Coates and Meggett under close scrutiny, that left the likes of Brisby, Will Moore and Troy Brown to the watchful eyes of the Niners' all-pro caliber secondary. Aside from Brown, who co-led the team with five receptions for 72 yards, the starting tandem of Moore and Brisby posted a sting-less seven-grab, 68-yard effort. Yet New England still ventured inside the San Francisco 20 time and again, only to be kept at bay by the Bay Area's best defense, which tipped balls, intercepted passes, made fourth-down stands and deployed in-your-shirt pass coverage all afternoon. The methods may have changed, but the result was the same: No touchdowns for the second consecutive week.     
"We got a great effort out of our defense," said Seifert. "For [New England] to be down in the red zone so many times and to deny the team points – except for the field goal – I think it's a real positive statement about the character of our defensive players."
Perhaps the game's boldest statement was made by 49er right inside linebacker Gary Plummer, who hammered Martin on a fourth-and-one dive play up the middle early in the second quarter. Moments earlier, when a halfback-option play broke down and Meggett raced across the field and around left end to the 15, New England found itself inside the Niners' 20 for the second time. 
Martin was then stymied for no gain on the ensuing play, setting the stage for the dive. With New England having experienced fourth-down success with Martin's touchdown dive  against Cleveland and again in the first against the 49ers (five-yard pickup), Plummer had a good idea what was being discussed in the huddle and greeted Martin at the line of scrimmage for no gain.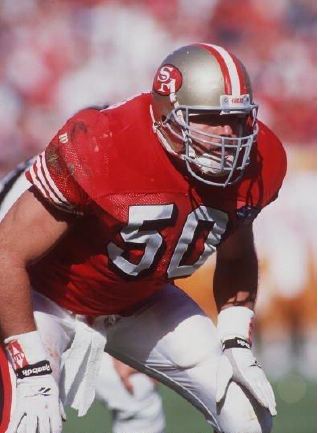 "They had run the same play on fourth and short in the first quarter," noted Plummer. "And Parcells is the type of guy, if he's successful with something, he'll go out and try it again.
"We've been playing well inside the 20 all year," added the former Oakland Invader (USFL) and Charger. "It's just something that we talked about all offseason and during training camp. We needed to be more effective, and we were today. Coates is their go-to guy. They're going to go to him and Meggett out of the backfield. If you can shut those two guys down, it makes it a lot easier to play defense."
A Plan of Their Own
Part of San Francisco's defensive strategy, aside from blanketing Meggett and Coates, was to confuse Bledsoe by running rush zones. The Niners rushed a linebacker or a defensive back, but dropped a lineman back into zone coverage to compensate, thereby creating chaos for Bledsoe to muddle through. "It just presents different looks that are confusing, especially for a young guy like Bledsoe," said Plummer. 
Nowhere was this more evident than midway through the first period, when left inside linebacker Ken Norton, Jr., came in untouched and blasted Bledsoe into the turf. Although he managed to fire off an incomplete pass to Coates, avoiding the sack, Bledsoe's left shoulder was slammed into the ground, causing him to leave the game and miss a series while being examined in the locker room.
"I'd been waiting for him to run all week," joked Norton, who came in from the strong side. It was our first blitz of the day and I'd really been waiting on it. We just wanted to be very aggressive and show him a lot of different reads, not let him read certain things. We wanted to mix up our coverages and have him thinking about what he wanted to do. He was back there, he wasn't sure what he wanted to do and it enabled our pass rush to get to him."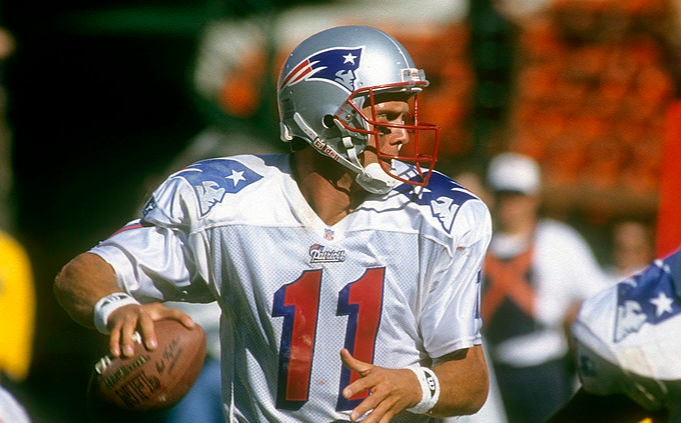 After confidently jogging out to take the reigns from backup quarterback Scott Zolak in the second quarter, Bledsoe never displayed the same panache as he had on the first drive, when he completed a 31-yard pass to Coates and directed the team on a 12-play, 55-yard drive that gobbled up almost five minutes. After that virtuoso performance, he looked a bit jittery, his timing off. Soon after the hit, Bledsoe led Martin – who had split the coverage of safeties Hanks and Tim McDonald like a wishbone – just a little too much for an incompletion.
The only other time he resembled his first-drive self was soon after he returned in the second quarter. Calmly standing in the pocket, Bledsoe zipped a 15-yard scoring pass to Coates, only to see it called back when Todd Rucci was whistled for holding. With 18 yards needed for a first from the 49er 25, Bledsoe overthrew Moore in the right corner of the end zone and had a pass batted away by Alfred Williams before Bahr was called upon to hit a 43-yard field goal for a 3-0 lead. 
The Patriots' only other trips inside the danger zone occurred in the final half, with San Francisco comfortably ahead. In the fourth, three red-zone jaunts produced a Hanks pick and a pair of fourth-down misfires to guess who? Yep, it was Coates and Meggett.
"Once again, we didn't cash in [on excellent field position]," said Bledsoe. "Against the San Francisco 49ers, when you have those opportunities, you have to cash in on them. Otherwise, you're never going to win the game."