← Back to portfolio
Patriots Edge Giants, Wrap Up Second Seed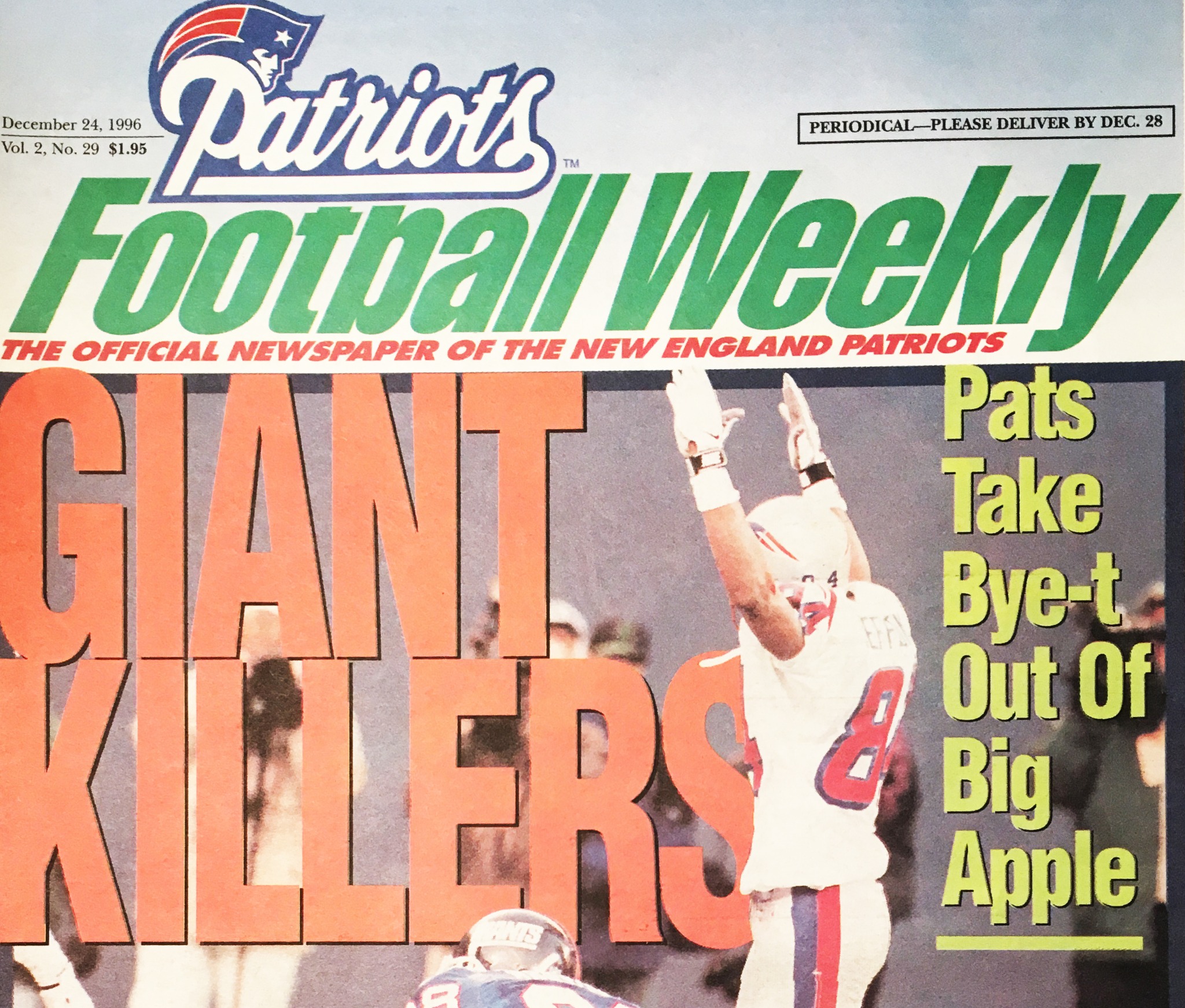 From Patriots Football Weekly

EAST RUTHERFORD, NJ – The regular-season finale between the New England Patriots and the New York Giants was like an episode of Unsolved Mysteries. One peek at the Giants Stadium sidelines produced no glimpse of Robert Stack wearing headphones, yet the Saturday-afternoon game – a 23-22 New England victory – still had a surreal air about it. 
Where was the Patriots' offense? What happened to the vaporous New England defense? Where will Patriots coach Bill Parcells be next year? Will he even coach? What did the New York defense do to thoroughly befuddle Patriot quarterback Drew Bledsoe for three quarters? How did the mediocre 1996 Giants' offense so resemble the 1986 championship unit? Where will New York coach Dan Reeves be next year?
Other subplots swirled about Giants Stadium, a facility famous for finicky winds:
It was Parcells' first visit to play his former team. 
The New York-New England work-exchange program was also a hot topic: Former Patriot defensive lineman Ray Agnew started for the Giants. Onetime Giants David Meggett, William Roberts and Bob Kratch are now key Patriot veterans. 
Could Dan Reeves, who was 0-3 lifetime versus Parcells entering the game, finally solve the Riddle of Bill?
Plotlines abounded. So did questions. A few were answered, but none more definitively than where the Patriots will be next weekend. By virtue of their nail-biting victory over the New York Football Giants, the Patriots (11-5) tied the franchise mark for most wins in a season and will be lounging in their respective dens watching the wild-card round this weekend. The Patriots, AFC East titlists, will host a second-round AFC playoff game at Foxboro Stadium in two weeks.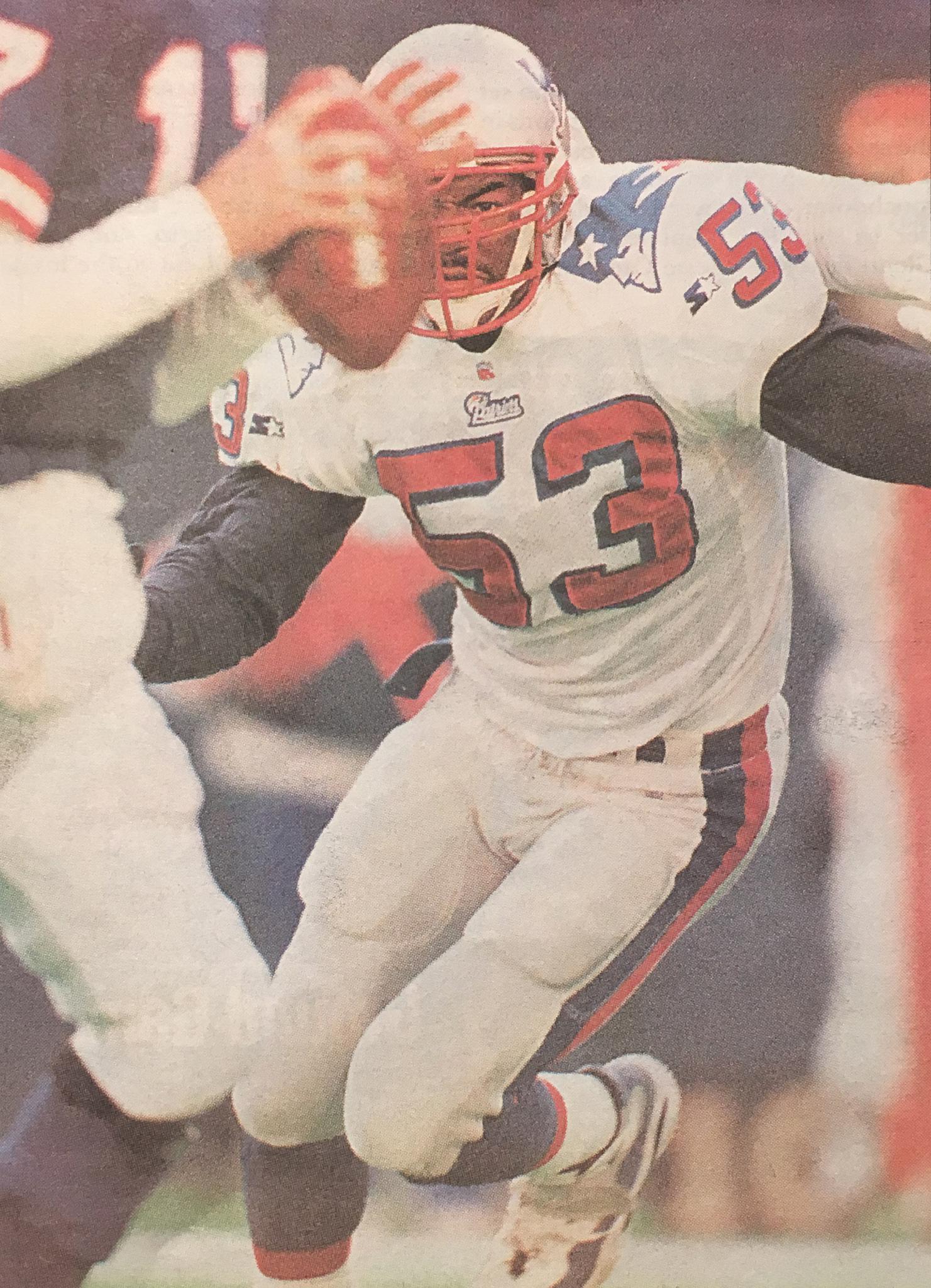 "Any time you come back from that type of [deficit], said Patriot outside linebacker Chris Slade, "it's a big deal. It was pretty emotional."

Once the Pats cut through the fog of intrigue that enveloped Giants Stadium, a football game remained to be played. After three quarters of Patriot ineptitude, New England owner Bob Kraft almost filed a missing-team report with the East Rutherford authorities, but the real Patriots showed up in the fourth.

The situation: The Giants (6-10) raced out to a 22-0 lead by the halftime whistle. New England responded by rattling off 23 unanswered second-half points – including a remarkable 20 in the final 15 minutes – for the win. "We've been a Jekyll-and-Hyde team all season," said New York defensive end Michael Strahan. "We were Jekyll in the first half, and we weren't even Hyde – we were Mrs. Hyde – in the second half.

"Those guys wanted home-field advantage [in the playoffs]," added Strahan. "They came out and played really well. And Meggett just gave them the momentum with the punt return."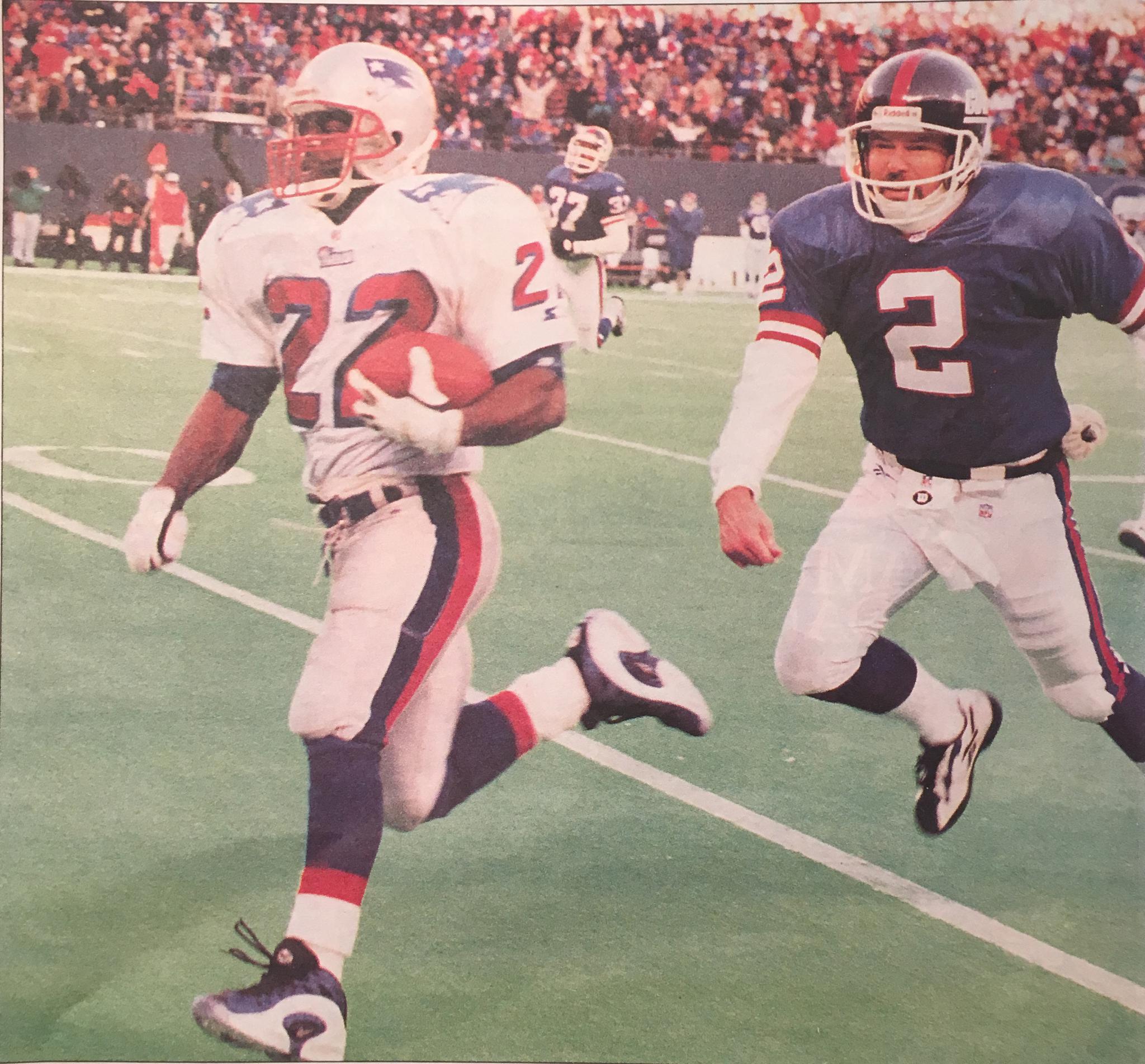 Aaahhh, yes, the punt return, which might forever be known as "The Punt Return" if the Patriots make a serious run in the 1996 NFL Playoffs.

After rookie receiver Terry Glenn's 26-yard touchdown grab narrowed the Giants' lead to 22-10 at the outset of the fourth quarter, the New England defense forced New York to punt after three weak downs.

Then, New York punter Mike Horan got off a 37-yard punt that Meggett fielded cleanly in the center of the field. With the Giants over-pursuing to Meggett's right, he burst straight upfield between cornerback Jason Sehorn and backup center Adam Shreiber before cutting left and eluding Horan for a 60-yard touchdown return. Meggett, who received a big hug from Parcells on the sideline, couldn't have picked a better time to pick up his first Patriot punt return for a touchdown. (It was his first punt or kickoff return for a touchdown since he broke a punt return for a score against the Lions on October 30, 1994, at The Meadowlands.) Rookie placekicker Adam Vinatieri's extra point slashed New York's lead to 22-17 with 11:09 left in the game.

"That was one of the biggest plays of the game," said Meggett, who kissed the blue artificial turf in the end zone after the return. "We needed a spark and we needed it quick because we were running out of time. That's why I was excited – because I was able to give us the lift that we needed."

Meggett's runback proved to be the headline stealer, but the New England comeback began more modestly in the third quarter. As Parcells pointed out, he "saw a faint glimmer of hope" with 4:12 left in the third, when Vinatieri booted a 40-yard field goal that cut New York's lead to 22-3. At that point, only the Patriots and their most diehard fans saw Parcells' miniscule glimmer of hope.

Parcells' charges rewarded his faith with one of the most wild and woolly fourth quarters in Patriots' history.

Meggett fair-caught a punt at the Patriots' 12-yard line with 1:24 left in the third. Their prospects dim, the Pats eked out a first down when Meggett picked up two yards on third and one from the New England 21. Then the whistle blew, ending the third.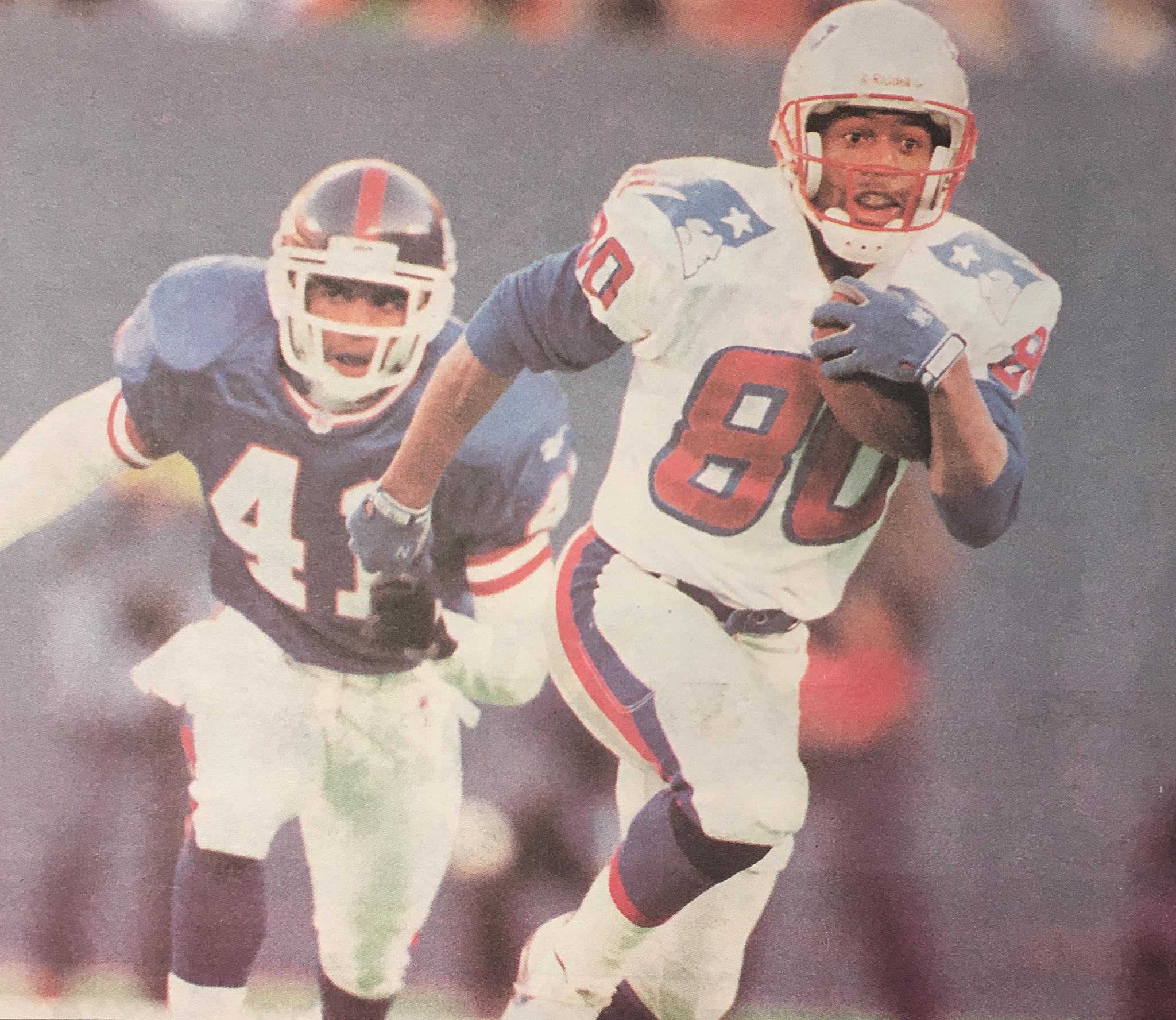 Slowly, painfully, New England marched forward. On third and 10 from the 23, receiver Troy Brown collected a Bledsoe pass on a slant pattern and turned upfield for a 38-yard pickup. Stationed at the Giants' 29, Meggett and tight end Ben Coates made back-to-back four-yard receptions, setting up a third and two at the 31. Meggett scooted behind left guard William Roberts for a five-yard gain and a first down. Then Glenn (8 catches, career-best 124 yards, who set the NFL rookie record for receptions in a season during the second quarter, bounced back from a banged-up hip to make a 26-yard touchdown catch over his right shoulder to slice the Giants' lead to 22-10. Glenn beat safety Jesse Campbell on a fade pattern into the right corner of the end zone with 12:20 remaining in the final quarter.

Although Glenn's touchdown brought the Pats to within firing range, the true momentum-swinging play was Meggett's touchdown return. "I knew we had a real chance after Meggett's return," said Patriot receiver Troy Brown.

Once Meggett cashed in, Patriots corner Otis Smith – who struggled mightily early in the game – came up with a huge interception on the ensuing possession. On third and two at the New York 34, Smith, who had inside position on receiver Kevin Alexander near the right sideline, picked off Giants quarterback Dave Brown. An 11-yard return later, New England set up shop at its 36. With time dwindling, New England failed to capitalize on Smith's pick.

So, first New England, then New York both went three downs and out. But, with 7:08 remaining, the Patriots embarked on a 13-play, 75-yard scoring drive, easily one of the most nerve-wracking series of the season.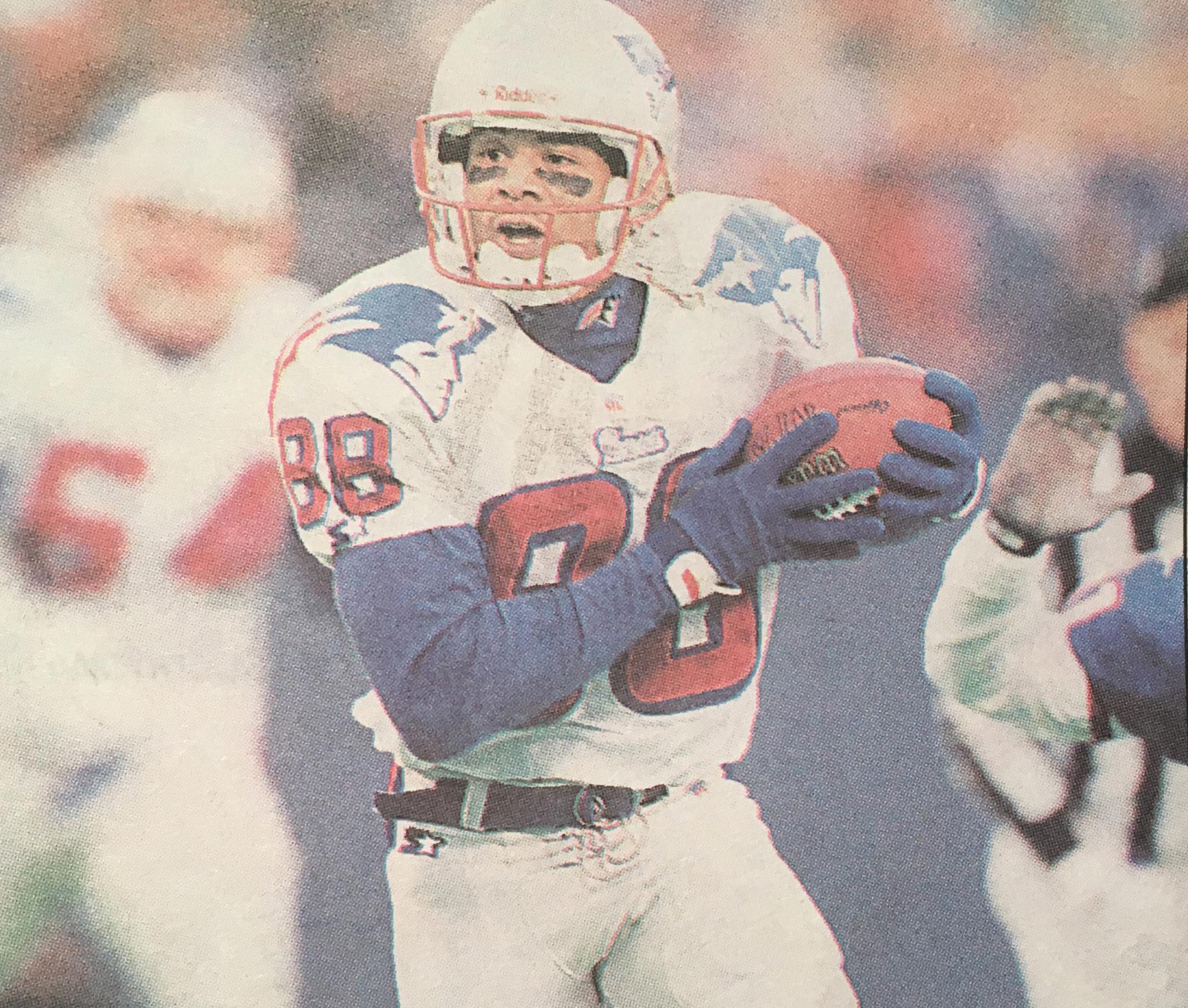 Starting at the New England 25, Bledsoe overcome his poor start just in time to orchestrate the game-winning drive. First, he found multi-purpose back Keith Byars on a swing pattern in the right flat for 17 yards. A couple of plays later, Glenn – who gained a step on Sehorn after the Giant slipped on the frozen turf – collected a pass on a crossing pattern right to left for 17 more yards and a first down at the Giants' 39.


After Patriots' runner Curtis Martin was stuffed two yards behind the line of scrimmage, and Glenn was nailed for a two-yard loss on a reverse that was sniffed out by Agnew and end Chad Bratzke, Troy Brown made a highlight-reel grab on third and 13. Lined up in the right slot, Brown charged upfield and cut to the inside.

After Brown cut in front of safeties Tito Wooten and Percy Ellsworth, he slipped and fell at the New York 29. As he lay on his back, Brown reached back and made a sensational fingertip grab for a first down.

"I knew it was a big catch – it had to be made," said Brown. "I just wanted to get that first down and keep the drive going. My hands were free. My body was on the ground, but the ball was right there. I saw it coming the whole time."

Once Glenn victimized Campbell again for a for a 13-yard pickup to the 16, the Patriot attack fizzled. Meggett lost two yards, then was flagged for a false start and Bledsoe had a pass tipped, forcing a third and 17. Strahan was whistled for being offside, and on third and 12, Bledsoe found Meggett in the left flat for only five yards.

Only a daunting fourth-and-seven situation at the 13 separated the Pats from a first-round bye and a second-round home playoff game. After New England signaled for a time out, tight end Ben Coates came out and lined up in the right slot. Near the goal line, Coates got away with shoving corner Conrad Hamilton into the end zone before he turned and cradled Bledsoe's pass in the numbers a couple yards shy of the end zone. Hamilton and Wooten immediately converged on Coates, but Big Ben struggled toward the goal line and – with a push from behind by the diminutive Meggett – plunged into the end zone for the touchdown. ("I went and gave him a little nudge," admitted Meggett.) The two-point conversion failed, and the Patriots held a razor-thin 23-22 edge with 1:23 left. The comeback was complete.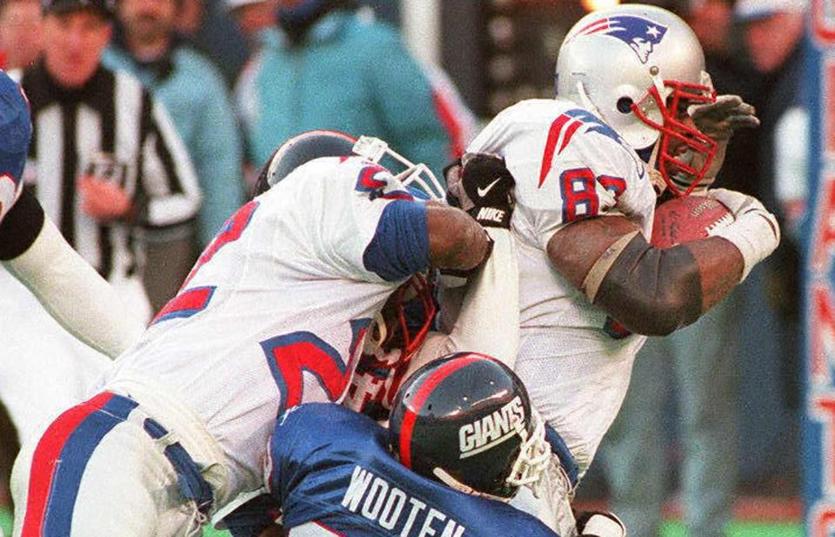 "Who made great plays," asked Agnew. "Their playmakers made the plays, like Meggett. I wish them the best of luck. I would have loved to have gotten this one, but . . ."

But those Patriots playmakers were missing in action in the first half, when New England had a better chance of uncovering Jimmy Hoffa's body in one of the Giants Stadium end zones than they had of finding their offense.

The Giants' defense pressured Bledsoe with a smothering pass rush from a four-man front, and mystified the young signal caller with a variety of corner and zone blitzes. "We tried to get guys in his face and disrupt his timing," said Strahan.

Excluding the final drive of the first half, which was encouraging save for Bledsoe's second interception, New York's defensive scheme worked to perfection in the opening half. Bledsoe, who wound up with a deceiving 301 yards passing, was ineffective for New England's first six possessions, as the team registered a punt, punt, safety allowed, punt, punt and an interception.

Bledsoe completed five of 11 passes for 16 yards, no touchdowns, tossed two interceptions and was flagged for intentional grounding from the end zone – a call that resulted in the aforementioned safety. Despite the slow start, though, Bledsoe rebounded with a gutsy fourth, when he completed 12 of 18 passes for 156 yards and a pair of touchdowns.

And to be fair, Bledsoe received no support from the infantry. During the same span, Martin was equally impotent on the ground, as the Giants limited him to 10 yards on seven carries.

At the same time, as the wheels were coming off the Patriots' bandwagon faster than hubcaps in the Bronx, Giants' quarterback Dave Brown was dissecting the New England secondary. New York threw several different offensive looks at the Pats – including unveiling the shotgun formation for the first time this season – that kept them off balance. Even with Giant runners Rodney Hampton (knee), Tyrone Wheatley (ankle) and Keith Elias (knee) sidelined in this last game of the regular season, the Patriots had their hands full with starting fullback Charles "Show Me The" Way and no-name runner Gary Downs in the first half.

Other than the Bledsoe safety, both teams failed to score in the first quarter. Up 2-0, the Giants received the kickoff and returned it to the New England 44, where they embarked on a six-play, 44-yard drive that resulted in a one-yard plunge by Way. Although New York's offense easily dictated play in the opening half, it mustered only a pair of field goals by Brad Daluiso (30, 27 yards) for the rest of the half.

Down 15-0 at the break wouldn't have posed an insurmountable lead for the normally potent Patriots' offense, but with the way the New York defense was manhandling New England, corner Jason Sehorn's 23-yard interception return for a touchdown in the final minutes of the half – which gave the Giants a 22-0 cushion – seemed to put the game out of reach for New England, and gave the raucous Meadowlands crowd reason to celebrate at halftime.

"They took it to us in the first half," admitted Parcells. "It looked like they were better prepared."

Even with a new lease on life after the halftime break, and faced with a Giants team content to sit on its sizeable lead, the Patriots still stumbled and bumbled their way through most of the third quarter. But, with postseason bounty dangled before their facemasks, the scrappy Patriots somehow, some way found the wherewithal to full their collective fanny out of the fire.

"When we won the game, [Parcells] came in here, gave a little speech and he shed a couple tears," said Glenn. "That kind of made the team feel real good."