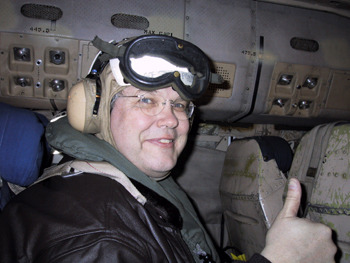 ← Back
Palm's Pilots Help Drive Palm Economy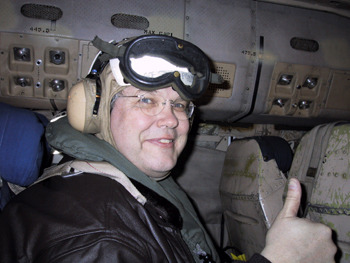 Palm CEO Carl Yankowski is one of the many amateur pilots driving the Palm Economy.
From the pages of Palm's Inside Palm newsletter
Although most Palm Pilots have been relegated to the Handheld Hall of Fame in recent years, there are several, different, Palm pilots who are still helping to drive the Palm Economy in Santa Clara.
These new pilots – people like David Creemer, Hugh Thompson, Carl Yankowski and Lloyd Evans – all have their hands full pushing Palms out the door, but they still manage to find a few hours a month to engage in their other passion -- flying.
"Flying is filled with challenges, and that's part of what makes it so fun," says Hugh Thompson, an engineer who often flies with David Creemer at Palo Alto Airport, just north of Palm's headquarters. "You're constantly learning something.
"The one thing I always remember is that it's important to make sure you've covered everything possible before leaving the ground, because you can't 'pull over,' like when you have car problems."
These guys are all attracted, in some manner, to the challenges of – and freedoms afforded by – flying. It's almost a primordial need.
Most recall being attracted to flying at an early age. Thompson's father was a pilot. Evans remembers going to the airport with his grandparents as a child. Creemer, though, might have the best story of all.
As a five-year-old, Creemer, his mom and his sister were on a trans-Canada flight. Due to the cabin pressure, Creemer and his sister were experiencing severe earaches. So Creemer's mom asked the flight attendant if the crew would mind adjusting the cabin pressure.
"The flight attendant asked the captain, and she came back and said that my sister and I were invited to join the pilots in the cockpit," recounts Creemer, a senior software engineer. "I remember that it was an L-1011, a big wide-body jet. I remember walking up there and we were wide-eyed.
"The flight engineer sat my sister in his chair and showed her the buttons and switches," Creemer adds. "Then the captain sat me in his chair, and had me hit some buttons and switches. For the rest of the trip, we didn't talk about anything else."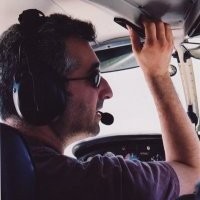 David Creemer in the cockpit.
This indelible impression led Creemer to enroll in flight school in 1999, and he earned his private pilot's license with a visual flight rules (VFR) rating soon thereafter. But that's only his first step. In the fall, Creemer will begin studying for his instrument flight rules (IFR) license, which will enable him to fly in hazy or cloudy conditions.
After ground school, Creemer immediately noticed a Palm connection to the flight world. His flight instructor, Dave Duffy, is the stepfather of Palm employee Keith Rollins. As time went on, Creemer noticed more and more "Palm pilots," such as Yankowski, Thompson, Evans and others.
Although it seems like there are an unusually high number of pilots at Palm headquarters, Evans isn't sure that there's a link between the adventurous, entrepreneurial types at Palm and flying. "The people in my flying club come from all professions," notes Evans, a software engineer. "If there is any commonality, it's just that some people were born to fly no matter what."
No matter how hard they try, some just can't resist the urge to break free from gravity and leave all their worries on the ground.
"It's a great escape from all the other issues we normally deal with," admits Thompson, a VFR pilot aiming for an IFR rating. "When I'm flying, I'm focused on making sure it's a safe flight, and that we're heading in the right direction."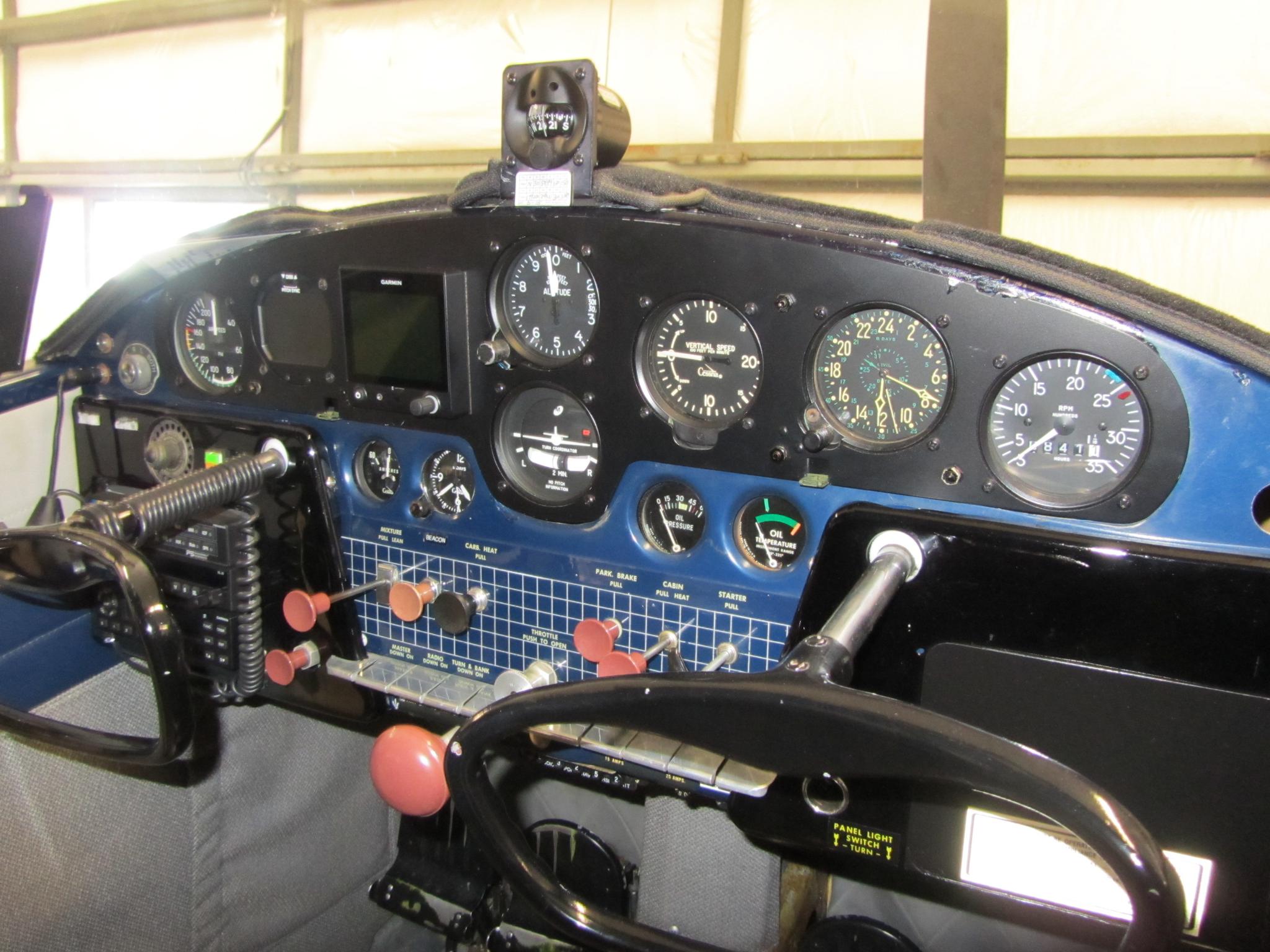 Sometimes, this wanderlust strikes anywhere, anytime. Palm CEO Carl Yankowski, for instance, recently got the urge in South America.
"I practice instrument approaches often, to keep up my skills in that area should I need them," says Yankowski, who flies once or twice a week. "Otherwise, I fly for personal transportation or recreation. Just today, I rented a Citabria in Rio de Janeiro and flew up and down the harbor beach to appreciate the beauty."
While the allure of flying largely lies in its freedom, the element of risk is another, possibly fatal, attraction for some. Flying is not as easy as these guys make it sound.
In any aircraft, especially small planes, pilots have to account for weight, weight distribution, fuel consumption, weather patterns and a million other miniscule details that could affect the plane during flight. While there are some Palm aviation applications (see sidebar) that help pilots make these calculations, it's ultimately the pilot's knowledge, savvy and plain old guts that make for a safe flight.
"I'm definitely attracted to things that have some element of risk," says Creemer. "But that risk can be strongly mitigated by careful study, practice and attention. I like to prepare and think and study.
"Cockpit resource management is important," Creemer adds. "You have to know where to focus your attention at all times. You have to monitor all systems – engine gauges, fuel flow systems – while having to communicate with air-traffic control."
The greatest reward of all, however, might be the view. When not juggling gauge readings, air traffic control conversations and idle chit-chat with passengers, pilots have a precious few moments to enjoy the rarefied view.
"When I was recently flying back to the Bay Area," says Creemer. "I was at about 6,500 feet on an absolutely perfect crisp, clear day.
"I could see the coastal mountains, the Pacific and the valleys on my right," he adds. "On my left was the Central Valley of California, and I could see the Sierra Mountains with snow on top. I love seeing stuff like that; those are special moments."
[Sidebar] These Palm Apps Can Boost Your Flight Plans

After polling several pilots at Palm, they suggested three Palm handheld applications that might prove useful to amateur pilots.

PocketTest:
Using a Palm handheld, the PocketTest portable-study tools allow people to study anytime, anywhere for the Federal Aviation Authority's written exams. PocketTest products are cross-referenced to explanations and maps in the textbooks from Gleim Publishing. If you already have a license, PocketTest programs are a great way to sustain a sharp sense of aeronautical knowledge and remain a safe and informed aviator.

CoPilot:
CoPilot is a program that performs flight-planning calculations -- calculations that would usually be performed with a ruler, protractor and an E6B calculator. CoPilot does time, distance, heading, fuel, and weight/balance calculations. It prepares flight plans (Canadian, American, and ICAO formats) with all the information required for FSS communication. CoPilot aids in plotting routes on a map, and stores data for past flights.

Landing 1.0:
Landing is designed to provide airplane pilots with pattern headings for both left and right traffic at any airport. In addition, it will also show the current wind direction and wind velocity, and will calculate the head/tailwind and crosswind components. Designed with the aviator in mind, there is no need to use the stylus. The last thing a pilot needs to worry about is a dropped stylus in the cockpit on final approach.