← Back to portfolio
Nagpal Visits Berg to Discuss GBM Clinical Trial

Berg Breakthroughs (Employee Newsletter)
When Seema Nagpal, M.D., visited Berg's offices in April to discuss the glioblastoma multiforme (GBM) clinical trial that was recently launched at Stanford University, the neuro-oncologist quickly captured the attention of her audience with a beautiful baby picture.

Dr. Nagpal, who serves as one of the primary investigators on this trial, cleverly used the image –- which provided a jarring contrast to the somber subject of a deadly brain cancer –- to emphasize the big-picture goal of this clinical trial.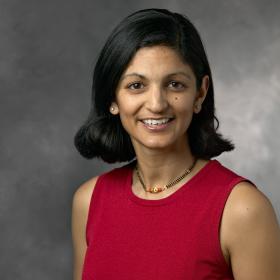 "Dr. Nagpal began her presentation by showing us a picture of a baby, and told us how the baby's father – a GBM patient in another clinical trial – was able to live long enough to see his son born," says Berg Clinical Trial Manager Megan Wilson, who oversees this investigator-initiated clinical trial. "A few weeks or months may not seem like much time for healthy people like us, but those months really do matter for someone with a deadly disease like glioblastoma.

"While the main objective of this trial is to assess the safety and tolerability of our leading drug candidate, BPM 31510," adds Megan, "our ultimate hope is that we can offer an additional treatment that may extend patients' lives."

According to the National Brain Tumor Society, glioblastoma is the "most common and deadliest of malignant primary brain tumors in adults." Because it has four genetic subtypes that respond differently to aggressive treatments, it is very difficult to cure. There are minimal treatment options for GBM patients, who have a median survival rate of 15 months. With a five-year survival rate of less than five percent, this patient population is in urgent need of new treatments that can improve outcomes and quality of life.  

"When compared to removing a brain tumor, Dr. Nagpal spoke about how it's easier to surgically remove a tumor from another part of the body and subsequently treat with chemotherapy and radiation," says Quality Assurance Specialist Lis Hutchins, who attended the presentation. "But with primary brain cancer, it's much trickier to target and treat a tumor because the brain's physiology is very intricate, like a spider web."

The Stanford-Berg clinical trial, which began in February, is designed to evaluate the safety and tolerability of BPM 31510 in GBM subjects who have suffered a recurrence after a regimen of bevacizumab (chemotherapy). Secondary outcome measures are to characterize the pharmacokinetics and pharmacodynamics of BPM 31510 among the same group.

"Our BPM 31510 product, which has a unique mechanism of action, should be effective in treating the cancer based on the substantial data that we have accumulated," says Berg Chief Science Officer Ranga Sarangarajan. "The mechanism of action of BPM31510 should provide a therapeutic benefit in GBM, an aggressive type of cancer for which there are limited therapeutic options that provide long-term benefits. It's a devastating disease that really needs therapeutics."

The trial recruited and treated its first patient in April. Dr. Nagpal and her team are actively recruiting new participants, and are on the verge of securing a second patient. "Our first patient tolerated the BPM 31510 intravenous product well, so with our next patient we'll escalate to the next dose level," says Megan.

"We're fortunate to be working with such a committed and passionate investigator in Dr. Nagpal," adds Megan. "She really cares about patients and moving clinical research forward to find cures. As a clinician-researcher, she has a natural affinity for both patient care and research, which is relatively rare.

"Although her work is very complicated, she did a great job of explaining it in a clear, concise way in her presentation, which was well received," says Megan. "Dr. Nagpal's ability to connect what we're doing in the lab to clinical treatments that might benefit patients was impactful, and we all came away with a better understanding of her research and its goals,"

Learn more about the clinical trial.