← Back
Forest Hills Cemetery: Boston's 'Open-Air Museum'
The Angel of Death and the Sculptor, by Daniel Chester French.

Upon passing through the heavenly entrance gate at Forest Hills Cemetery in Jamaica Plain, visitors are greeted, appropriately, by Lady Death.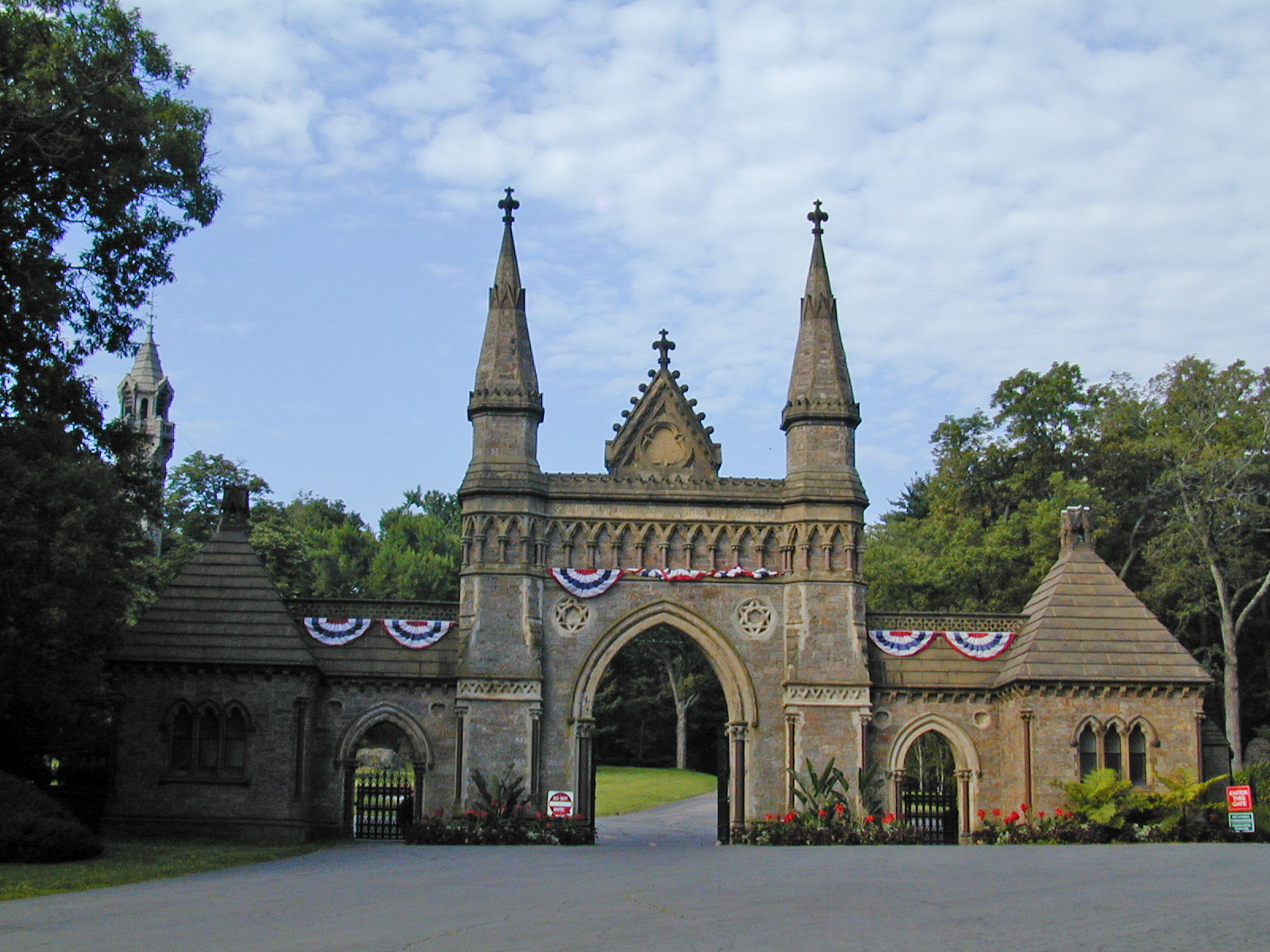 Forest Hills Cemetery entrance gate.
In truth, they look to their left and see one of the finest pieces of outdoor art in the United States. The Angel of Death and the Sculptor, a beautiful bronze relief by Daniel Chester French, memorializes his friend and fellow sculptor, Martin Milmore, and the Milmore family.
Among the many fine works that Martin and his brother, Joseph, created in their short time on earth (both died in their 40s) is the Sphinx, a memorial to the Union dead at Mt. Auburn Cemetery in Cambridge. Knowing this, French portrays a young artist working on a Sphinx, in low relief, in the Milmore Memorial. A sympathetic angel of death, with a bouquet of poppies in her right hand, gently stays the young artist's left hand with her own.
"Forest Hills is an open-air museum, where the public has the opportunity to see great sculpture in a beautiful, outdoor setting," says Rebecca Reynolds, a sculpture historian, Forest Hill's keeper of historic collections and leader of the cemetery's Victorian Sculpture Tour. "Forest Hills has the greatest collection of 19th and early 20th century memorial sculpture. It's an amazing place."
The one artist whose influence is felt most throughout Forest Hills' meticulously manicured grounds is French, who is best known as sculptor of the seated Abraham Lincoln at the Lincoln Memorial in Washington, D.C., the Minute Man statue at North Bridge, Concord, Mass., and Harvard University's John Harvard.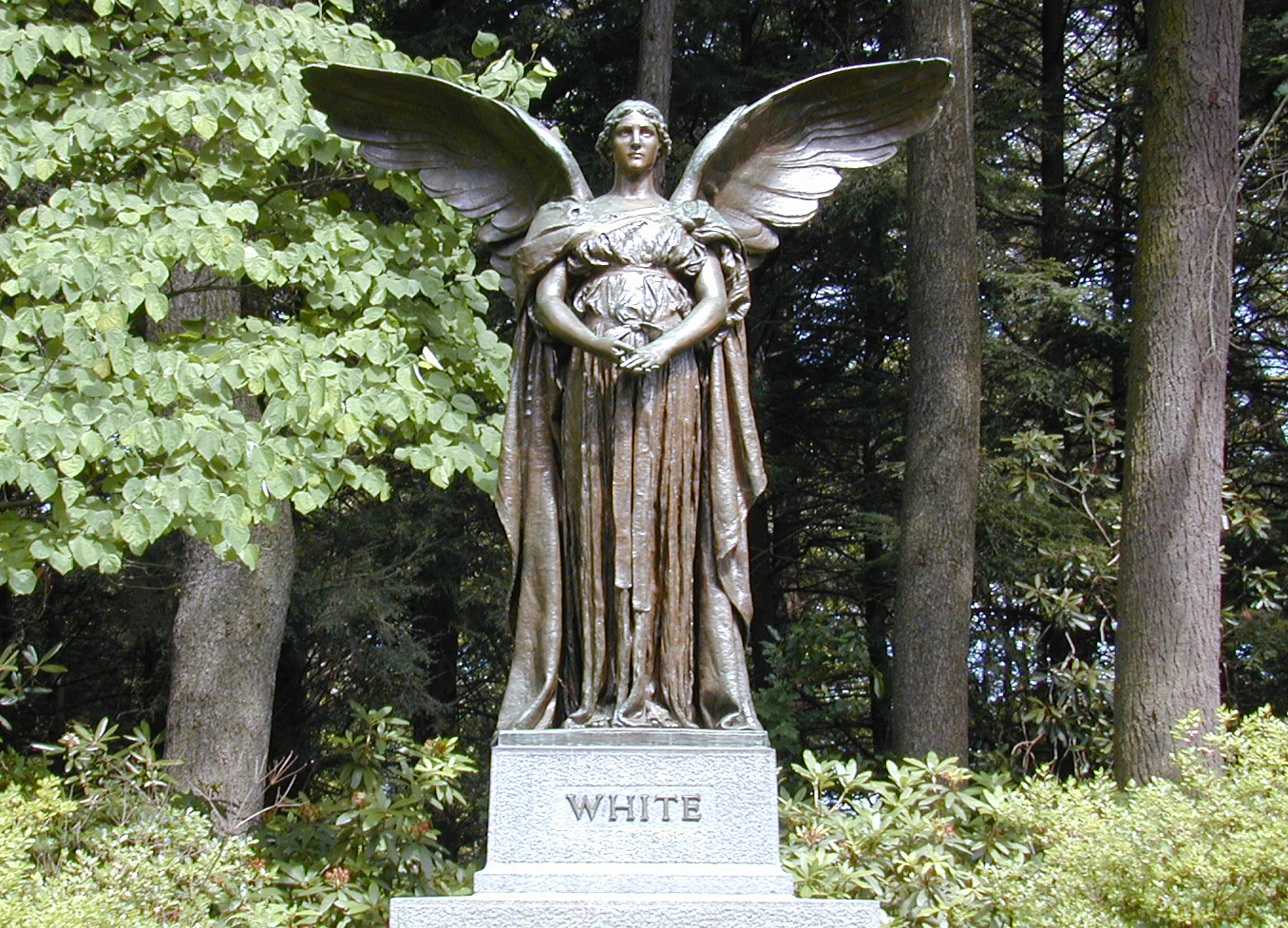 The Angel of Peace, by Daniel Chester French
In addition to The Angel of Death and the Sculptor, French created seven other works at Forest Hills Cemetery, which is a classic example of the mid-19th century's love affair with rural garden cemeteries. One of his most striking Forest Hills' works is the giant Angel of Peace, which hovers, wings spread wide, over the grave of Boston businessman and philanthropist George White.
"White was a trustee of Forest Hills," says Reynolds, "so he encouraged people to have significant sculpture on their plots. To set an example, White commissioned the Angel of Peace by French 20 years before [White] died. It's a beautiful work."
Perhaps the most touching, beautiful pieces are the more humble efforts, such as The Boy in the Boat and The Girl in the Glass, glass-encased lifelike memorials to Louis Ernest Mieusset and Gracie Allen, who both died soon before their fifth birthdays.
According to Reynolds, public sculpture in the United States began in 19th-century rural garden cemeteries like Mt. Auburn and Forest Hills. As Boston's urban cemeteries filled to overcrowding at the time, men of medicine feared that these packed resting grounds might prove to be a risk to public health.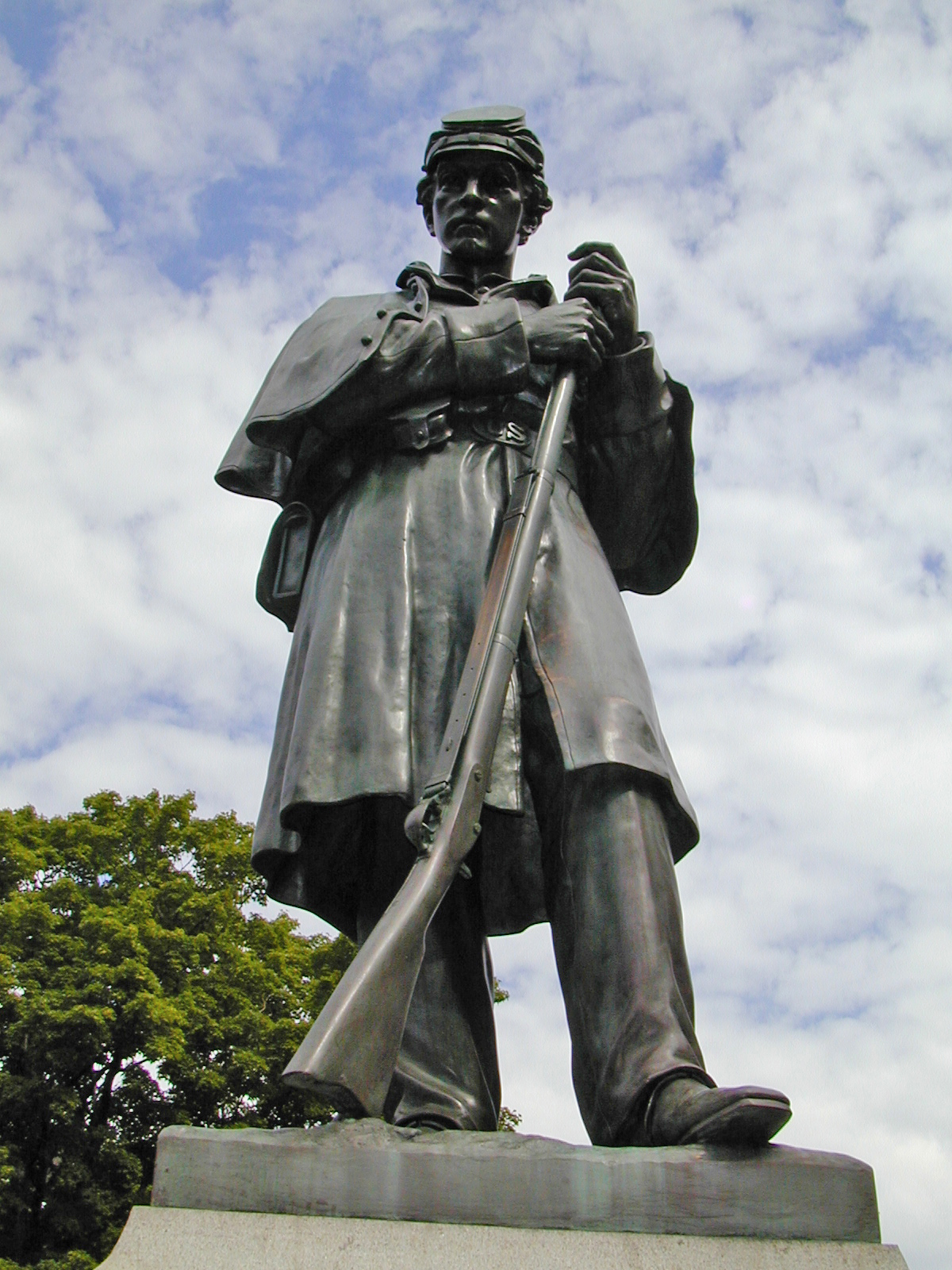 Citizen Soldier, by Martin Milmore
Inspired by this public-safety need, English "pleasure parks" and the Parisian cemetery, Père Lachaise, Dr. Jacob Bigelow approached General H.A.S. Dearborn about building a rural garden cemetery in Cambridge. Thus was born Mt. Auburn Cemetery, burial spot of the elite and America's first garden – or rural - cemetery.
A perfect example of cemetery art influencing public art is Forest Hills' The Citizen Soldier, Martin Milmore's signature piece, a tribute to the men of Roxbury who died to preserve the Union.
"Prior to The Citizen Soldier, monuments were very stiff and idealized to some degree," notes Reynolds. "But Milmore's statue is of an ordinary person standing. There's a weight and emotion to the figure; he's moving and not a stiff, godlike figure. It's an early example of the type of monuments that changed the face of American public sculpture."
Tours cost $5. For tour dates and times, call (617) 524-0128, ext. 22, or visit www.foresthillstrust.org.