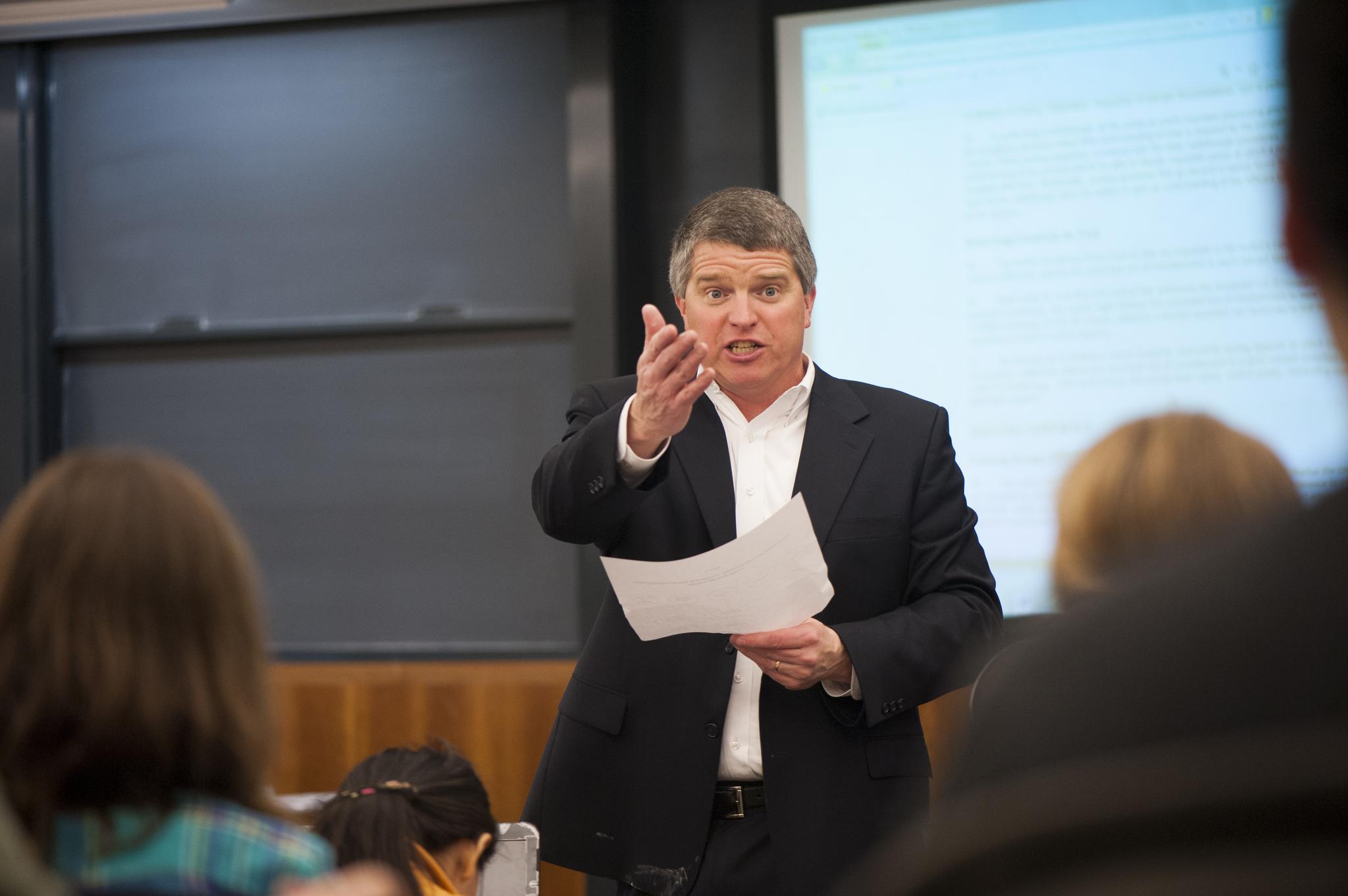 ← Back
For Prof. Jay Thibodeau, 'practice' makes perfect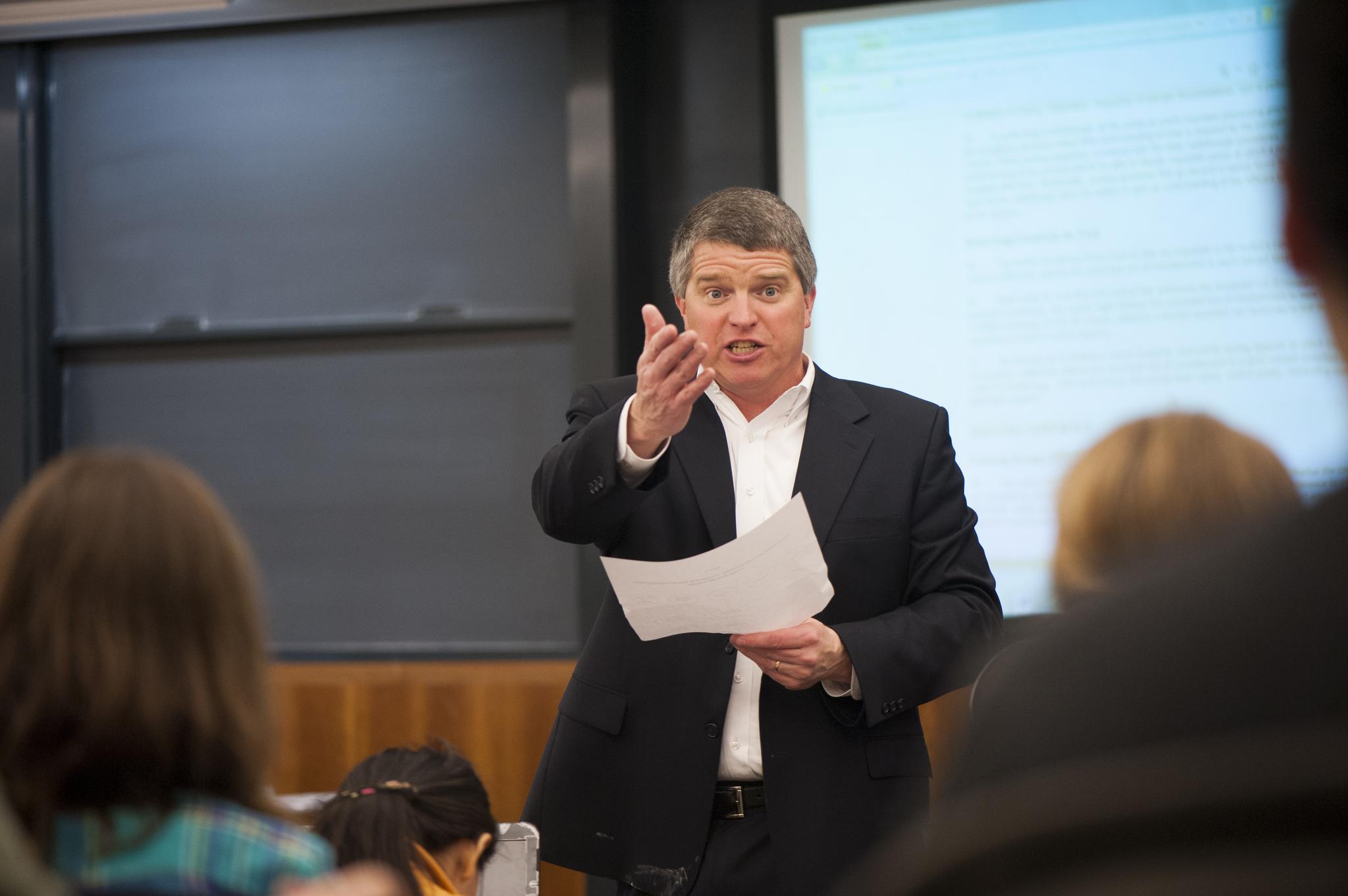 For the Bentley University Graduate School Website 
Professor of Accountancy Jay Thibodeau absolutely loves what he does, whether it's teaching, researching, consulting, or advising, and it shows. He's the only Bentley educator to win faculty-wide awards for excellence in research, teaching and service.
"Jay was very helpful to me as I was interviewing for an internship with KPMG," says Master of Science in Accountancy graduate Pranita Harkare '13, who landed the IT auditing position. After every interview, Harkare would consult with Thibodeau, who coached her in how best to communicate her technical knowledge and skill set.
While effectively conveying one's knowledge and skills is the most important aspect of interviewing, Thibodeau often provides his students with an often overlooked tip. "I distinctly remember him telling me to 'just keep smiling' in my interviews," recalls Harkare. "'A lot of things change when you smile.'"
'Practice' makes perfect
After spending a few years as an auditor for Deloitte in the late 1980s, Thibodeau returned to his undergraduate alma mater, the University of Connecticut, to obtain his PhD in Accounting. A man of near-boundless energy, Thibodeau has spent his career studying the judgment and decision-making of audit professionals and how to best educate auditors.
Who knew that auditing could be this exciting?
During the summer, Thibodeau consults with KPMG, an audit, tax and advisory services firm headquartered in New Jersey. He spends several weeks each year coaching managers who instruct the new in-charge auditors. "I train the trainers," he says. It's a role that he relishes.
"The KPMG work keeps me in touch with real-world auditing practice, which helps keep our classes current," says Thibodeau. "Understanding the most difficult problems faced by practitioners today leads to research ideas, and staying up to date on professional standards informs my classroom teaching and textbook writing. It helps me in everything that I do at Bentley."
Preparing students for businesses' most vexing challenges
According to Thibodeau, the auditing profession's two most vexing challenges today are the increase in government regulation and the off-shoring of entry-level auditing once handled by first-year pros.
Due to the crisis in confidence that occurred in the capital markets at the turn of the century – headlined by the Enron and WorldCom scandals – the federal government stepped in and enacted the Sarbanes-Oxley Act of 2002, which drastically tightened the oversight of auditing firms by the Public Company Accounting Oversight Board. Now the auditors are being audited.
Increasingly, auditing firms are shipping entry-level auditing duties to off-shore service centers, so the work that used to be done by experienced auditors is now being handled by first-year professionals. 
Given the shortened learning curve for new auditors, it's even more crucial for educators to know – and to understand – the most difficult dilemmas faced by auditors today. In addition to Thibodeau's KPMG appointment, which influences his work, he also invites active audit practitioners to take part in classroom discussions.
"We feel it's important to show our students how to adapt to the profession's changing landscape," says Thibodeau, who has included in-depth coverage of the Bernie Madoff scheme in his latest textbook update. "I work as hard as I can to stay in touch with practice, because in the long run I feel that it's in the best interest of our students."