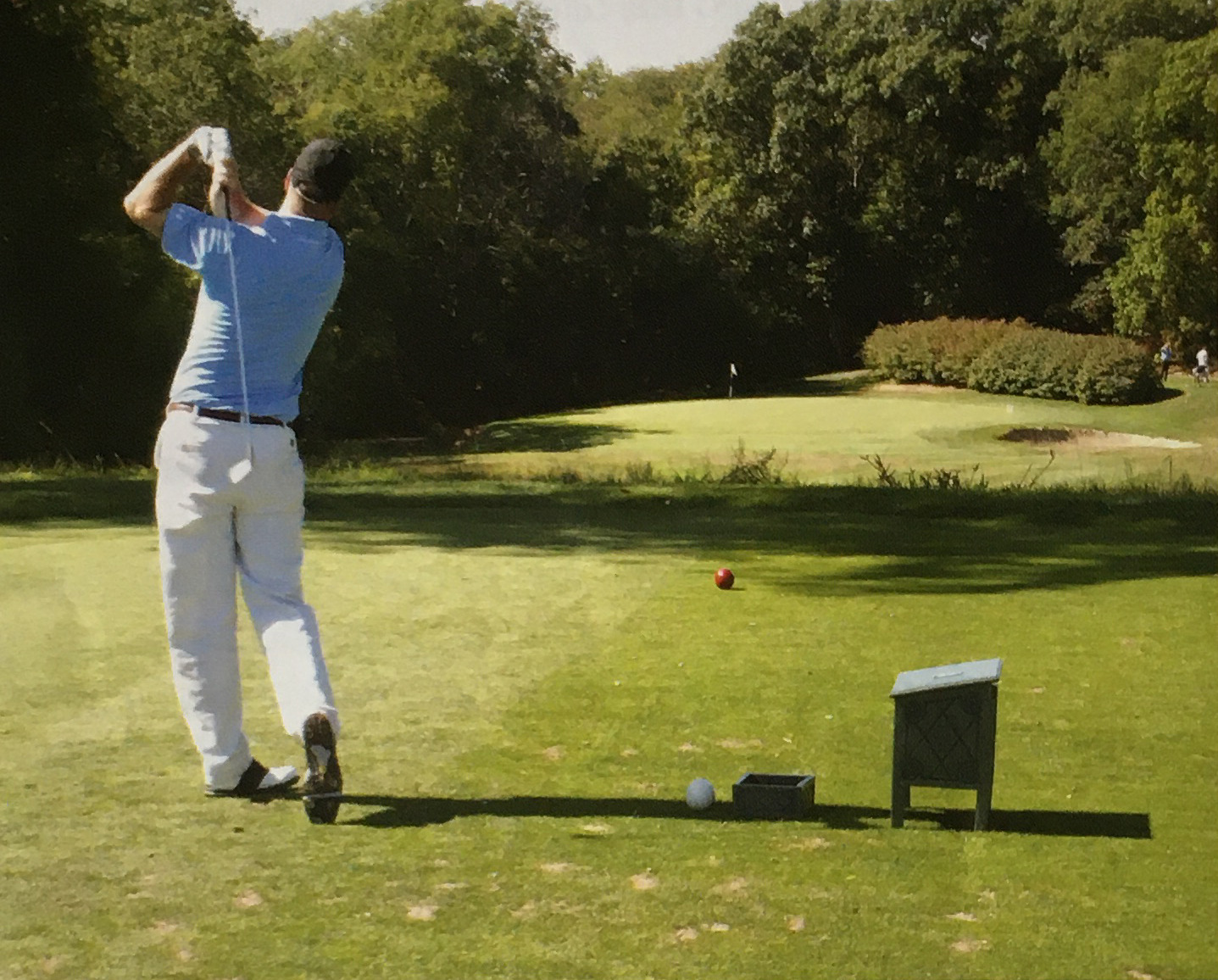 ← Back
Fed Golfers Take Swings, Trade Laughs, at Fall Tournament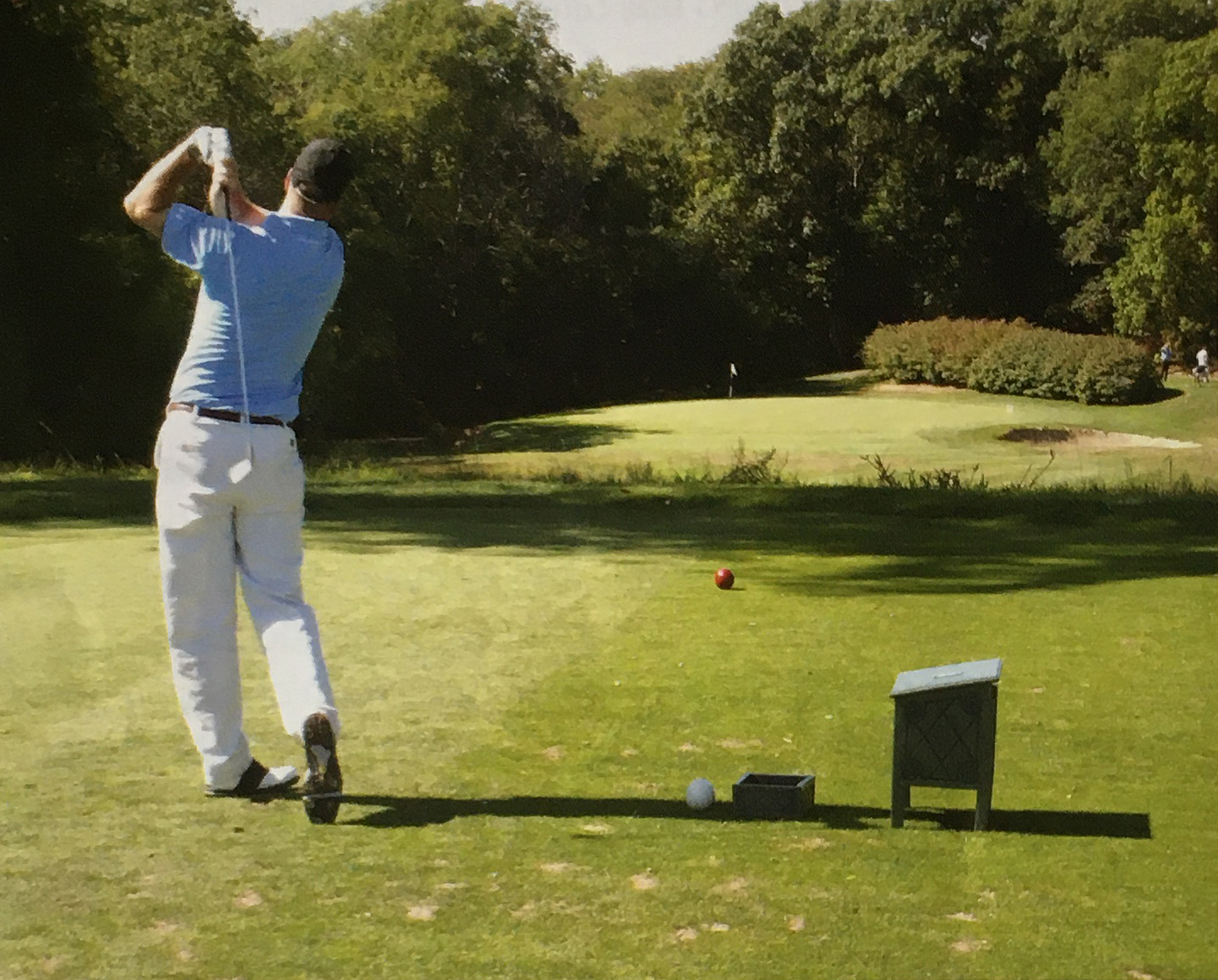 Mike Cosetta of the IT Department won the longest-drive competition.
Breezes (Federal Reserve Bank of Boston Employee Newsletter)
While Mark Twain once argued that "golf is a good walk, spoiled," the famous author never attended a Federal Reserve Bank of Boston golf tournament, where fun is the first order of the day.

The bank's most recent tournament, which took place on a picture-perfect, mid-September day at the South Shore Country Club in Hingham, was more like a "good walk, spoiled" -- only by laughs, good-natured ribbing, whiffs, slices, hooks and, in the end, some pretty good golf.

When a visitor asked John Holman, the course starter, where a safe vantage point might be, he laughed and responded, "Stand right in the middle of the fairway, and you'll never get hit."
While John's job was to keep the threesomes and foursomes moving briskly along, some golfers were interested in a more leisurely pace. "I'm on island time, boys, island time," claimed former bank staffer Kevin Riley, who sauntered from his cart to the first tee. Kevin wasn't the only former Fed employee to attend, as he teamed up with retirees Ed Wall and Joe Coscia.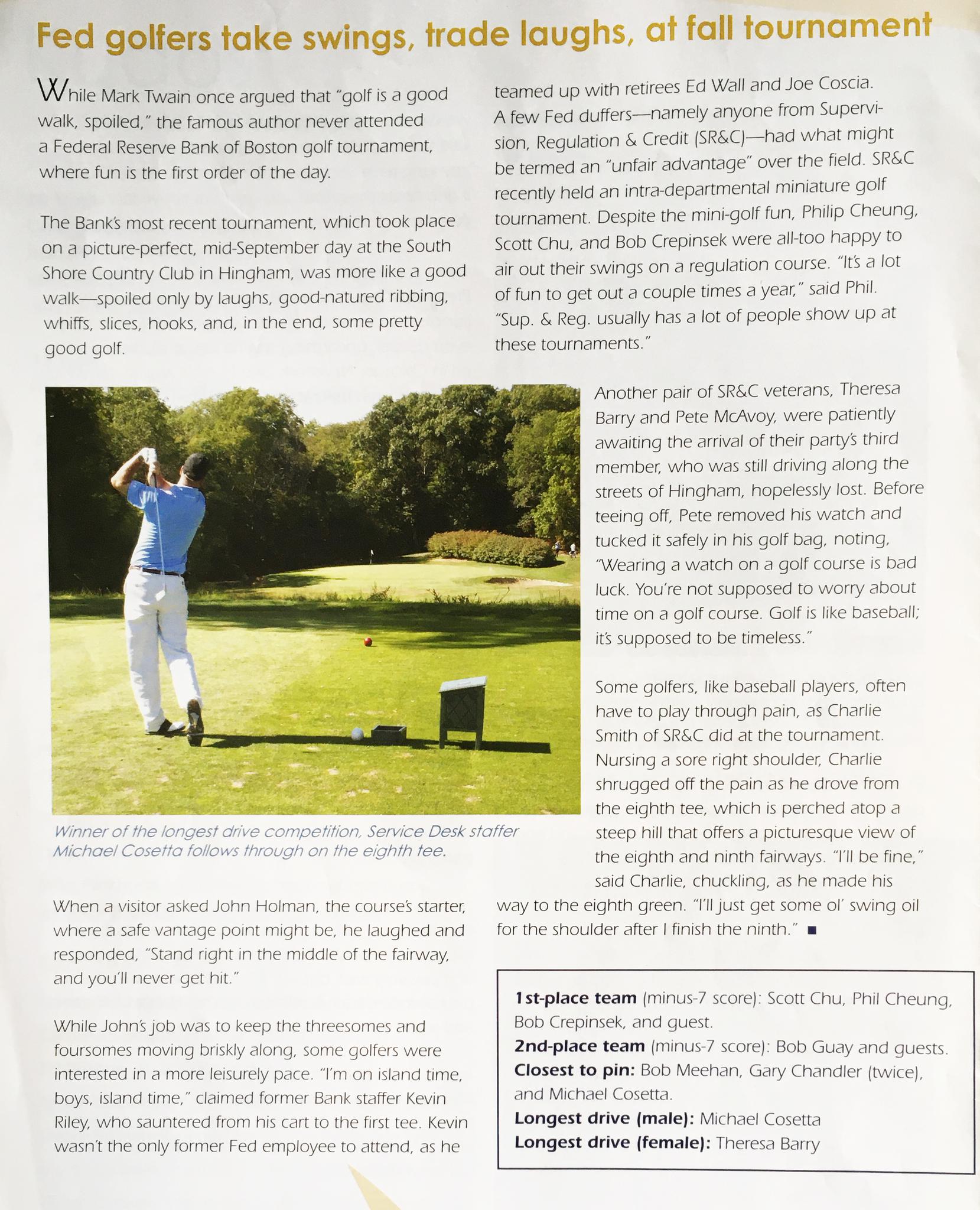 A few Fed duffers –- namely anyone from the Supervision, Regulation and Credit (SR&C) Department -– had what might be termed an "unfair advantage" over the field. SR&C recently held an intra-department miniature-golf tournament. Despite the mini-golf fun, Philip Cheung , Scott Chu and Bob Crepinsek were all-too happy to air out their swings on a regulation course. "It's a lot of fun to get out a couple times a year," said Phil. "Sup. & Reg. usually has a lot of people show up at these tournaments."

Another pair of SR&C veterans, Theresa Barry and Pete McAvoy, was patiently awaiting the arrival of their party's third member, who was still driving along the streets of Hingham, hopelessly lost. Before teeing off, Pete removed his watch and tucked it safely in his golf bag, noting, "Wearing a watch on a golf course is bad luck. You're not supposed to worry about time on a golf course. Golf is like baseball; it's supposed to be timeless."

Some golfers, like baseball players, often have to play through pain, as Charlie Smith (SR&C) did at the tournament. Nursing a sore right shoulder, Charlie shrugged off the pain as he drove from the eighth tee, which is perched atop a steep hill that offers a picturesque view of the eighth and ninth fairways. "I'll be fine," said Charlie, chuckling, as he made his way to the eighth green. "I'll just get some ol' swing oil for the shoulder after I finish the ninth."