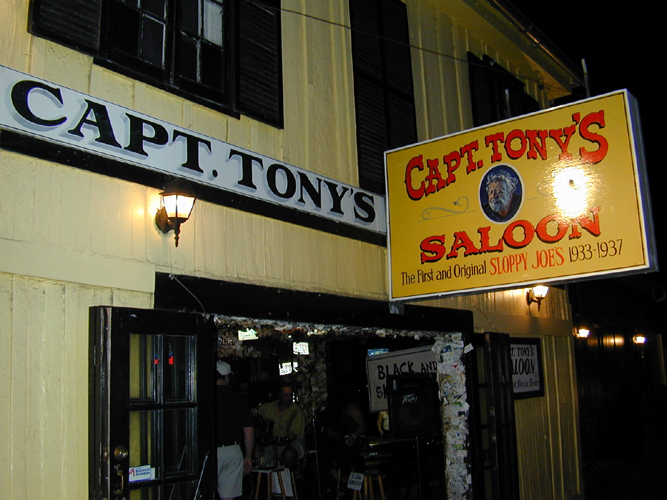 ← Back
Expect the Unexpected in Florida Keys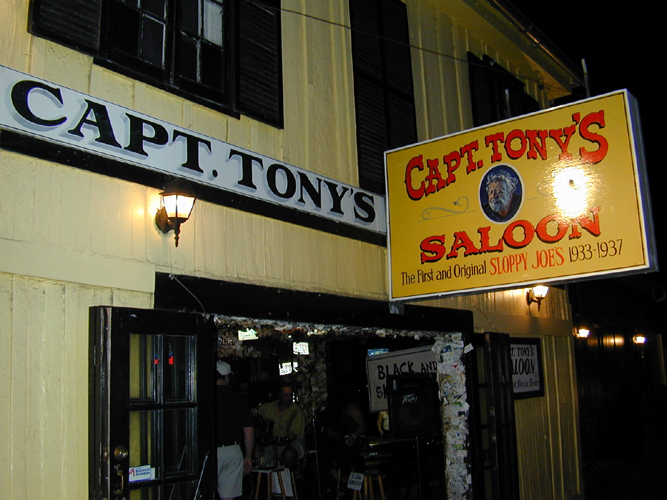 From AAA Horizons, a publication of the American Automobile Association
KEY WEST, Fla. – The Conch Republic, known formally as Key West, Fla., has more than it's fair share of kooks, characters and crazy incidents. "Expect the unexpected" should be Key West's motto.

Well, the unexpected is exactly what happened on a recent pilgrimage to Captain Tony's Saloon on Greene Street. At the base of a big tree that grows through the middle of the bar, firmly cemented in the floor, lies an innocuous, flat gravestone. Yes, a gravestone, commemorating the life of Reba I. Sawyer.

A visitor, concerned about the sacrilegious implications of boozing above Reba's final resting spot, asked a waitress for an explanation. Apparently, Reba, a married woman, had been carrying on a long-term affair with a man at Captain Tony's. Upon her death, her husband discovered their love letters among her personal effects. Furious, Mr. Sawyer drove to Captain Tony's in his pickup, took out the headstone and tossed it into the bar, saying, "This is where she had the happiest times of her life, so this can stay here."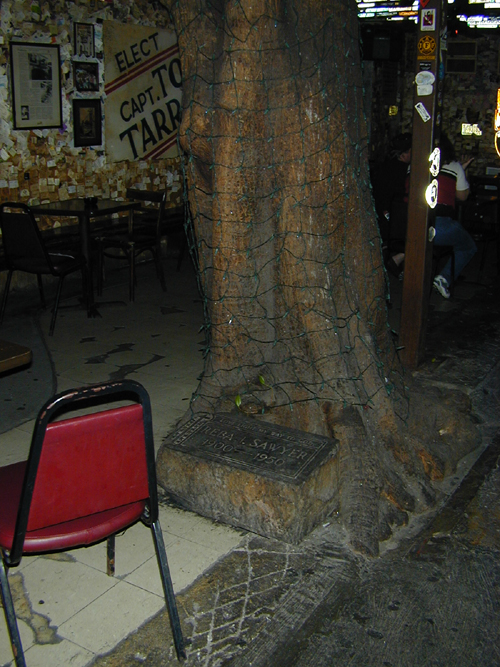 Reba Sawyer's grave marker site at the base of a tree in Captain Tony's Saloon, the former location of Sloppy Joe's Bar.
Like poor Reba, many people have had the happiest times of their lives in the Florida Keys, so, like her headstone, they stay there. Many simply come for a brief visit, get caught in the Keys' strong gravitational tug, and never leave.

A unique strip of islands, the Keys comprise a very delicate ecosystem, which has led to an ongoing struggle between business and environmentalists. In a way, this constant tug-of-war actually acts as a system of checks and balances, allowing neither commerce nor nature to gain the upper hand, which is why the Keys offer something for virtually everyone.

Sport fishermen find plenty of action throughout the Keys; couples looking to unwind can do so at beautiful resorts such as Hawk's Cay on Duck Key, which offers everything from fine dining to kayaking, sunset cruises, snorkeling, sailing and sport fishing; and divers can enjoy the underwater parks near Key Largo, or check out the sunken ships scattered throughout the islands.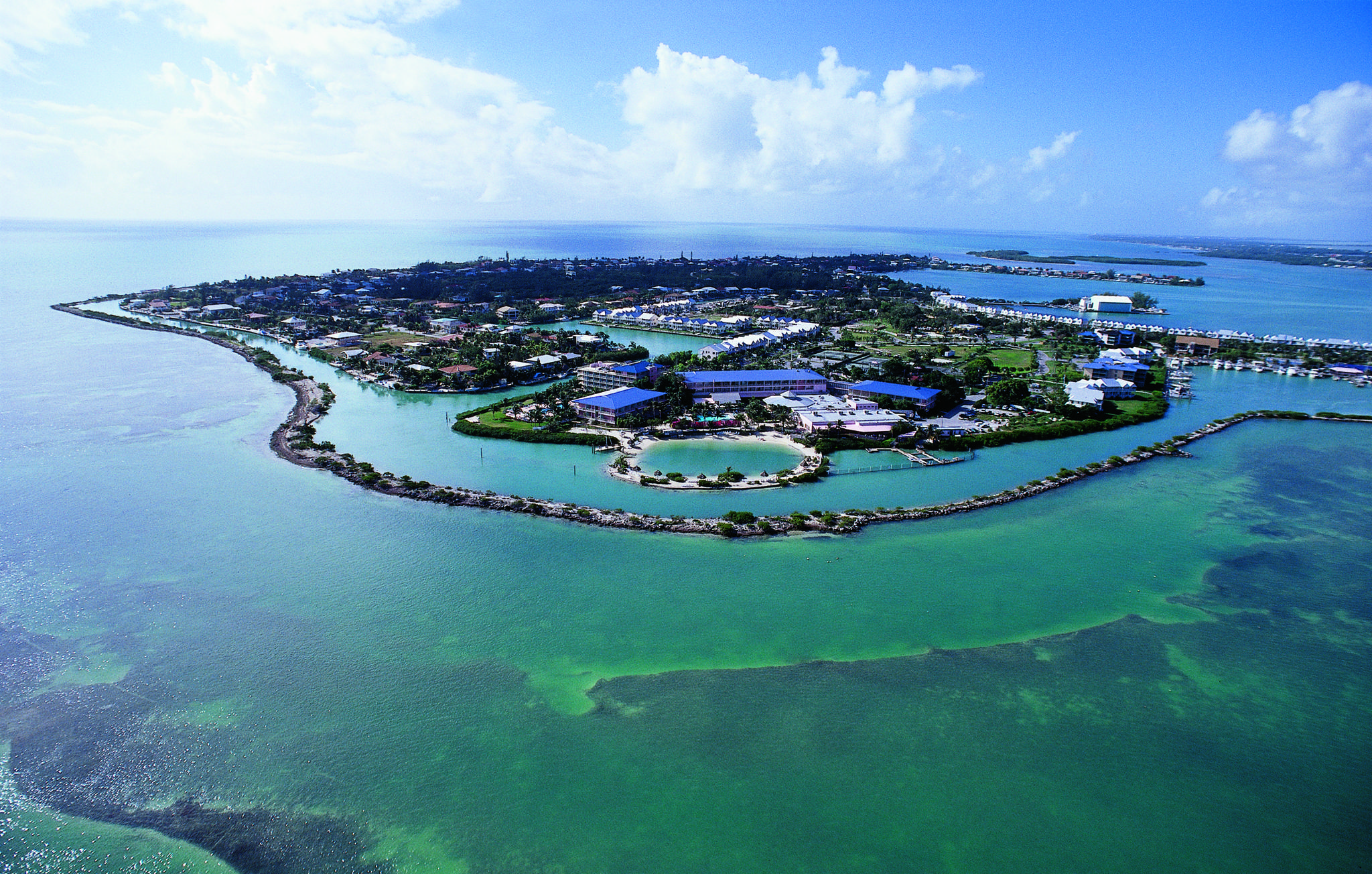 Aerial view of Hawk's Cay
But if your definition of the good life includes food, drink and conversation with a hedonistic edge, then Key West is the place to be. The island that punctuates the Keys lies only 90 miles north of Cuba.

Like its Communist neighbor, Key West has had its problems with the United States government. In 1982, a federal drug blockade choked off traffic to the Keys, killing the tourist trade for a time. When the feds ignored Key West's concerns, city officials – in a stroke of public relations genius – held a mock secession and founded The Conch Republic on April 23, 1982.

These days, The Conch Republic still exists, but more as "a sovereign state of mind" that can be found in places like Captain Tony's, Sloppy Joe's, Fausto's market, the Bull & Whistle or its aptly named, clothing-optional rooftop bar, The Garden of Eden.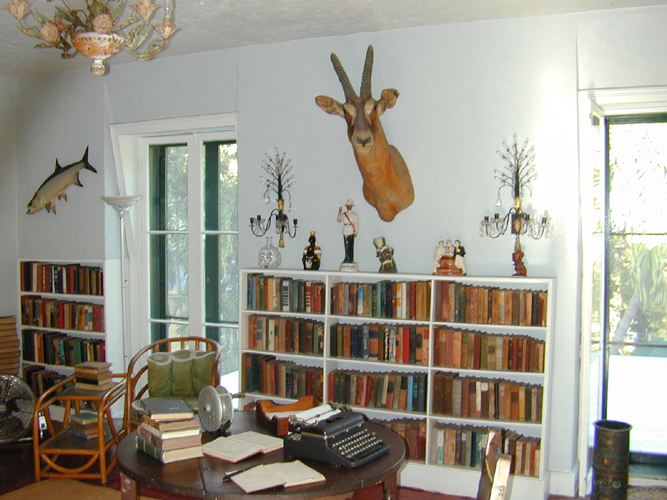 Ernest Hemingway's Writing Room
If you can escape the bright lights of Duval Street, the island's main thoroughfare, there are plenty of other sights: The Southernmost Point; the Key West Museum of Art & History; the Mel Fisher Maritime Heritage Museum; the Old Town Ghost Walk; the Ernest Hemingway House; Masquerade Mystery Theatre; the Key West Historic Memorial Sculpture Garden; and Mallory Square's daily Sunset Celebration are just a few of the things to see and do while in the republic.

Have fun, but be careful: The Conch Republic's bohemian allure may be too much to resist. After all, as longtime Key West resident Jimmy Buffet sings, "You can have the rest of everything I own . . . I have found me a home."

Call 1-800-352-5397 or visit www.fla-keys.com.