← Back to portfolio
Eagles' Well-Timed Lightning Strikes Down Fightin' Irish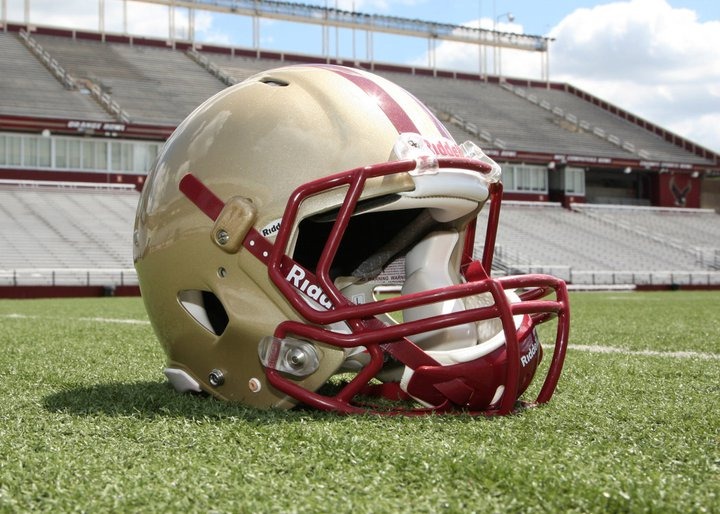 From Eagle Action Magazine

Notre Dame may well shake down the thunder, but it was the Boston College football team's well-timed lightning that did in the Fighting Irish, 31-29, at Notre Dame Stadium on Saturday afternoon. Thanks to the inspiring play of BC quarterback Tim Hasselbeck (pictured above), defensive tackle Chris Hovan and free safety Pedro Cirino, none of the Four Horsemen galloped out of the South Bend gloaming.

The Eagles (8-2), who won at Notre Dame (5-6) for the first time since David Gordon's famous field goal in 1993, rode Hasselbeck's hot hand and a big-play secondary. It was arguably Hasselbeck's best performance of the fall. He completed 20 of 30 pass attempts for 272 yards and three touchdown tosses. Hasselbeck also ambled for a team-best 60 yards and a score.

BC's hard-earned victory ensured not only the Eagles' first eight-win season since 1993 – when they went 8-3 before topping Virginia, 31-13, in the CarQuest Bowl – it also provided BC with some semblance of revenge after Notre Dame's famous goal-line stand spoiled the Eagles' comeback bid at Alumni Stadium last fall. As an added bonus for the Eagles, it also secured Notre Dame's worst season since 1986, when former coach Lou Holtz posted a 5-6-1 mark in his first season.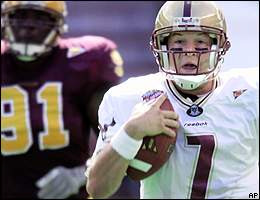 Maligned all season, BC's secondary played a key role in the Eagles' first win over the Irish since 1994. Even though BC's secondary allowed four passes totaling 106 yards on Notre Dame's first two series – leading to a 14-0 Irish lead – it tightened up in time to record two memorable plays.

The final, and most important, play occurred when hard-hitting senior safety Pedro Cirino stepped in front of tailback Tony Fisher in the left flat and picked off quarterback Jarious Jackson with scant minutes remaining in the game. After the Irish had closed to within 31-29 late in the fourth quarter, Cirino read Jackson like a dime store novel and returned the ball to Notre Dame's 25-yard line. Cirino, who collected his second big interception in as many weeks, wrapped up the win for the Eagles.

Earlier, BC corner RaMon Johnson provided another pivotal play. Halfway through the first quarter, Johnson caught a pass tipped by Irish flanker Raki Nelson.

In their last home game of the season, the Irish came out with guns blazing, passing at will on BC's apparently overmatched defensive backs. Notre Dame had established a 14-0 lead, while the Eagles were struggling to get off the ground.

Prior to Johnson's momentum-swinging interception, the Fighting Irish had racked up 168 yards, seven first downs and 14 points to BC's 28 yards, two first downs and no points. After Johnson's pick, BC outscored Notre Dame, 31-3, before a pair of late scores narrowed that advantage to 31-15.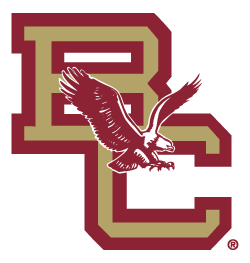 Once Johnson handed BC the ball at its 47, the Eagles began to whittle away the Irish lead. Hasselbeck set the tone for the drive, completing two passes for 28 yards and a touchdown, while plunging one yard on fourth and inches at Notre Dame's 28. Freshman William Green also reclaimed his role as the short-yardage specialist, picking up seven yards on third and one and adding another yard on third and two moments later.

After Hasselbeck nudged ahead for a first down at the Irish 27, he executed a perfect play-action fake to runner Cedric Washington (13 carries, 45 yards). Irish linebacker Rocky Boiman bit on the fake like a dog on a bone, allowing tight end Bryan Arndt to break into the open for a 27-yard score. Senior kicker John Matich booted the first of four PATs, and the Eagles had stemmed the tide, trailing 14-7.

One TV timeout later, the Eagles almost had a chance to knot the score. Corner Jonathan Ordway, who played like a man possessed on special teams, forced Notre Dame freshman Julius Jones to fumble on the ensuing kickoff. Notre Dame fullback Tom Lopienski recovered at the Irish 25, but BC sophomore lineman Antonio Garay blew up an option run on third down that forced Notre Dame to punt.

The teams traded punts before the Eagles struck again. Washington, who broke the 1,000-yard mark on this series, rushed three times for 17 yards, setting up a spectacular touchdown grab. Lined up in the right slot against sieve-like corner Clifford Jefferson, BC freshman Jamal Burke made a phenomenal, one-handed 22-yard reception. While Jefferson held his left arm, Burke made the catch with his right hand. After declining the pass-interference penalty, BC booted an extra point to even matters at 14 with 9:01 left in the half.

Notre Dame rebounded on its next series, victimizing BC's secondary for pass completions of 25 and 15 yards, but Ordway came up with a beautiful pass breakup on third and seven to prompt a punt.

By now, the Eagles had settled into a rhythm under the steady hand of Hasselbeck, who commenced the next series at BC's one. He quickly completed passes of 17 and 23 yards, and soon scrambled for 21 more. On the drive, wideout Dedrick Dewalt dropped a tough – but sure – touchdown pass in the end zone; guard Paul Zukauskas collected his first career reception (13 yards) on a deflection; and Matich booted a 22-yard field goal for a 17-14 edge.

As time ran out in the half, the Irish managed to get within field goal range for Jim Sanson, who kicked a 44-yard field goal to tie it at 17.

The second half proved to be an equally wild ride, with BC peaking early and Notre Dame late. BC's mammoth offensive line, which averages more than 311 pounds a man, began to wear down the smallish Irish defensive line. The Eagles took more than five minutes to march 93 yards for a 24-17 lead. Hasselbeck was a perfect three-for-three for 41 yards, and added 23 yards on option keepers before sneaking behind left guard Paul LaQuerre and Mike Cook for a one-yard score with 5:01 remaining in the quarter.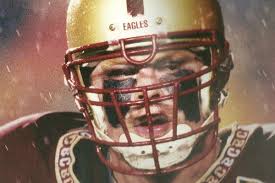 Both teams continued to trade shots, but BC was the next team to cash in, when it apparently put the game out of reach with a 34-yard touchdown hookup between Hasselbeck and Burke. BC deployed all its weapons during this series, with Hasselbeck rushing for 11 yards, senior Carlton Rowe picking up 26, and fullback Ryan Burch hauling in an 18-yard pass.

A holding call at Notre Dame's 25 seemed to kill BC's drive, leading to a second and 20 for the Eagles. But, instead of calling for a draw or another safe play, Hasselbeck led Burke with a wonderful 34-yard scoring toss down the left sideline. The victim? Clifford Jefferson. Again. BC 31, Notre Dame 17.

After BC failed to capitalize on its momentum, Jackson revived the Irish on a 61-yard touchdown drive that sliced the lead to 31-23. Jackson and split end Bobby Brown converted a fourth and 13 with an 18-yard completion to BC's 14, and Jackson found Fisher all alone in the left corner of the end zone four plays later. BC defensive lineman Mike Willetts deflected Sanson's PAT attempt, which bounced off the left upright and into the end zone.

BC couldn't kill the clock on its next series and punted to Julius Jones, who promptly made the Eagles regret their decision. He returned the kick 67 yards for a touchdown, racing virtually untouched up the middle and then down the left sideline. On the two-point conversion, the Eagles dodged a tie game when Jackson fired his two-point conversion pass behind Joey Getherall.

In spite of the urgent need to kill some time, any time, the Eagles coughed up the ball after three plays and a holding call. But Cirino bailed out the offense with his huge pickoff, effectively ending any Irish postseason hopes.

Like many of BC's victories this fall, it wasn't art. But while learning to flap their wings, these young Eagles are interpreting victory in unique fashion. BC's magical mystery tour next stops in Blacksburg, against Virginia Tech next Friday.