← Back to portfolio
DFCI Welcomes Back its Beloved Jimmy Fund Auditorium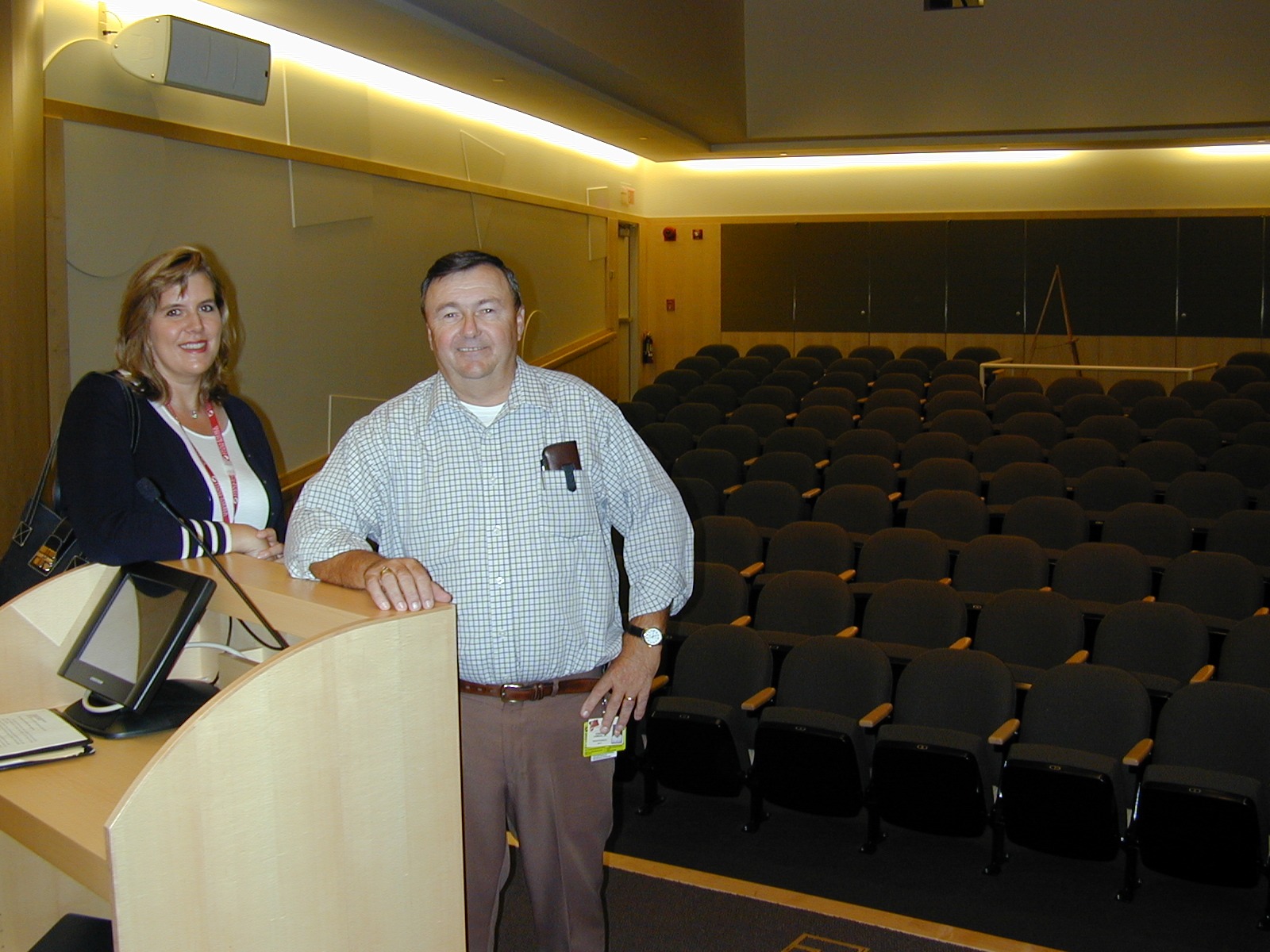 From DFCI Online, the Intranet of the Dana-Farber Cancer Institute
After being shuttered for nearly a year, dusty and stripped of its seats and walls, the Dana-Farber Cancer Institute's storied lecture hall – the Jimmy Fund Auditorium – recently began the first day of the rest of its life.

At an open house on Sept. 3, staff members took the opportunity to check out the newly renovated site that has hosted countless symposia, ceremonies, and other institute events since it first opened in 1952.

"After 50 years without much being done to it, the auditorium really needed a facelift," says Facilities Project Manager Ed Lewicki, who welcomed visitors to the open house with Vice President of Facilities Management Rick Shea. "It took us the better part of a year to complete it, but we feel the final product is well worth the wait for employees and visitors."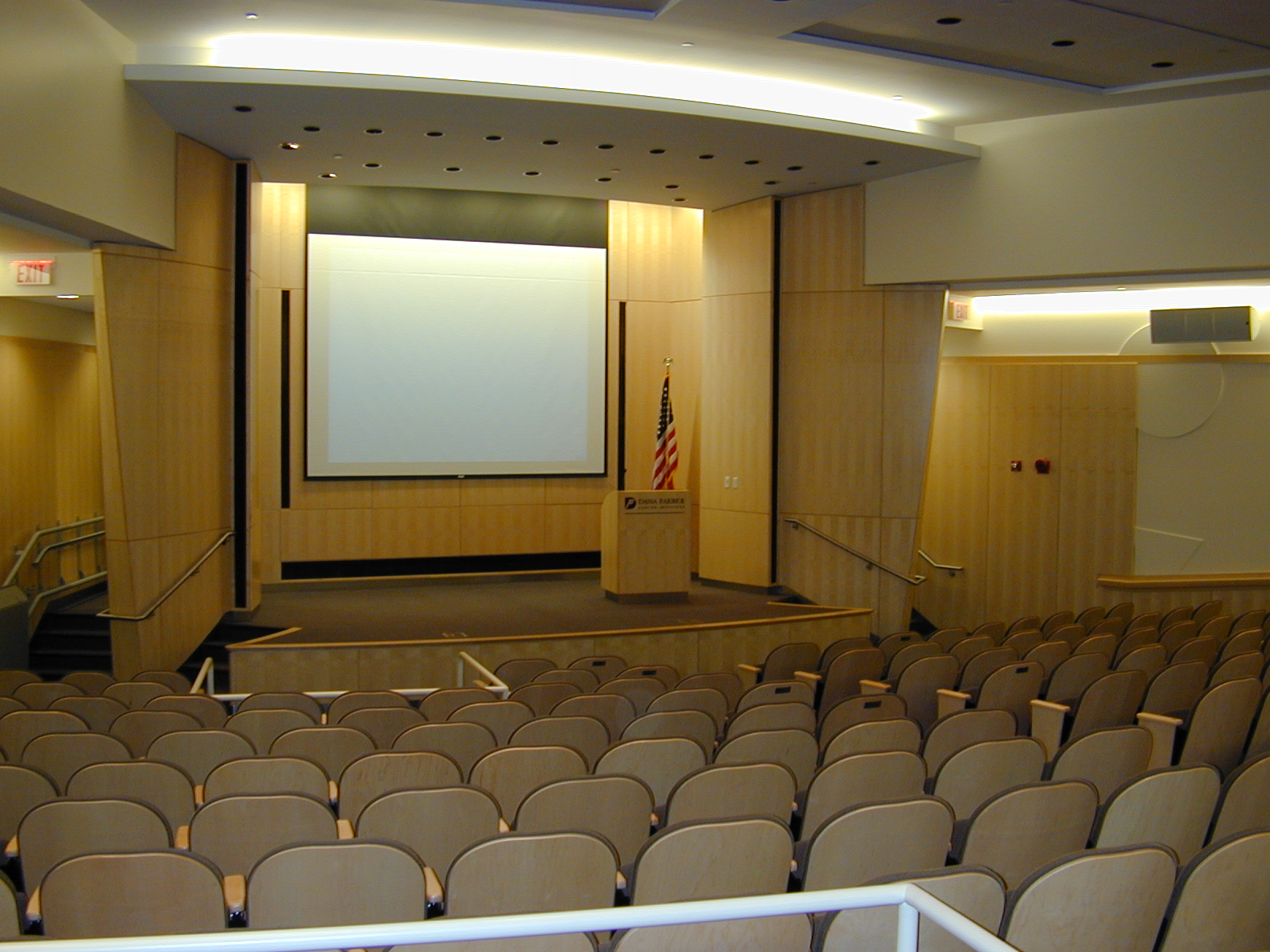 Lewicki worked with Director of Facilities George Bono and longtime institute partners Miller Dyer Spears Architects and Berry Construction on this job.

The upgrade, which began in November 2002, has made the 236-seat auditorium more comfortable for those on stage and in the audience. In addition to a touch-panel display that allows lecturers to control lighting, audio-visual capabilities, and Internet and DFCI "M" drive access, the theater now has improved sightlines, upholstered seats (replacing wooden ones), larger rest rooms, coat rooms, and maple finishes to match those elsewhere in the institute.

In accordance with the Americans with Disabilities Act, the auditorium is also more accessible now. For example, ramps and platforms offer better seating and stage access for physically challenged people, and wireless headsets enable spectators to better hear presentations.

"This new system gives total control to the presenter at the lectern," notes Ernesto Arevalo, an audio-visual technician with General Services who gave an impromptu demonstration to an open-house visitor. "It's like being a kid in a candy store."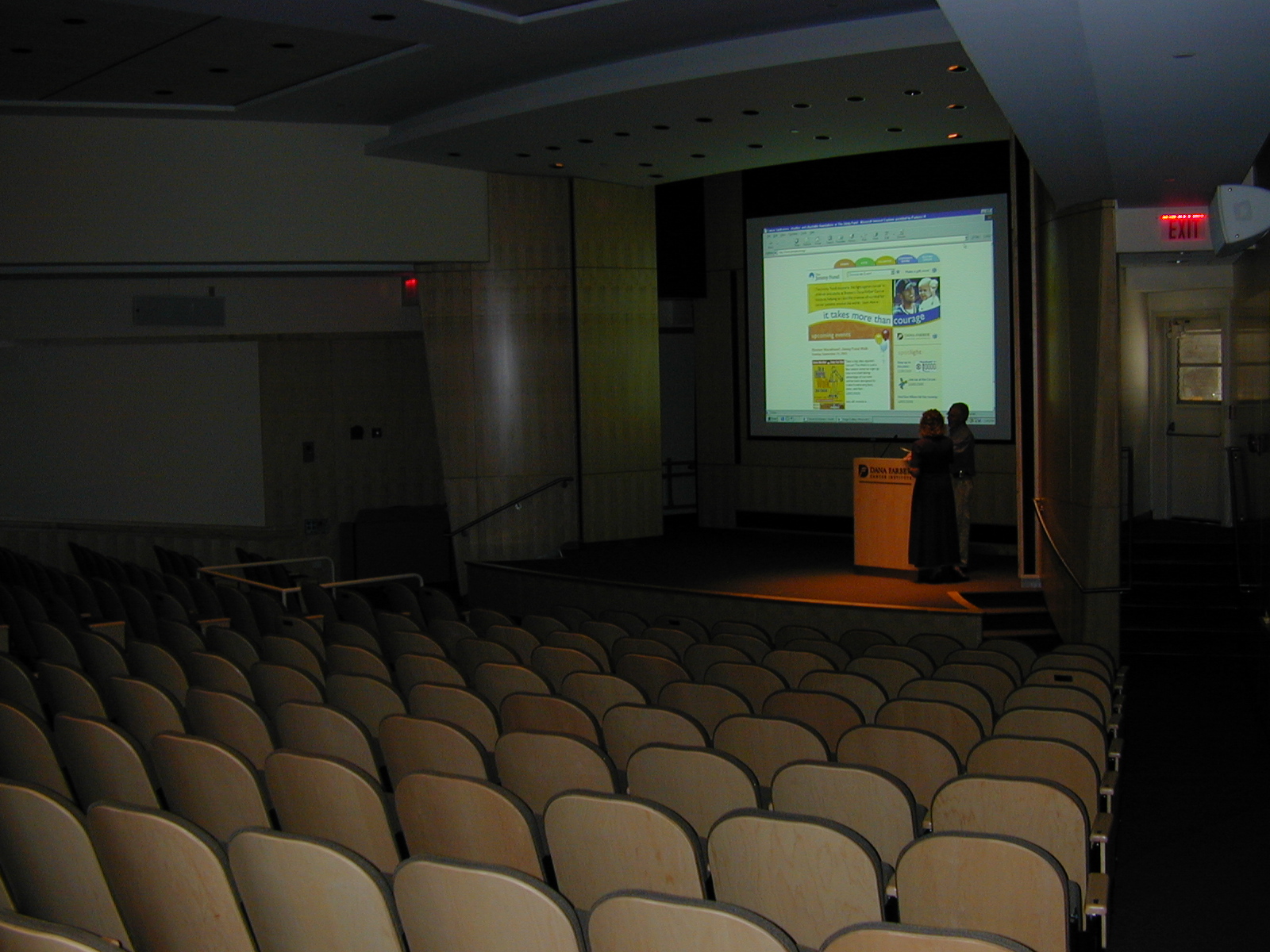 For the moment, the sloping walls are bare, but they will soon feature a variety of geometrical shapes and swirling lines fashioned from wood. The Friends of Dana-Farber Cancer Institute will decorate the lobby off Binney Street with original art, and various paintings will dot the auditorium's rear wall.

"The art is abstract and very modern," says Shea, "reflecting the auditorium's new technology and Dana-Farber's forward-looking approach."

Another of the overhauled hall's new features is chairs bearing silver tribute plaques on the back. Those who give $10,000 to the Jimmy Fund may name a chair personally or in honor of a family member, friend, or other special person. There are still 212 chairs to be named, and contributors will be recognized on a plaque in the building's foyer, as well as in Dana-Farber's "Honor Roll" of donors.

More information on this program is available at www.jimmyfund.org/chairs.