← Back
Denver Gives Overmatched Pats the Boot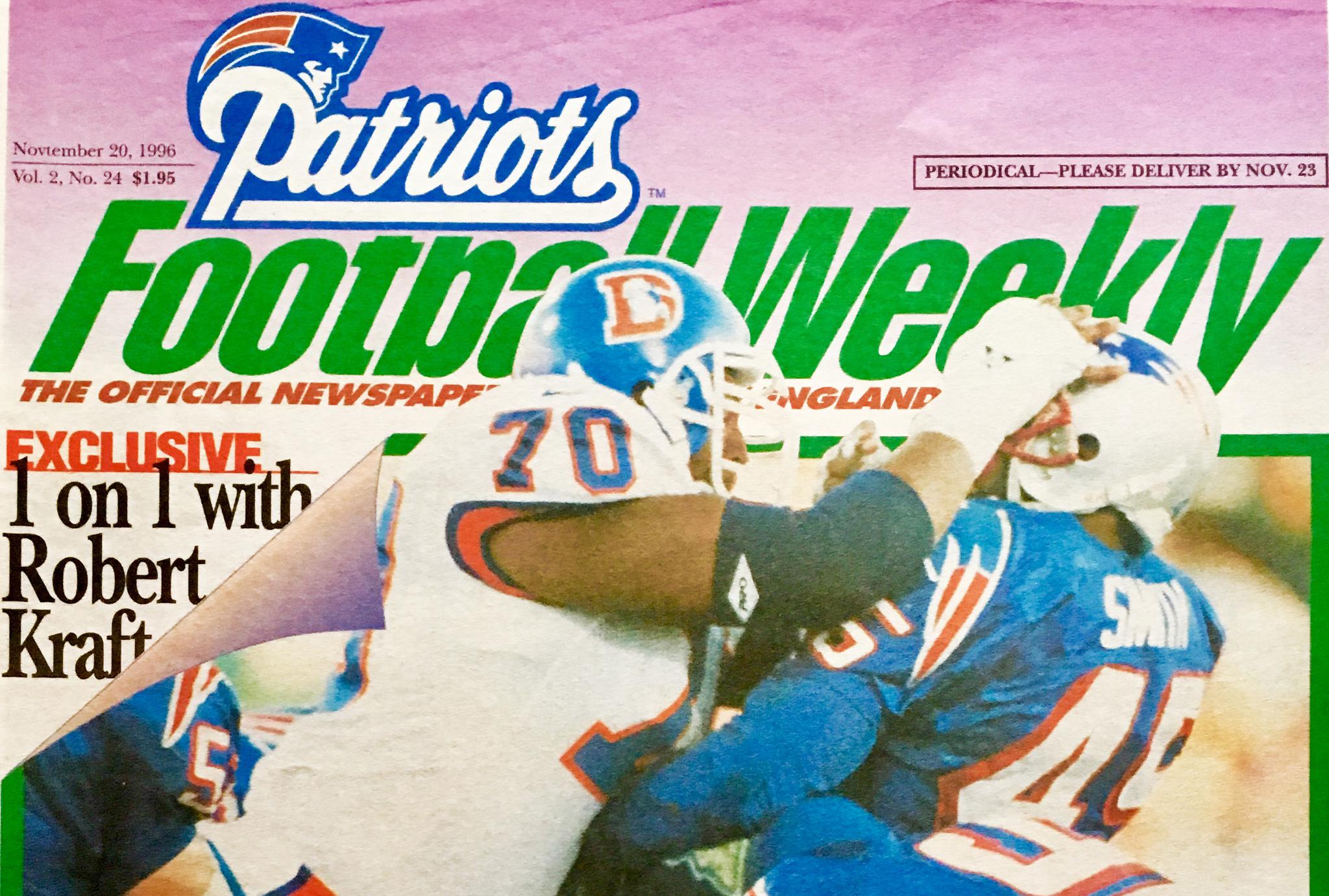 From New England Patriots Football Weekly
FOXBORO, Mass. -- Reality bites. It also hits hard, passes with precision, runs with abandon and scores at will. Reality is the Denver Broncos, who systematically dismantled the New England Patriots, 34-8, in a keenly anticipated AFC matchup on Sunday afternoon at Foxboro Stadium. It was the Patriots' worst beating since the visiting Broncos administered a nationally televised 37-3 whipping on TNT last October.
"We were completely outclassed today," said Patriots coach Bill Parcells. "We had no chance to ever win the game. I was very disappointed with the way the team performed. I can't put my finger on why we responded the way we did. Maybe it was the pressure of a big game? Maybe we're not ready for that? I'm not drawing any conclusions from it other than we got our butts whipped today, every way possible.
"There is a lot of football left," added Parcels, whose team slipped out of first place. "We have five games to go. The three AFC games we have right in front of us will probably tell the story for this team. Those are our conference games and we're going to have to step up and do something."
Instead of stepping up their game on Sunday, the Patriots (7-4) stepped in Bronco dung. It could be argued that no Patriots-Broncos game had been as anticipated since the American Football League's first regular-season game in 1960 -- a 13-10 Denver road win over the Boston Patriots sparked by Gene Mingo's 76-yard punt return for a touchdown.
The pre-game hype was such that NBC asked Patriots' owner Robert Kraft to move the game back to 4:00 p.m. To his credit, Kraft declined after NBC turned down a compromise offer. After a brutal first half, NBC executives had to be thanking the network gods for Kraft's decision.
Was it a matter of Denver being that good, or did New England simply blow it? Although it was likely a combination of both, who really knows? The Foxboro faithful only knew that the Broncos (10-1) humiliated the hometown 11 for the second consecutive year. In their last three meetings, dating back to 1991, the Broncos have outgunned the Pats, 91-14. Prior to Sunday, the Patriots hadn't scored a touchdown against Denver since 1988.
Denver, a big step above the jayvee Jets, positively manhandled the Patriots -- again. It was the men versus the boys. The Pats, who last beat Denver in 1980, were as out of place as Rocky Mountain oysters in a Back Bay bistro.
The Patriots short-circuited on offense, defense and special teams. Virtually nothing worked. Even the scoreboard began malfunctioning in the third quarter. At one point, the Denver score disappeared from the board. But even wishful thinking on the part of the scoreboard operator couldn't keep reality at bay.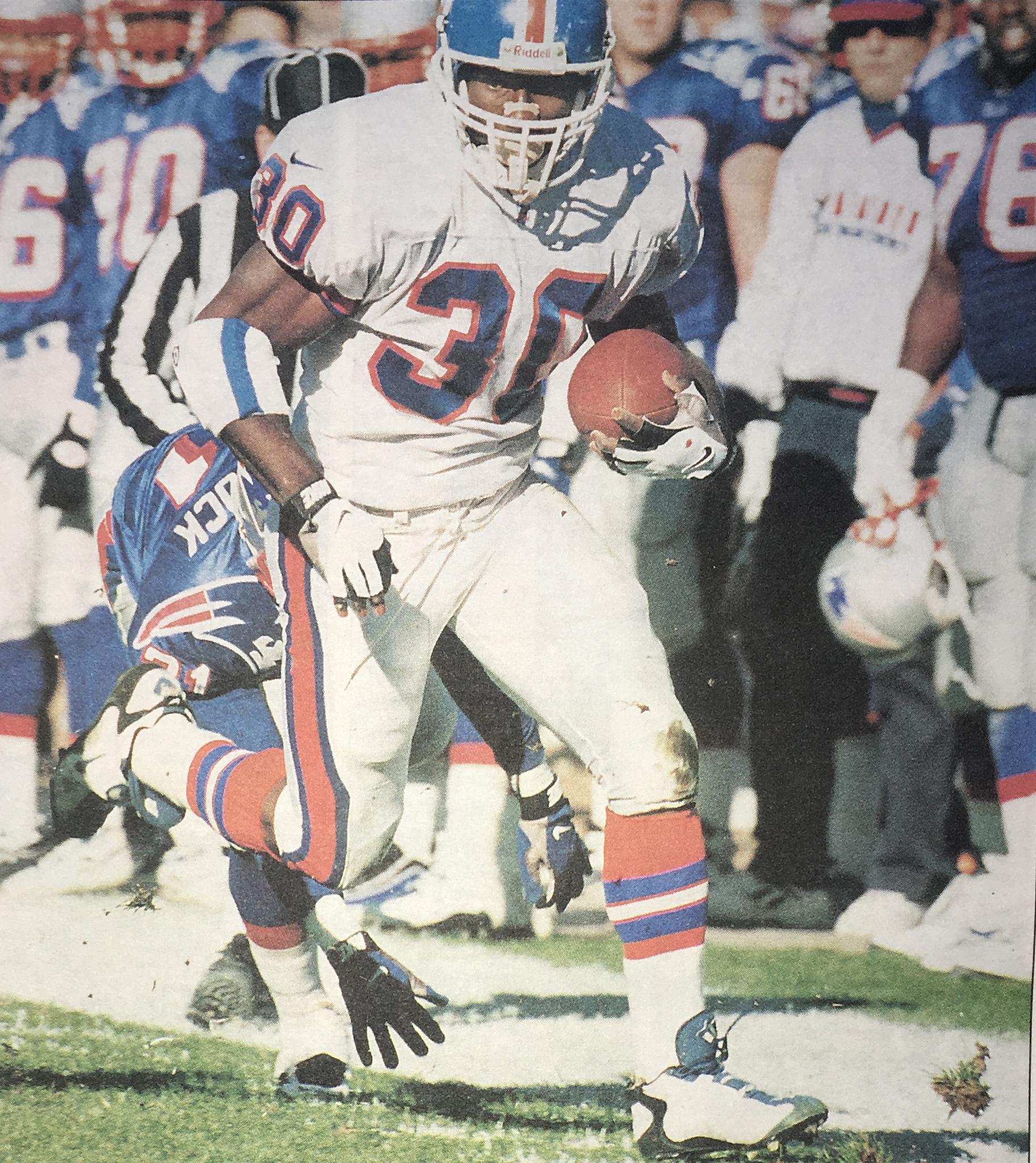 Terrell Davis ran all over the Patriots.
Reality and the realm of the absurd merged on Sunday. The Bronco offense nearly doubled the net yardage of the Patriots, 422-218; posted 198 yards rushing to New England's 17; held the ball 18 minutes longer than the Patriots (39 minutes to 21); converted 57 percent of its third-down attempts to New England's 11 percent; and posted more first downs (26 to 11). Denver's sensational young runner, Terrell Davis, who often suffers from migraine headaches, gave the Pats headaches all day long, accounting for 210 yards of total offense and three touchdowns (32 rushes for 154 yards and 2 touchdowns; 4 receptions for 56 yards and 1 touchdown).
"It's never easy, but we won up front," said Denver quarterback John Elway, who completed 14 of 23 passes for 175 yards, one touchdown and an interception. "The offensive line dominated, and Terrell Davis ran hard. That was the key thing. We won the war in the trenches and controlled the football."
Even though the Patriots were shelled by Denver, it seems that New England is a pretty good football team. It's just a pretty good football team that can't keep pace with an elite football team. The mirror opposites of the coolly efficient Broncos, the Patriots returned to their bumbling ways of a year ago.

New England runner Curtis Martin was limited to 13 yards on seven carries. With the dump pass to Martin replacing the short run in New England's offensive scheme of late, the Patriots rushed a team-record low nine times for 17 yards. Martin (7 catches, 23 yards), tight end Ben Coates (5 catches, 48 yards) and receiver Shawn Jefferson (2 catches, 56 yards) were the Patriots' leading receivers. Quarterback Drew Bledsoe had one of his worst days of the season, completing 22-of-41 pass attempts for 212 yards, one interception and two sacks. While Bledsoe did complete a handful of pretty passes, his timing was often interrupted by Denver's ferocious pass rush.
"Our defensive linemen did a great job of putting pressure on the quarterback," said Denver strong-side linebacker Bill Romanowski. "They even made the linebackers look like they could cover people.
"We heard how confident the Patriots were with us coming in here," added a smiling Romanowski. "We heard the talk about revenge for last year, so we just went about our business."
Thanks to New England's offensive ineptitude, the Bronco offense went about its business early. Despite the Patriots' protestations, the game's key play came on New England's first offensive series. Staring a fourth-and-one situation in the face, the Patriots called a fake-punt pass play from their 32-yard line. The play worked to perfection, with punter/backup quarterback Tom Tupa rolling right and finding rookie linebacker Tedy Bruschi open in the right flat. Tupa delivered a perfect pass, and Bruschi had the ball momentarily before dropping it when several Broncos converged on him. First down, Denver.
Tedy Bruschi dropped the ball on a fake-punt conversion attempt.
Of course, as Parcells pointed out in his post-game synopsis, there were "a hundred other plays" in the game. But this play seemed to suck the life right out of the crowd and the Patriots. So why the fake punt deep in Patriots territory? "To get some momentum," replied Parcells. "It was a perfectly executed play and we just dropped the ball."
Speed kills, and so do momentum swings. Handing the ball to Denver deep in your own territory is like handing Andrew Lloyd Webber a pen and paper: A big score is a sure thing. Davis ripped off runs of four, nine and four yards before Patriot linebacker Todd Collins brought him down for no gain. Then, on third and six from the New England 15, Davis collected a short pass as he dragged right to left across the middle. Davis raced down the left sideline and broke a poor tackle attempt by sophomore corner Jimmy Hitchcock before diving into the end zone for a 7-0 edge. The Bronco receivers lined up tight on the left side and ran slants to the right, pulling the New England secondary in their wake and opening up the left side for Davis to work his magic.
Poor tackling was a recurring theme for the New England defense. On many of his runs, Davis hit a wall but somehow managed to bounce off Patriot players for significant gains. Once Davis hit the secondary . . .
"It seems like everyone across the board was missing tackles, and I missed some myself," said Patriot corner Ricky Reynolds. "I don't know the reason why. I'm just not using the proper technique, wrapping up like I'm supposed to.

"I think it was just a case of not being ready to play," added Reynolds. "Today, it just wasn't there. Mentally, there was probably a big letdown and the guys were flat. I didn't feel as much energy around the guys as normal."
That was part of the problem. The Patriots were as flat as six-month-old soda. After Denver took a 7-0 lead, Bledsoe responded by tossing an interception that Bronco safety Steve Atwater returned to the Patriot 42. Bledsoe underthrew receiver Shawn Jefferson, who had beaten his man. "Atwater came up [toward the line] and then was running back to get into coverage," said Bledsoe. "I thought I could get it over his head, but he continued on back. The ball was a little bit underthrown, and he made the play."
After running on their first series, the Broncos took to the air the second time around. Elway wasted little time, hitting possession receiver Ed McCaffrey in the left slot for a 19-yard pickup to the New England 23. Davis chewed up eight yards on a sweep to the left, then McCaffrey added a five-yard catch for a first down at the Patriot 10. Davis started behind left tackle Gary Zimmerman, halted and then bolted up the middle for a 10-yard score, breaking an arm tackle by free safety Willie Clay. Placekicker Jason Elam connected on his second extra-point attempt, providing a 14-0 cushion.
When the Patriot offense did hold onto the ball, it managed to move to the Denver 23 with relative ease. Bledsoe and rookie receiver Terry Glenn almost hooked up in the left corner of the end zone, but Glenn dropped the ball when he spun around and dove backwards for the underthrown pass. Adam Vinatieri attempted a 40-yard field goal, only to push it just wide of the right upright.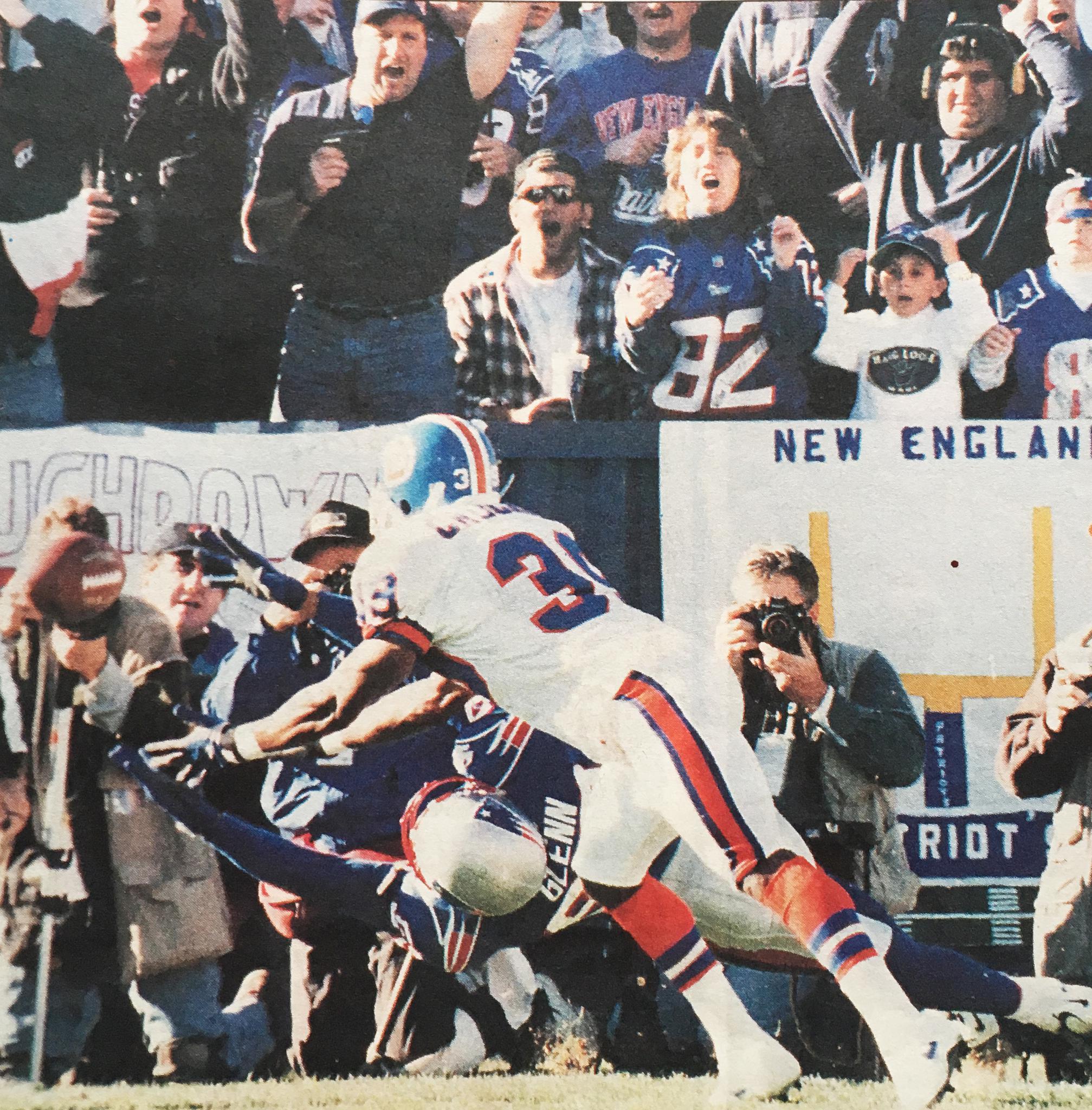 Terry Glenn was unable to haul in this pass.
On third and six during Denver's next possession, Reynolds fell down while chasing wideout Anthony Miller down the right sideline. Somehow, Miller bumbled the pass away, eliciting an impromptu celebration by New England strong safety Lawyer Milloy. It was that kind of day, and it only got worse.

When Elway and Davis got their paws on the ball again, the Broncos got around to scoring again. Denver punt returner Rod Smith collected Tom Tupa's 43-yard boot and raced 25 yards to the New England 32. Davis ground out 14 yards on two carries before Patriot defensive end Willie McGinest stuffed him for a one-yard loss. With the Patriots now sniffing out the run, Elway took to the air. The Denver quarterback dropped back, looked off tight end Dwayne Carswell on the left, looked off Davis in the right flat, and then delivered a bullet to tight end Shannon Sharpe over the middle for a 12-yard pickup.
On first and goal from the New England eight, David charged up the middle for six yards. He was denied end-zone access on the next play, but made amends with one of the most bizarre plays of the season. On third and goal from the two, Davis took a pitch from Elway and ran right, but never quite got a handle on the ball and fumbled it away. Davis reached down, dribbled the ball with his left hand, the ball bounced back to him and he found a hole to dive through on the right side for a 21-0 cushion.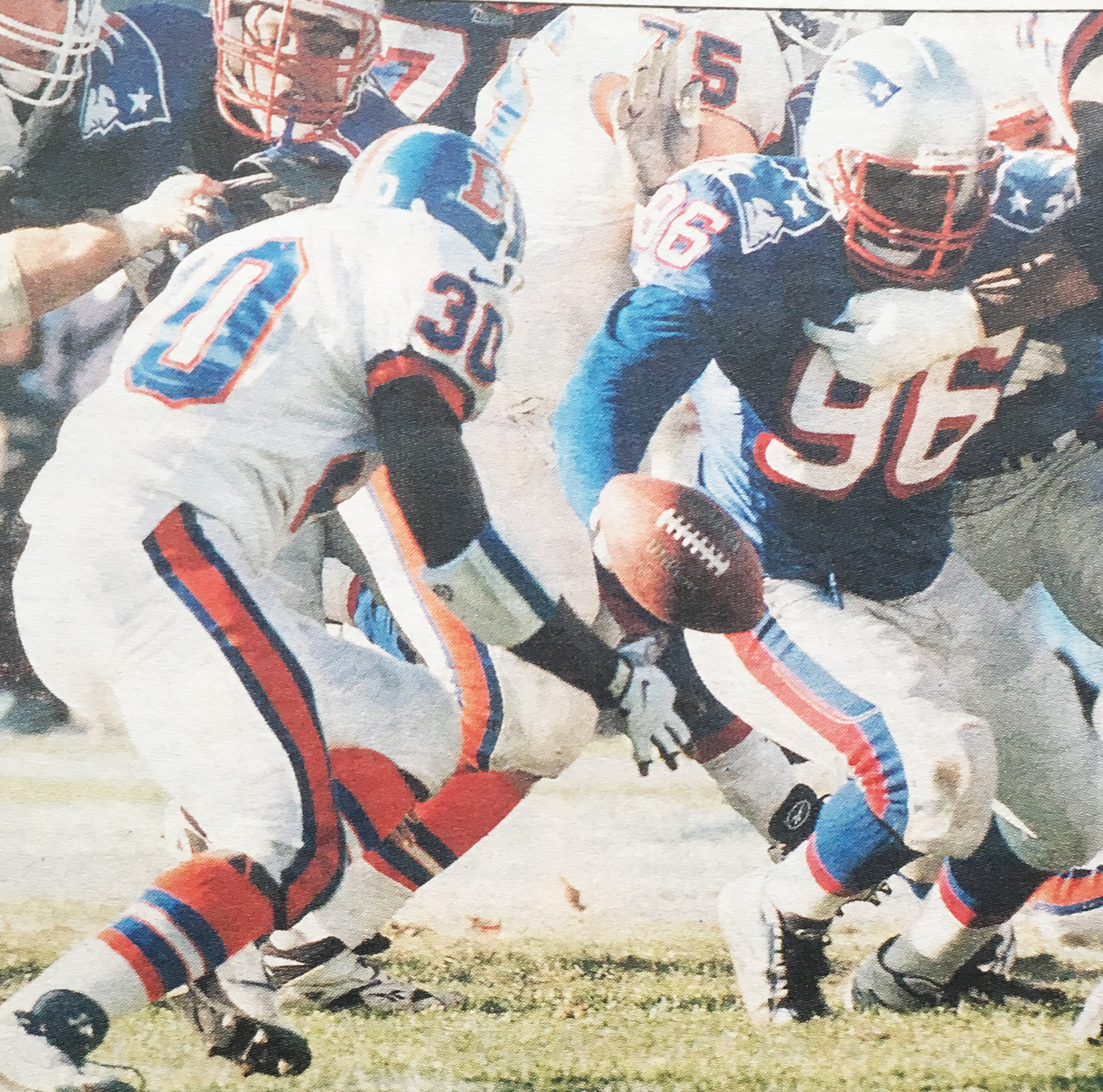 Terrell Davis recovered his own fumble to score a touchdown.
Led by backup signal caller Bill Musgrave, who subbed for the briefly injured John Elway (bruised hand), the Broncos closed out the first half scoring. Looking like the legendary Sid Luckman on his first snap, Musgrave hit Miller, who blew by Hitchcock on a fly pattern down the left sideline for a 46-yard gain to the Patriot 25. The Broncos eventually stalled, but Elam boomed a 28-yard field goal that boosted the Broncos' lead to 24-0 at the break.

That, for all intents and purposes, was the game. New England made a brief run toward respectability to start the second half, but all it could muster was eight points. A Denver pass intended for Davis in the middle of the field was deflected, and Milloy returned his first career interception 14 yards. The Pats set up shop at their 32, and Bledsoe hit Coates for 12 yards. After an incompletion intended for Coates, Bledsoe fired a perfect 39-yard pass to Jefferson streaking down the left sideline.

From the Denver 17, Bledsoe missed fullback Sam Gash but found receiver Troy Brown at the seven. On first down, Martin took a pitch from Bledsoe, took advantage of guard William Roberts' block and outraced corner Roy Crockett into the right corner of the end zone. The touchdown was Martin's 30th in 27 games, the fourth-fastest start in NFL history. Only Chicago's Gale Sayers (23 games), Philadelphia's Steve VanBuren (23) and Cleveland's Jim Brown (26) reached the milestone faster. On the two-point conversion attempt, Bledsoe hit tight end Keith Byars as he ran from right to left. Denver, 24-8.
If there was any hope harbored by those on the New England sideline, the Broncos extinguished it like a candle in a hurricane when they responded with a 71-yard, 10-play scoring drive. Elway finished the drive with a one-yard dive, his 30th career touchdown. Later, at the start of the fourth, Elam added a 47-yard field goal for good measure.
Byars, who patiently fielded questions during the game's post-mortem, summed it up best when he said, "Losing a game like we did today, it's a tough pill to swallow. But we have to swallow it -- with no water.
"My wife's out of town and I'm glad she is because I'm not going to be good company the next couple of days."