← Back to portfolio
Country Elegance in the Heart of Rhode Island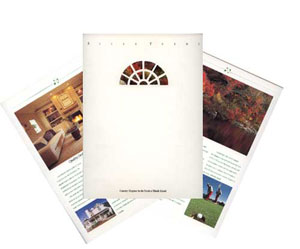 River Farms condominium brochure copy.
Welcome (opening flap)
Thank you for joining us at River Farms. As you will soon discover, River Farms is a unique 60-acre settlement nestled among the woods and the lush, rolling hills of the Pawtuxet River Valley. The home exteriors are a blend of contemporary and Victorian design elements, including Palladian windows, porches, gazebos and a variety of peaks that convey a sense of country elegance.
With single-level living units and townhouses available in both duplexes and larger groupings, River Farms offers discerning home buyers living options in three styles. The site is also furnished with underground utilities and sprinklers.
A swimming pool with dressing rooms, tennis courts, a clubhouse and walking areas mesh perfectly with the site's natural surroundings. Complementing the on-site facilities are three golf courses within 11/2 miles of the site: the Midville, West Warwick and Cranston country clubs.
Surprisingly, this idyllic country development is located only moments from I-95, I-295 and the fine shops, eateries and entertainment centers of two major malls. Only 15 minutes from Providence, River Farms epitomizes country elegance in the heart of Rhode Island.
Quality Design and Construction, Inside and Out (inside flap)
Our primary concern at River Farms is to please you, the home buyer. To identify buyer needs, we conducted a survey of hundreds of consumers, and have tailored model interiors and exteriors to satisfy these desires.
One of the key elements in our effort to please you is our flexibility. There are numerous options available with each model, allowing you to work closely with the development team to customize your home.
Single-level living may be selected in two designs, while well-planned townhouses are available in certain groupings. Spacious bedrooms and living space create an open atmosphere in which to enjoy the placid country surroundings. Large closets, garages and basements provide you with ample storage space. Optional fireplaces and built-in features are available upon request.
Quality building materials such as double-pane Andersen windows, insulated metal doors, General Electric appliances and red cedar clapboard ensure the home's long life.
The quality of our homes is matched only by the professionalism and experience of our development team, which possesses more than a combined century of experience. Our team has worked long and hard to create a fresh, natural living environment at River Farms.