← Back to portfolio
Changing the World . . . One Grant Proposal at a Time

From the Bentley.edu Homepage
Like all mortals, Joan Atlas is incapable of taking all the world's woes upon her shoulders. Still, she does her level best to make her world a better place, one sentence at a time. 
Driven by a deep-rooted desire to help others, and her belief in the power of words, Atlas teaches a grant-writing course to honors students at Bentley. 
"I've always been very interested in community service and doing something to change the world," says Atlas, a former attorney. "But until I started teaching, I was never able to get involved in a big way."
Atlas began teaching her grant-writing course in the fall of 2005. It took time for her to find the best teaching methods for young honors students – but each year the students' grant proposals improved.
Hitting paydirt, again and again
Two years ago, Atlas and her students hit paydirt for the first time. Freshmen Maggie Russo, Courtney McKinney and Brian Shea –- joined by sophomore Molly Godfrey –- nailed down a $10,000 grant (from the Mark Wahlberg Youth Foundation) that helped to fund a teen program at the Waltham Boys & Girls Club, a community fixture since 1937. 
"Through one class, and a lot of hard work, we were able to positively impact teen life in the Waltham area," says Brian Shea, now a junior.  "That we were able to obtain $10,000 for a very good cause because of something we wrote was absolutely amazing to me."
Since the breakthrough Boys & Girls Club grant proposal, Atlas' students have secured funding for four other community partners: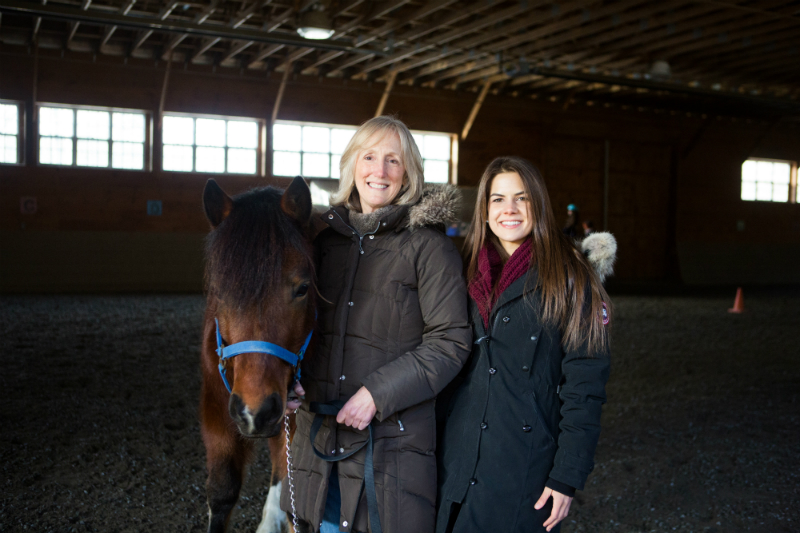 Since the breakthrough Boys & Girls Club grant proposal, Atlas' students have secured funding for four other community partners:

Lovelane Therapeutic Horseback Riding Program (Lincoln): $10,000 for Trevor, a sturdy pony, and adaptive saddles, reins, and other equipment
Edinburg Center (Lexington): $5,000 for a jail-diversion program
Boys and Girls Club (Stoneham): $2,500 for an anti-bullying program
Chesterbrook Learning Center (Waltham): $1,000 for sports equipment
An exercise in persuasion
Grant-writing, according to Atlas, "is really an argument, an exercise in persuasion." But before students ask a foundation for a grant, they must first conduct exhaustive research on their assigned nonprofit. 
Student teams meet with the nonprofit's management -- and spend time with the staff and the program beneficiaries – to understand the organization's culture and needs. Then the students dive deep into foundation research, including tax-return investigation (which can confirm or reveal a foundation's areas of interest and grant amounts). Ultimately, the students identify two foundations they feel are the best fit for the community partner.
Atlas then requires the students to write individual grant "concept" papers that serve as the building blocks for the formal grant proposal, which is developed in conjunction with the nonprofit. Atlas encourages multiple revisions, focusing not only on grammar, but also on style, voice, tone, flow and substance.
"In one week alone, we did three or four revisions," recalls Shea. "We scrutinized every single word in every single sentence to make sure that it was the ideal word to use." 
Hidden gems for nonprofits
While the ultimate goal is to secure grant money, there are fringe benefits for Bentley's community partners. Even if the grant proposal isn't successful, the nonprofit gets to keep the foundation research, "which is like gold to these organizations," according to Atlas.
Also, the students can often offer fresh marketing insight, identifying unthought-of program benefits that can be used in future fundraising efforts. Sometimes, they uncover a hidden funding gem for the nonprofit. 
"It's not always easy to find the many organizations that are willing to fund our program," says Karen Bechtel, business director at the Lovelane Therapeutic Horseback Riding Program. "The Bentley students discovered the Massachusetts Charitable Mechanics Association, which funds adaptive equipment. We hadn't discovered this foundation in our grant research, and it was a perfect match for us."
Ultimately, Bechtel points out, the students can benefit as much as the community partners. In the process of improving others' lives, the students are themselves transformed.
"When we first met with the students, their enthusiasm was contagious, but it was still a class assignment for them," says Bechtel. "As they began to visit, you could see them become more and more inspired. 
"It was incredible to hear them talk about how much they had learned, and how they had changed as individuals," adds Bechtel. "It was quite a transformation to watch, and I'm so happy that their efforts on our behalf were so successful."