← Back to portfolio
Berg 'Plays Tag' with EB Patient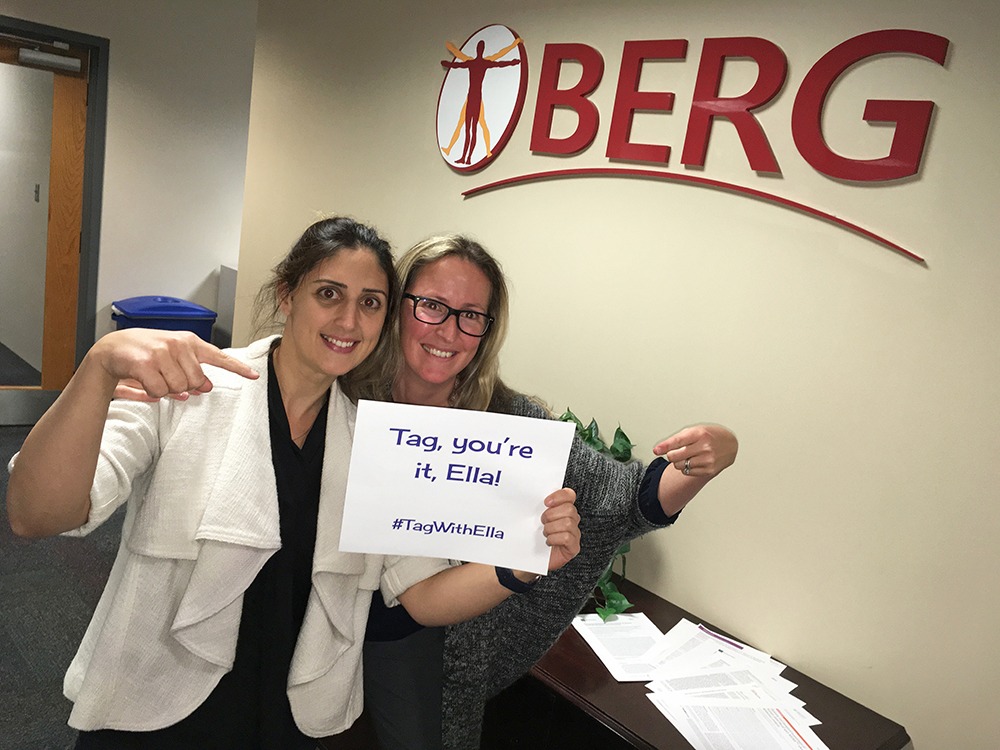 Berg Breakthroughs (Employee Newsletter)
In May 2017, Berg initiated a Phase I clinical trial for the treatment of Epidermolysis Bullosa (EB), a rare genetic disease that results in painfully fragile skin that blisters and tears from minor friction or trauma.

As part of this study, which is looking at how the topical form of drug candidate BPM 31510 works on EB, Berg is working closely with the Dystrophic Epidermolysis Bullosa Research Association (debra) of America.

Earlier this fall, "debra of America" utilized social media to brighten the day of a young EB patient, Ella, who has always wanted to play tag. Due to her condition, she can't engage in a traditional game of tag, so in an effort to help Ella "play tag," several BERG staff members played virtual tag with Ella. 
As part of debra of America's "play tag with Ella" social media campaign, Iris Belmore, Katie Vight, Liz Hutchins, Nate DiTommaso, Aishwarya Sarma, Arcan Guven, Thea Nastke, Anne Diers, Nem Kaurin, Chris McGann, Lauren Shanahan and Kristin Ha all took the time to hold up small posters that read, "Tag, you're it, Ella!" with a "TagWithElla" hashtag.

Thanks to all our BERG colleagues who took a few moments to bring a smile to Ella's face, and for helping to build awareness of this debilitating disease.

Learn more by watching Ella's video on the homepage of the www.tagwithella.com website, and check out BERG's Twitter and LinkedIn accounts for all the photos.