← Back to portfolio
Bentley Creates New Humanities Programming with Prestigious Grant from National Endowment for the Humanities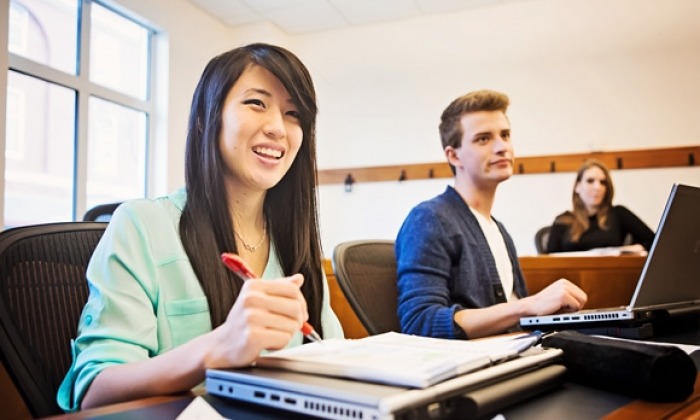 Bentley University Homepage Feature.
At first glance, the pairing of Bentley University and the National Endowment for the Humanities (NEH) might seem curious. After all, how often does a business university receive a $395,000 grant from the National Endowment for the Humanities? 
The answer? Not very often.
"The National Endowment for the Humanities is a very prestigious agency," says Gesa Kirsch, director of the Valente Center and professor of English and Media Studies. "Obtaining an NEH grant is a very competitive endeavor. It's very much a credit to Bentley's growth and development in the humanities that we've been awarded such a grant."
As Bentley has evolved from an accounting school on Boylston Street in Boston's Back Bay to a full-fledged university in Waltham, leadership understood the growing need to infuse Bentley's business curriculum with a liberal dose of humanities-focused coursework.
When Bentley was awarded the $395,000 NEH challenge grant in 2011, it stipulated that Bentley raise matching funds in a three-to-one ratio by 2016, a five-and-a-half-year window. As of this writing, in less than three years, the university has nearly reached its goal of raising $1.185 million to support the following Valente Center for Arts and Sciences programs:
The Humanities Research Seminar and Affiliated Fellowships support teaching and research around a single interdisciplinary theme over the course of a year. This seminar will bring together faculty members from Boston-area institutions and Bentley University. Students can work with faculty on the projects. "Up to five students can apply to become fellows," explains Kirsch. "We envision these students working with faculty in the program to finish their honors program capstone projects or Liberal Studies Major projects."
As part of the Visiting Humanities Scholar Program, outside scholars come to Bentley for a week-long visit. In addition to delivering a public address, they engage in a working seminar with Bentley faculty, visit classes, hold office hours and otherwise become immersed in campus life. Last year, visiting scholars included the University of Houston's Kristin Anderson and Chilean author Pía Barros. This spring, a member of Iceland's Parliament, Sigridur Ingibjörg Ingadóttir, will visit Bentley University.
The Undergraduate Fellows Seminars enable a small group of students and faculty to study "great books" that focus on topics of enduring interest. Last semester, the focus was "Democracy in America," and the students' coursework was infused with real-world context when Robert DeLeo, Massachusetts Speaker of the House of Representatives, met with seminar participants in private for an hour before delivering a public address on campus in the Wilder Pavilion.
"Overall, this grant showcases how well Bentley has been able to enrich business education with the humanities," says Kirsch. "We are honored to be recognized by the NEH, and are thrilled to put these critical funds to such good use."
Learn more about the Valente Center.