← Back to portfolio
Banks Hope to Make a Difference with Mortgage Relief Fund

From Breezes (Federal Reserve Bank of Boston Employee Newsletter)
Joined by leading New England bankers to his left and by government officials to his right, Federal Reserve Bank of Boston President Eric Rosengren announced the formation of the Mortgage Relief Fund at a press conference in the New England Room on December 20.

In response to the subprime mortgage crisis and rising foreclosures – and encouraged by Boston Fed leadership – Citizens Bank, Sovereign Bank, TD Banknorth, Webster Bank and Bank of America launched this effort. The banking quintet has committed a combined $125 million to help some New England homeowners refinance into more affordable mortgages, enabling many to avoid delinquency and foreclosure.

"The recent rise in mortgage delinquencies and foreclosures has been widely reported, and it's very possible that the problem could worsen," said Rosengren. "This fund offers genuine help to a subset of borrowers who are at a perilous juncture in their mortgages. . . . I commend the banks for stepping forward and working so hard to develop this initiative."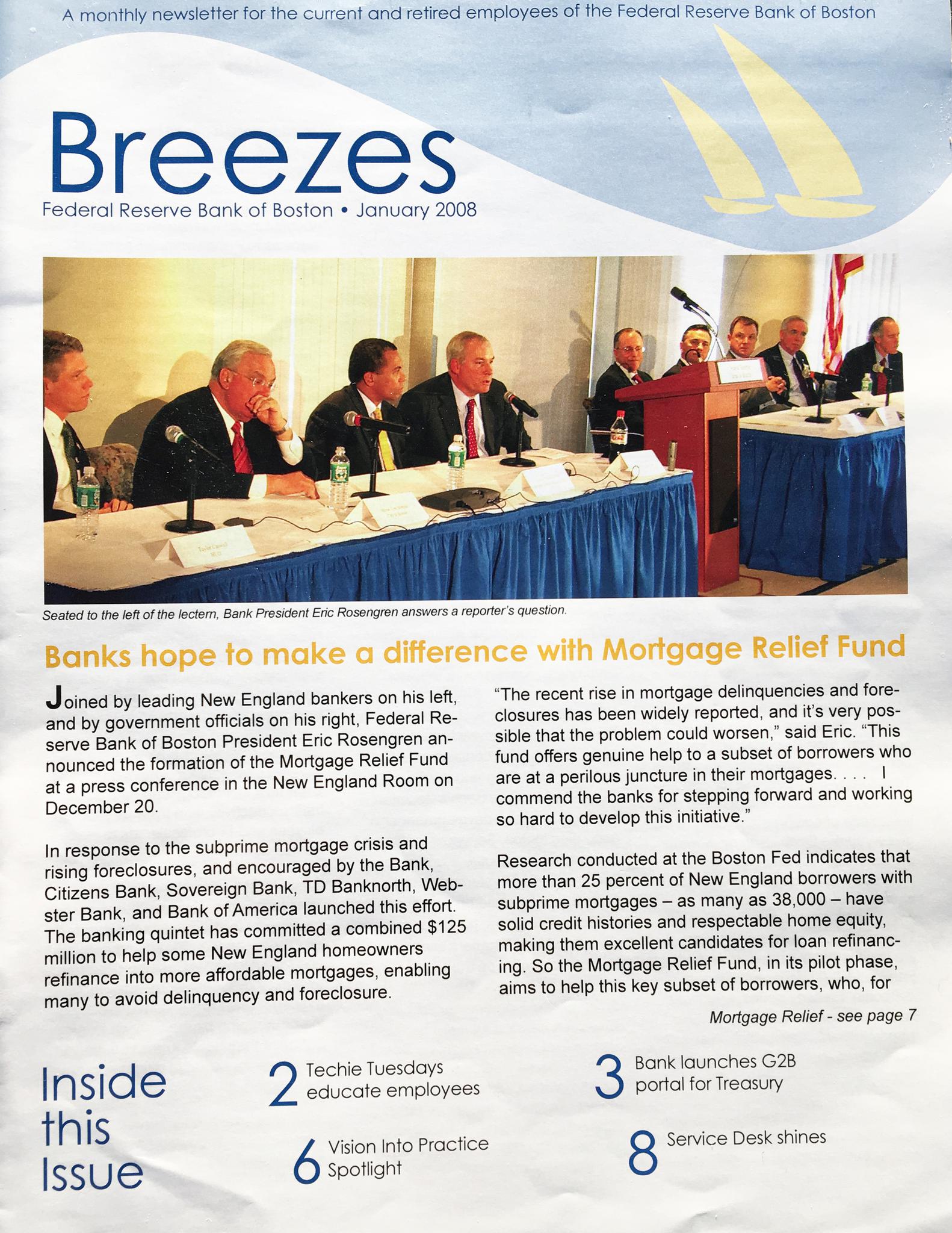 Research conducted at the Boston Fed indicates that more than 25 percent of New England borrowers with subprime mortgages –- as many as 38,000 –- have solid credit histories and respectable home equity, making them excellent candidates for loan refinancing. So the Mortgage Relief Fund, in its pilot phase, aims to help this key subset of borrowers, who, for one reason or another, took out high-rate loans (often from mortgage companies, not banks) that may soon re-set to an even higher level.

"Maybe we'll help dozens of people, maybe we'll help hundreds of people," said Citizens Financial Group Non-Executive CEO Larry Fish, who recruited his competitors to join this mortgage-relief effort. "But even if we help only one home to stay out of foreclosure, we'll also be helping two, four or maybe six neighbors, and that's very important."

By taking advantage of existing state- and federal-government loan-insurance programs, the consortium will be able to help homeowners who have good payment histories –- and whose homes are worth more than the outstanding mortgage balance -- refinance into a more appropriate loan.

"During the holidays, I can't help but think of the movie, 'Miracle on 34th Street,' where if someone couldn't find what he or she wanted at Macy's, the Macy's people would direct a customer down the street to Bloomingdale's," said Mark Crandall, president of TD Banknorth Massachusetts. "It's the same principle with the Mortgage Relief Fund's website: If someone can't find a product that suits their needs with TD Banknorth, then we'll make sure to direct that person to one of the other banks involved in this initiative."

While normally fierce rivals, the banks recognize that in order to preserve many New England communities, it's best to join forces. Working together, the banks can better reach out to borrowers who might benefit. "We compete about a lot of things, but in this case we're all trying to work together in a constructive way," said Bob Galley, Massachusetts president, Bank of America.

"The spike in delinquencies and foreclosures is a serious problem in Massachusetts, the region and around the country, but it's not beyond our capacity to solve," said Deval Patrick, governor of the Commonwealth of Massachusetts, who implored borrowers to "let us help you to help yourselves. It takes collaboration and leadership, and this [mortgage fund] is a brilliant example of that type of leadership and collaboration."

For more information, visit http://www.mortgagerelieffund.com.