← Back to portfolio
Annual Jimmy Fund Radiothon Surpasses $1.5 million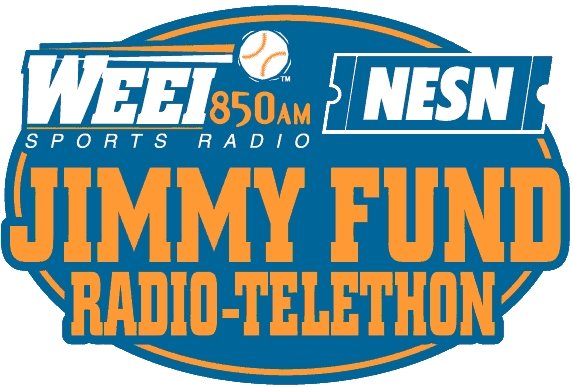 From DFCI Online, the intranet of the Dana-Farber Cancer Institute
By the time that Dana-Farber's medical all-stars tossed ceremonial first pitches at Jimmy Fund Night at Fenway Park last Friday, the third annual "WEEI Jimmy Fund Radiothon, Presented by NESN" had already surpassed the $1-million mark.

Donate to the Dana-Farber Cancer Institute.

"We're looking very strong," Jimmy Fund Chairman Mike Andrews said near mid-afternoon of the 18-hour event, which ran from 6:00 a.m. to midnight on the all-sports radio station. "It's very important that we get to a million dollars by game time, and I'm very confident that we'll get there."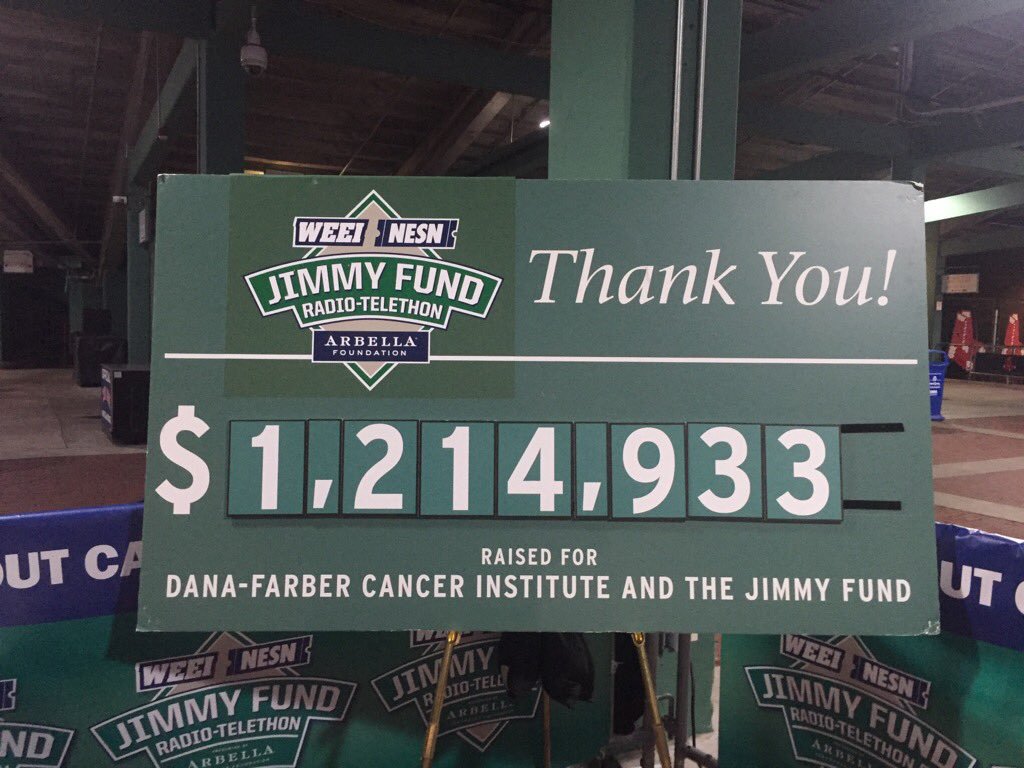 The August 27 radiothon did "get there" and beyond. Moments before midnight, a last-minute cavalcade of callers pushed the total raised for patient care and research at the institute to more than $1.5 million, far surpassing the $1 million total targeted by the Jimmy Fund. The final total collected was $1, 564,045, but gifts continue to pour in.
"Our relationship with WEEI is an extension of our relationship with the Red Sox because they broadcast the Sox games," added Andrews. "[WEEI morning show co-host] John Dennis once volunteered for a Jimmy Fund event, and left saying that the station should do something for us. He spoke with [WEEI Program Director] Jason Wolfe, and Wolfe has been a true champion of the cause ever since."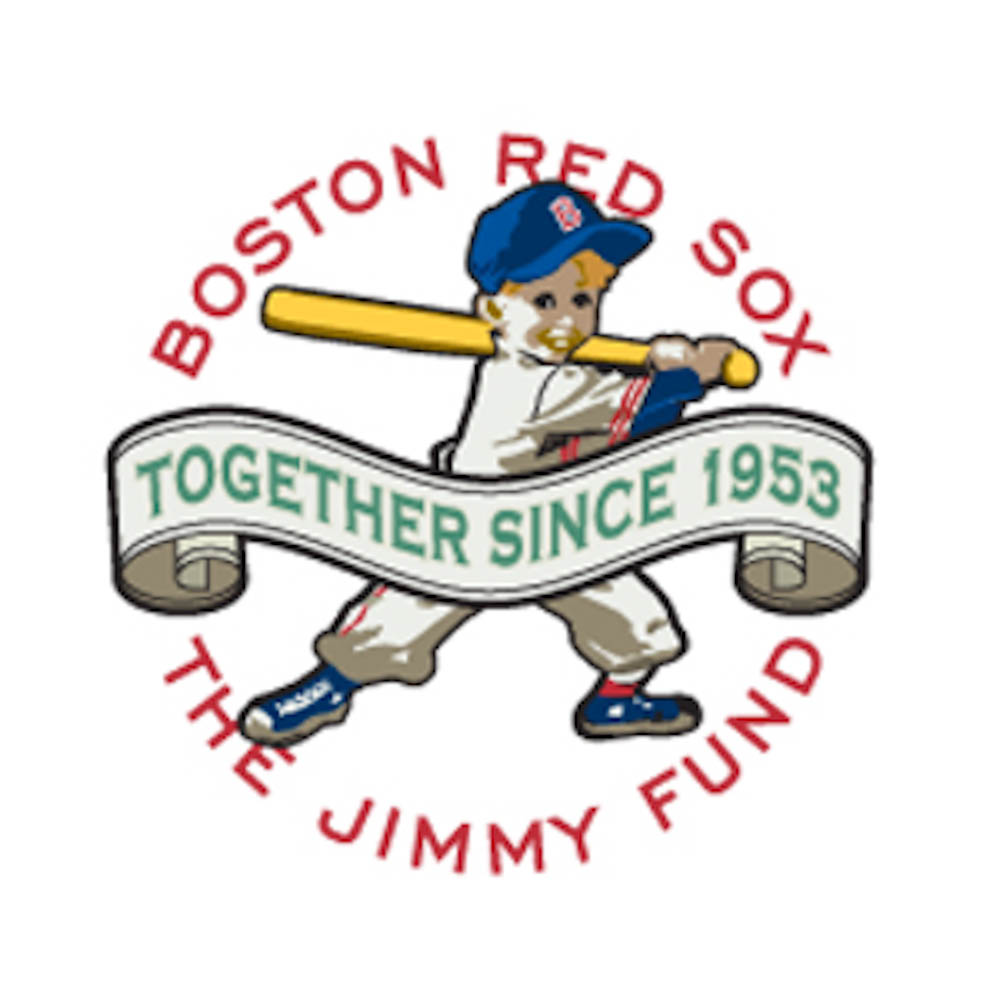 The other champions of the Dana-Farber cause – patients, clinicians and researchers – took part in several touching moments prior to the Red Sox' 5-3 win over the Detroit Tigers. Saluted with an extended standing ovation as they marched from center field toward the pitching mound, 22 DFCI clinicians and researchers, clad in white coats, simultaneously tossed out "first pitches" to Sox players a few minutes before 7:00 p.m.
"I've been to plenty of Red Sox games over the years, but I've never been on the field, so it was quite an experience," said Chair of Pediatric Oncology Stuart Orkin, M.D., who threw to Sox slugger Kevin Millar, and received pitching tips the day before from Red Sox coaches. "We're happy to be part of a wonderful day that helps to benefit patients and research.
"Even when we came into the stands, we had fans patting us on the back, telling us to keep up the great work," added Orkin. "It was very inspiring."
So was the national anthem, which was performed by 4-year-old Jordan Leandre of the Jimmy Fund Clinic. Possibly the youngest person to sing the national anthem in the ballpark's 92-year-old history, Leandre charged into his father's arms after touching the Fenway Faithful. Moments later, 5-year-old Isabella Pajevic of the Jimmy Fund Clinic belted out, "Play ball," and the game was on.
DFCI staff, patients tell Institute's story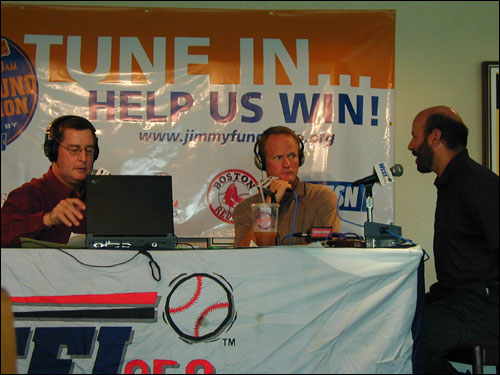 The radiothon, simulcast in its entirety over the New England Sports Network (NESN), featured on-air interviews with several Dana-Farber staff members and patients throughout the day. Among them were Institute President Edward Benz, Jr., MD; Jimmy Fund Clinic Activities Coordinator Lisa Scherber; 19-year-old Vinnie Basile of the clinic and his nurse, Kristin Graham, RN; Rich Boyajian, RN, MS, ANP, a former patient now working as a DFCI nurse practitioner; pediatric nursing leader Patti Branowicki, MS, RN, who in recent years has battled ovarian cancer, and her physician, Ursula Matulonis, MD; Karen Emmons, PhD; Mark Kieran, MD; and William Hahn, MD, PhD, of the Center for Cancer Systems Biology.
"It took us 50 years to reach this moment, but were at a watershed moment [in the battle against cancer]," said Hahn. "The sequencing of the human genome will enable us to fight cancer much more effectively in the future. It's the generosity of Dunkin' Donuts, WEEI, the Red Sox and millions of others that allows us to create an atmosphere at Dana-Farber where the patient is the primary focus."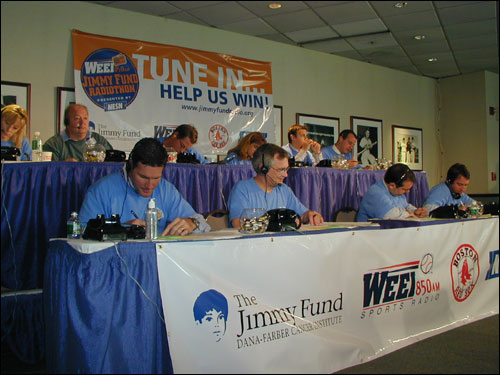 In addition, Dana-Farber staff members and trustees were among the more than 200 volunteers who, among other activities, answered phones and took pledges, sold t-shirts and hats and acted as runners at the event, which was held at Fenway's .406 Club and Players Club. A placard behind the volunteer phone bank kept a running total of the amount raised. Also, members of the Massachusetts Police Chiefs Association collected money at the park's entrances.
"It's very exciting to take calls," said Kim Goff, a Development Department assistant. "We thank the callers for their support, but they wind up thanking us for what we do."
Several notable callers chimed in, including actors Ben Affleck and Jim Belushi, Massachusetts Senator Ted Kennedy, former New England Patriots quarterback Steve Grogan and Seth Myers of "Saturday Night Live." Myers donated his $100,000 "winning hand" from television's recent "Celebrity Poker Showdown," while ABC News political analyst George Stephanopoulos and filmmakers Bobby and Peter Farrelly were other celebrity donors.
An 'event-ful' day
A pair of panel discussions – open to individuals making significant gifts to the Jimmy Fund – highlighted the early portion of the radiothon. The general managers of the Red Sox, Celtics, Bruins and Patriots took part in the "How to Build a Champion" breakfast panel discussion in the .406 Club. Scott Pioli of the Patriots, Theo Epstein of the Red Sox, Mike O'Connell of the Bruins and Danny Ainge of the Celtics fielder questions that ran the gamut – from salary-cap concerns to dealing with player agents, and from cultivating organizational depth to how best to break into the sports business.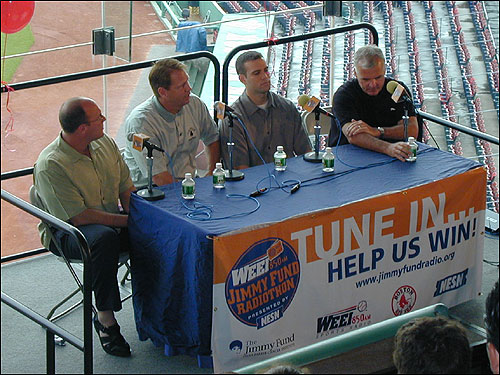 In addition to chatting about the business of baseball, Epstein, who grew up in nearby Brookline, recalled how he would donate some of his allowance to the Jimmy Fund as a boy because "that's what you do" in Boston.
A few hours later, as the total raised approached a half-million dollars, Red Sox manager Terry Francona and pitchers Tim Wakefield and Mike Timlin faced the fans at "A Bird's Eye View of Fenway," a luncheon give-and-take at the .406 Club that also featured a behind-the-scenes tour of the storied ballpark.
"There are lots of egos [in baseball], and everyone knows it," said Wakefield, one of many current Sox players who visit with the Jimmy Fund Clinic's pediatric patients. "So knowing these kids really keeps me grounded. I can't tell you how humbling it is to visit them. All they ask is to make them smile, and just putting a smile on their faces might save a life."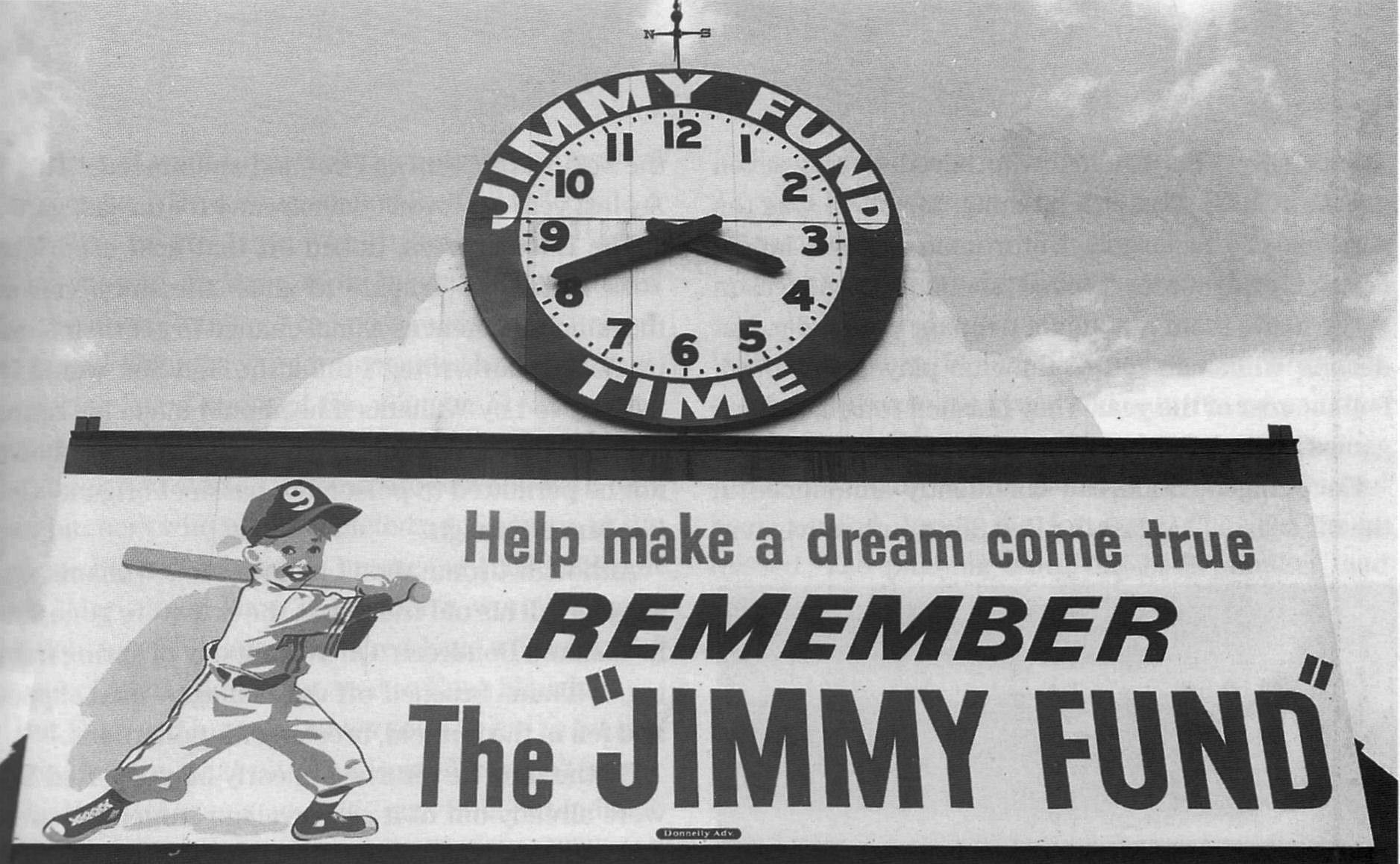 There was also an invitation-only "Heavy Hitters Cocktail Party" at the Players Club, which featured a live auction "emceed" by Mike O'Malley of CBS' "Yes Dear" sitcom. Celtics owner Wyc Grousbeck, Bruins owner Jeremy Jacobs, former Bruins star Ray Bourque, Epstein, former Celtics great Jo-Jo White and onetime Red Sox pitching ace Luis Tiant were among the attendees.
The day's biggest stars, however, were the patients who benefit from the fundraiser.
"It's so difficult to smile when you know you have cancer," Jimmy Fund Clinic patient Siobhan Kennedy, a teen, told WEEI mid-day hosts Dale Arnold and Sean McAdam. "But the Jimmy Fund Clinic allows you to do it. . . . It's really an incredible place."
Donate to the Dana-Farber Cancer Institute, "an incredible place."