A Game of Inches and . . . Feet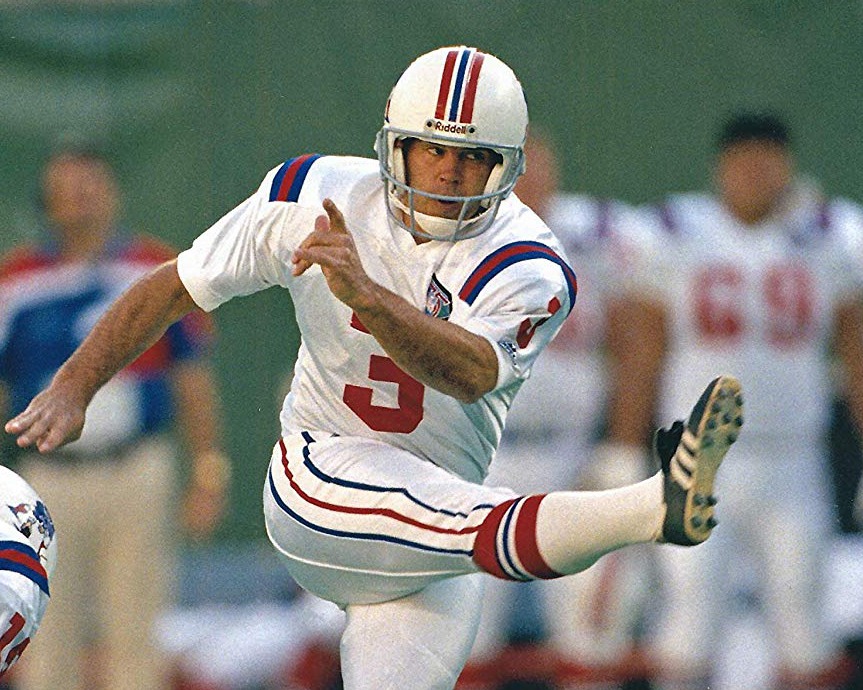 From New England Patriots Football Weekly
Strolling across the Bryant College campus in baggy shorts, a polo shirt and a baseball cap, Matt Bahr could almost pass for someone half his age. Father Time has been kind to the Patriots placekicker, whose impish face belies his 39 years, but nowhere is Father Time's blessing more evident than in Bahr's right leg, which has earned him a more-than-respectable living the past 16 years.

"Must be a slow day," Bahr spits out between bites of a watermelon slice, displaying a kicker's self-effacing sense of humor on a recent Saturday. He recognizes that kickers are the Rodney Dangerfields of the gridiron, getting little respect until they split the sticks for a 48-yard, game-clinching field goal on game day.

Until those Tylenol moments, a kicker lives on the periphery of practices and games. Pressure isn't often associated with a kicker's daily regimen. Bahr and Patriots' punter/long field goal/kickoff specialist Pat O'Neill are no different. A little stretching, a few wind sprints, a few kicks, back to stretching and maybe some weight work later. Sure, they have to perform in camp and in practice. They have to watch countless hours of film, paying special attention to the minutiae of form only a kicker can appreciate. In reality, though, these guys earn their paycheck on Sundays.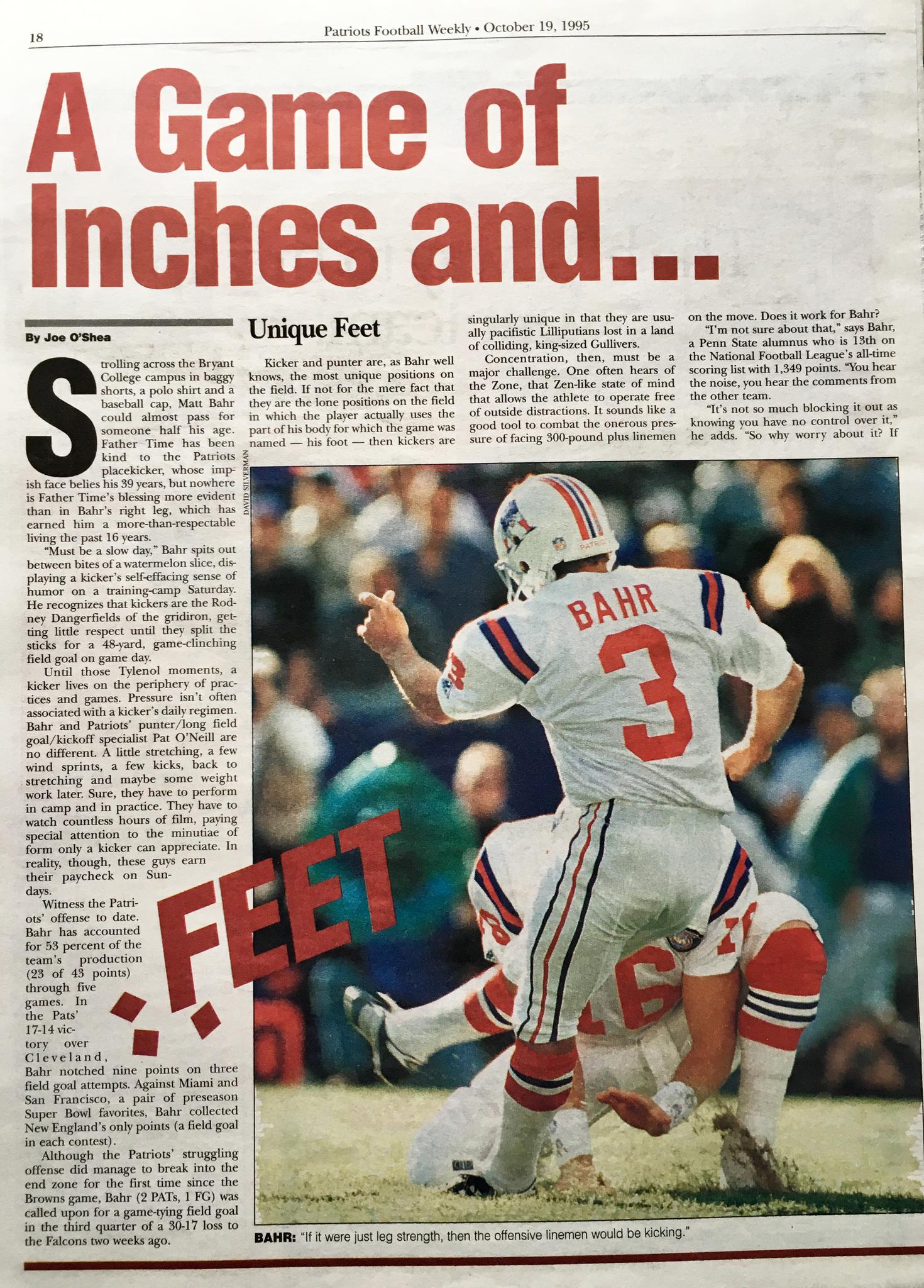 Witness the Patriots' offense to date. Bahr has accounted for 50 percent of the team's production (20 of 40 points) through four games. In the Pats' lone win to date, a 17-14 victory over Cleveland, Bahr notched nine points on three field goal attempts. Against Miami and San Francisco, a pair of preseason Super Bowl favorites, Bahr collected New England's only points (a field goal in each contest).

Although the Patriots' struggling offense did manage to break into the end zone for the first time since the Browns game, Bahr (2 PATs, 1 FG) was called upon for a game-tying field goal in the third quarter of a 30-17 loss to the Falcons two weeks ago.

Unique Feet
Kicker and punter are, as Bahr well knows, the most unique positions on the field. If not for the mere fact that they are the lone positions on the field in which the player actually uses the part of his body for which the game was named - his foot - then kickers are singularly unique in that they are usually pacifistic Lilliputians lost in a land of colliding, king-sized Gullivers.

Concentration, then, must be a major challenge. One often hears of the Zone, that Zen-like state of mind that allows the athlete to operate free of outside distractions. It sounds like a good tool to combat the onerous pressure of facing 300-pound plus linemen on the move. Does it work for Bahr?

"I'm not sure about that," says Bahr, a Penn State alumnus who is 13th on the National Football League's all-time scoring list with 1,346 points. "You hear the noise, you hear the comments from the other team.

"It's not so much blocking it out as knowing you have no control over it," he adds. "So why worry about it? If you're going to get blasted, you're going to get blasted - whether you're thinking about it or not. The guys in front of you are professionals, too. They're doing their best to hold them off."

Bahr's 'don't worry' attitude aside, the best means for him to deal with pressure is consistency. If you treat each boot with equal importance, according to Bahr, then you avoid "undue pressure".

"I think the biggest thing is trying to do the same thing, the same way no matter where you are on the field," says Bahr, who is No. 2 on the league's all-time playoff scoring list with 103 points (40 PATs, 21 FGs). "The fewer things you change, the fewer things can go wrong.

"The extra point at the beginning of the game is just as important as the field goal at the end of the game," he continues. "You shouldn't have to try harder on any kick."

Under the Gun
If anyone can address the issue of pressure kicking in the NFL, it's Bahr, a weather-beaten veteran who started his career as a UPI All-Rookie performer for the Super Bowl Champion Pittsburgh Steelers in 1979. Despite kicking in some of the worst climates the league has to offer, Bahr has compiled a .976 career PAT percentage (497-509) and a .727 percentage on field goals (283-389). In his 17th year on the job, Bahr has attempted 197 field goals on grass and 192 on turf.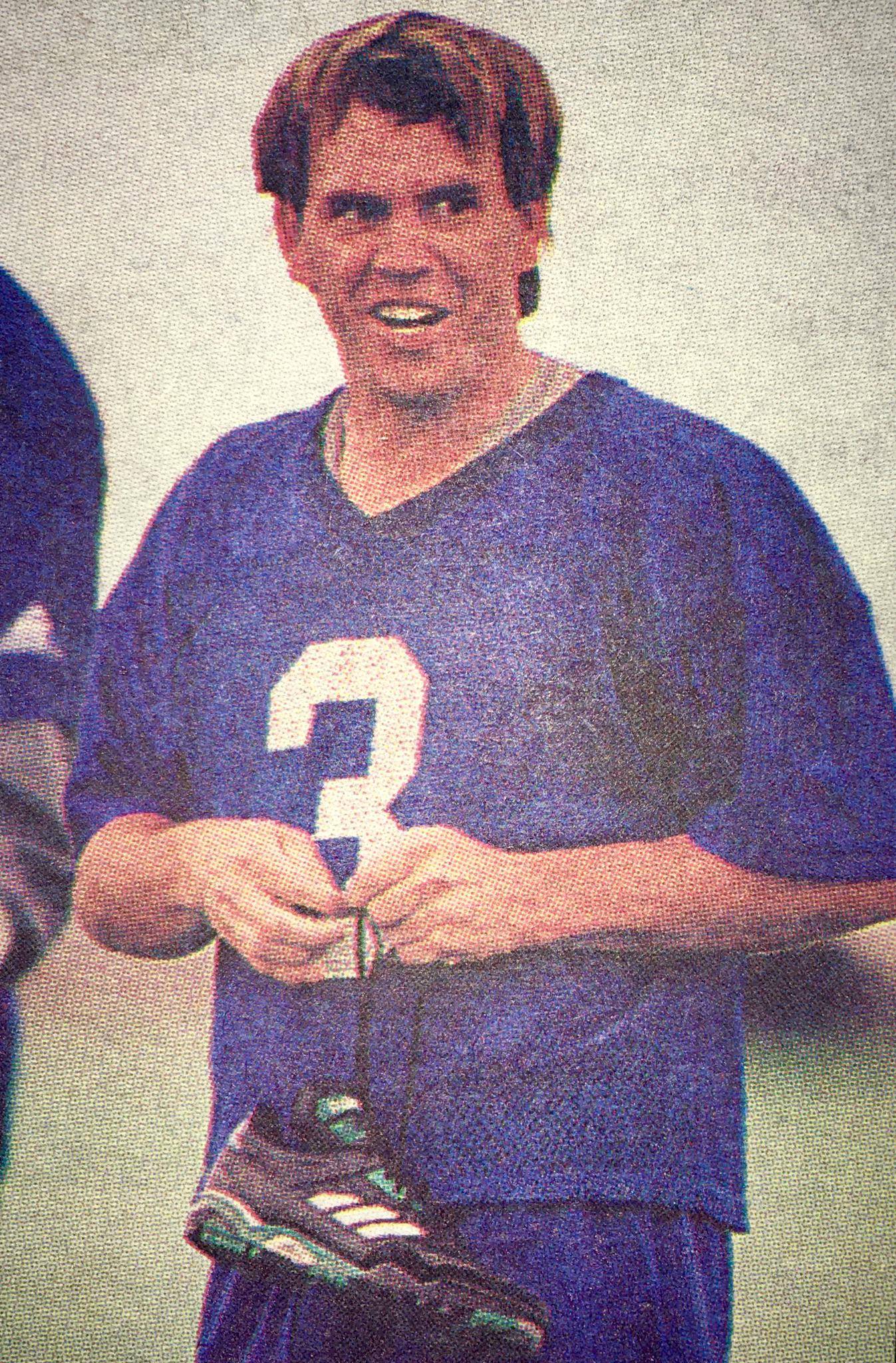 After a two-year hitch in the Steel City, Bahr moved on to San Francisco's windy Candlestick Park for four games in 1981. He was then picked up by Cleveland, where he was rock-steady at The Mistake on the Lake - cavernous Cleveland Stadium - for 10 years. Then it was off to the Giants and the Meadowlands, where he made Parcells' acquaintance. He then worked in Philadelphia for 11 games, before Parcells got his hands on him as the cure for Scott Sisson in '93.

Not once has Bahr called a fair-weather climate or domed stadium home. For this reason, not to mention the cold-weather locales he's often kicked in, Bahr has been called by Parcells one of the best kickers ever.

"If he had the advantage of kicking indoors or kicking in very good conditions, he might be the best kicker who ever kicked," says Parcells. "He kicked in Cleveland for nine years, probably the hardest place in the league, with New England a close second. He has never kicked in a good place, which in my mind makes him a better kicker."

Included on Bahr's resume of clutch kicks are 15 field goals which led to 14 victories throughout his career. Among his more noteworthy - or infamous if you're a Patriots or 49ers fan - boots are:
A game-winning 42-yarder with no time left on the clock which propelled the Giants to a 15-13 victory over San Francisco in the 1990 NFC title game. He accounted for all 15 New York points.
A 27-yard shot with two seconds remaining in the first half, handing New York a 13-10 edge which it never relinquished against New England in 1990.
There is little doubt that this natural-born kicker is a Parcells guy. The first kicker to make the All-Madden Team (in 1990, thanks to his clutch kicking), Bahr can deal with pressure. But that doesn't stop Parcells from psychologically prodding, pushing and testing.

"Playing in a physical game under mental duress: It takes a certain kind of person to do it," says Parcells. "Hey, I still (try to distract) Matt. He is one of the best kickers in the history of this league. If I put my shadow on the ball when he is kicking, he gets mad at me.

"So I put my shadow on (the ball) when he kicks," Parcells adds. "But that shadow breaks his concentration or it makes him think about something else, which I don't want him doing. That's why I put it there. I still do that."

The Art of Kicking
A kicker's technique, like a fingerprint, is unique to the individual. Both Bahr and O'Neill, the only two kickers in camp this year, have developed techniques of their own. The wizened vet and the sophomore do share a similar kicking philosophy, though.

Although Bahr is of average height (5 feet, 10 inches) and O'Neill is relatively tall (6-1), both pros believe that leg speed best delivers distance, not leg strength. "If it were just leg strength, then the offensive linemen would be kicking," notes Bahr.

O'Neill agrees, saying, "Leg speed is what's going to give you power and distance, but strength is important, flexibility is important and technique is important. You have to be doing all the right things before you hit the ball."

One of those things, says Bahr, a soccer-style kicker, is striking the ball with the laces. The instep, he says, doesn't provide the necessary power for long kicks. Though, due to age, Bahr now defers to the 24-year-old O'Neill for long field goal attempts and kickoffs.

Bahr has earned the status of master technician, but O'Neill is still very much in the developmental stage. He works closely with Mike Sweatman, New England's special teams coach, to fine-tune his punting and kickoff skills.

Studying under Sweatman and Bahr, whose camp he once attended as a youth, O'Neill now appreciates the value of consistency in style and effort. "You plant your foot at a certain point, you want your foot turned out at a certain angle every time and you want to follow through toward your target," says O'Neill, a Syracuse graduate who owns a 37.6-yard punting average through four games with a long punt of 52 yards. "Those kinds of things are a constant whether you have one style or another."

Another constant is people's misconception of kickers as odd or as loners. Both Bahr and O'Neill seem to mix well on the sidelines, and O'Neill feels that "most people understand a good kicking game is going to help a team quite a bit."

But, once again, leave it to Bahr to come through in the clutch.

"Kicker is just one of the many positions on the field," Bahr notes. "The kicker is the fourth-most important element (in a kick). If you don't have a good snap from Steve DeOssie, a good hold from Scott Zolak and good protection from the line, the fourth thing, the kick, is never going to happen.

"It's been said everyone wants to be a kicker until Sunday," Bahr continues. "I don't know any good way to phrase it, it's just the way it is."